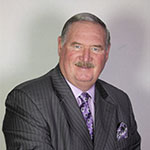 Bill Collins
Chairman & CEO, The Collins Companies
William (Bill) L. Collins is the Chairman and CEO of The Collins Companies, LLC and its predecessor companies. The firm was founded in 1977. The entities that comprise The Collins Companies have been involved in the Communications, Public Relations, Management, Marketing, Investment Capital Financing, Development and Property Management for some 35 years.
Mr. Collins has considerable experience in the formation, development, financing, syndication, operations and management of start-up enterprises in a number of industries. Many of these companies became recognized leaders in their respective markets.
Today, Bill Collins serves as a member of the Board of Directors of Immersive Marketing Technology, LLC, an event management applications and solutions company. He also serves as Advisor to the Board of Experis Technology Group and its senior management team, a leading high availability infrastructure technology firm, that designs, builds and supports IT infrastructure solutions for its clients. The company also owns and operates an 80,000 sqft data center in Northern Virginia. Bill also serves on the Advisory Boards of Armored Things, a company focused on seamless provisioning, management and security of enterprise Internet of Things "IoT" deployments and Big Night America/HiBall Events, one of America's leading gala and festival producers.
William L. Collins served as Chairman of National Capital Golf, LLC and Chairman and Chief Executive Officer of Monument Golf Management, LLC from 2002 through 2010. These golf entities owned, operated and managed golf courses in North Carolina, Virginia and Florida.
Mr. Collins formerly served as Chairman, President and Chief Executive Officer of Metrocall, Inc. Metrocall, now operating as USA Mobility and headquartered in Alexandria, VA, was the largest wireless data and messaging company in the nation. Having assumed day-to-day operations of Metrocall, as its President and CEO, in January 1996, Mr. Collins led an aggressive strategy that enabled the Company to acquire and successfully integrate ten major wireless companies. At its peak, Metrocall employed over 3,500 people nationwide. During Mr. Collins' tenure at Metrocall revenues grew from $50 million to over $550 million, serving over 10 million customers.
Bill had a 25 year career in the communications industry since 1977. He founded and operated major companies in both the cellular and wireless messaging industries and prior to that was involved in the cable television industry. He founded First Page USA (1988) and served as its Chairman and Chief Executive Officer. First Page USA, Inc. merged with Metrocall in 1994 to create the nation's second largest publicly traded messaging company.
Prior to his work in the messaging industry, Mr. Collins founded start-up companies such as Cellular Mobile Radio Systems, Inc. and Communications Corporation International, in 1982, which merged into Vanguard Cellular Systems, Inc. when the company was taken public in 1988. He also founded USA Telecommunications, Inc. in 1984 and merged USAT's ownership interests in cellular markets into Vanguard Cellular. He was a co-founder and director of Vanguard Cellular, which was acquired by AT&T in 1999.
In May of 1996, Mr. Collins was elected Chairman of the Board of Directors of the Personal Communications Industry Association (PCIA), representing the wireless data & messaging industry. Mr. Collins was re-elected to unprecedented 2nd and 3rd terms as PCIA Chairman in 1997 and 1998. In May 2000, Mr. Collins was elected Chairman of the Board of Directors of Metrocall. He also served as Chairman of the Board of Inciscent, and served as Chairman of the Board of USA Telecommunications, Inc. from 1984 to 2013.
Bill Collins served as the Political Director of the National Republican Senatorial Campaign Committee under the chairmanship of Senator Ted Stevens (Alaska) for the 1976 elections. After the elections he continued his work with Senator Stevens when he became the Assistant Minority Leader of the United States Senate. Bill was also engaged as a political advisor to the Ronald Reagan White House for the 1982 U.S. Senate elections.
Bill Collins served as Chairman of the Board of American Baseball Capital, which owned and operated Minor League Baseball franchises, the Greensboro Bats (Class A affiliate of the New York Yankees) Madison Hatters (Class A affiliate of the St. Louis Cardinals) and the Michigan Battle Cats (Class A affiliate of the Houston Astros, and Boston Red Sox). He was also the majority owner of the Tampa Bay Terror in the National Professional Soccer League and the Daytona Beach Breakers of the Southern Hockey League.
Mr. Collins served as Chairman of the Board of the Virginia Baseball Club, which was established in 1993 to return Major League Baseball to the National Capital area. The group was a finalist for a MLB expansion franchise during the 1994-95 expansion process, and negotiated the purchase and relocation of the Houston Astros in 1995-96. Major League Baseball subsequently ordered the franchise to remain in Houston pending a vote on construction of a new ballpark. Bill continued to lead Virginia's effort to acquire the Montreal Expos from Major League Baseball. Bill's efforts were partially rewarded in April, 2005, when the Washington Nationals opened play at RFK Stadium.
Mr. Collins served on the Board of Trustees of Marymount University from 1998 through 2010. He was a member of the Board of Directors of the Northern Virginia Technology Council, which comprises 1,200 Internet, technology and communications companies in the region, and a member of the Northern Virginia Business Roundtable, Potomac Officers Club and he continues to serve as a member of the 123 Club. Bill Collins also served on the Board of Directors of the Washington 2012 Olympic bid to host the 2012 International Olympic Games in the National Capital Area.
Mr. Collins is also involved with numerous charities and community service organizations including Catholic Charities, Special Love-Camp Fantastic (a camp for children suffering from cancer and HIV related illnesses), St. Jude Children's Research Hospital, President's Club of the Jimmy V Cancer Research Foundation, Men Against Breast Cancer and the Steven D. "Jake" Jacoby Memorial Charity. Bill also serves as the Vice Chairman of the George Nethercutt Civics Foundation, "America's Civic Learning Foundation". The National Foundation is led by former Congressman, George R. Nethercutt.
Prior to his business career, Bill played professional baseball with the Milwaukee Brewers organization from 1972 to 1975 after graduating from The George Washington University in 1972. In 1993, he was inducted into the GWU Athletic Hall of Fame and the DeMatha High School Hall of Fame. He resides in Leesburg, Virginia with his wife Kerry and has three adult children Billy, Erin and Matthew and three granddaughters Graycen, Langleigh and Brennan.