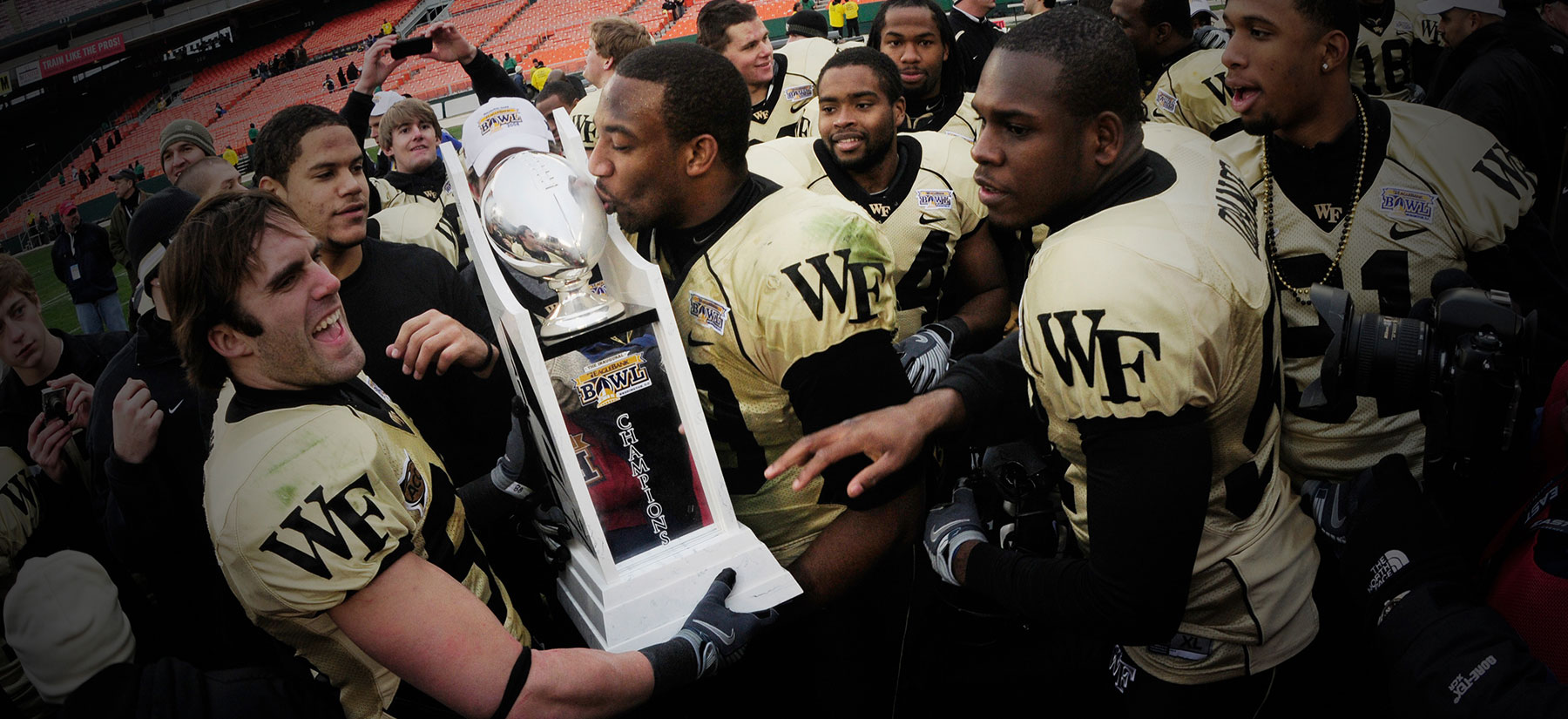 2008 EagleBank Bowl
A back-and-forth rematch highlighted the inaugural EagleBank Bowl on Dec. 20, 2008. The Wake Forest Demon Deacons (7-5) and the Navy Midshipmen (8-4) met for the second time that season, this time at historic RFK Stadium where Wake Forest looked to avenge a 24-17 loss during the regular season.
Navy dominated early, a performance capped by a 50-yard fumble return for a touchdown by cornerback Rashawn King. After going up 13-0, thanks to a Midshipman defense that stymied the Demon Deacons throughout the first half, Navy finally broke with minutes to go before halftime. Wake Forest quarterback Riley Skinner orchestrated a 98-yard scoring drive to pull withinsix, 13-7 at the break.
Picking up where they left off, the Demon Deacons cobbled together a second scoring drive to open the second half, capped by running back Josh Adams' 5-yard touchdown run. he Midshipmen responded when quarterback Kaipo-Noa Kaheaku-Enhada scampered in for a 2-yard touchdown run early in the fourth quarter.
The 19-14 Navy lead did not last long. Skinner took Wake Forest 80 yards and completed an 8-yard touchdown pass to tight end Ben Wooster. The momentum stayed with the Demon Deacons the rest of the way, as they sealed a 29-19 win when running back Rich Belton raced in for a 35-yard touchdown run late inthe final quarter.
The EagleBank Bowl victory gave Wake Forest's 16 seniors a new school record for most wins by a class in school history with 32. The group finished 32-19, including three bowl appearances and a 2006 Atlantic Coast Conference Championship. Skinner, a junior, earned the MVP award, finishing 11-for-11 with 166 yards and a touchdown.
Bowl Tidbits
The 2008 EagleBank Bowl was the first bowl game of the season and marked the first time a postseason college football game was played in Washington, D.C.
Navy and Wake Forest had met earlier in the season, with the Midshipmen claiming the first showdown 24-17.
The win set the Wake Forest record for most career wins by a senior class with 32.
MVP Riley Skinner was a perfect 11-for-11 passing for the day with 166 yards and a touchdown.
Skinner is now a football analyst with the ACC Network after retiring from football in August 2010.
Check out our Facebook Albums filled with pictures from the 2008 game and game week.