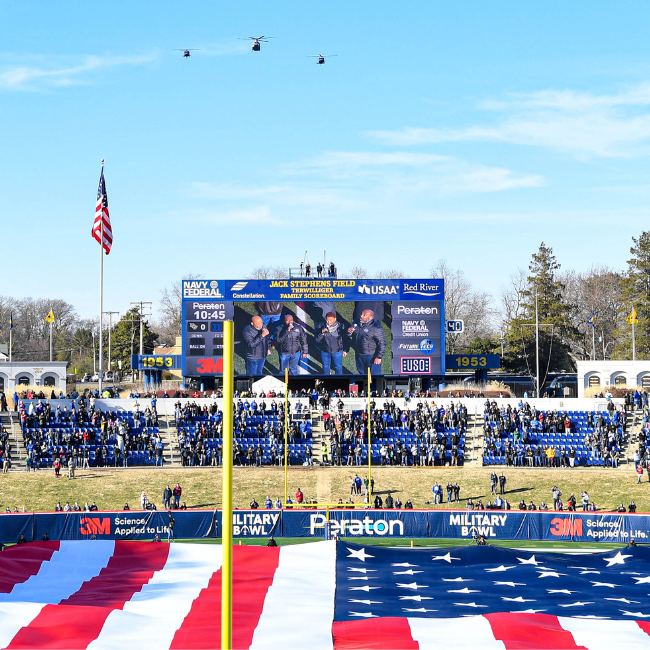 Fan Events
Enjoy Military Bowl Eve with the Miracle on Annapolis Street featuring the Budweiser Clydesdale, the Scavenger Hunt and Pub Crawl, and on gameday for the Military Bowl Tailgate and Military Bowl Parade! After the game, hang out in and around Annapolis!
Plan Your Stay
Are you coming to Annapolis for the 2023 Military Bowl presented by GoBowling.com? There is a lot to see and do in our beautiful Chesapeake Bay region; the only question is, what are you looking to experience?
Accommodations Annapolis: Anne Arundel County offers hotels from the simple to the sublime. Whether you choose to stay in downtown Annapolis with its historic attractions; in the Annapolis countryside with its rural charm; or in the Hotels at BWI with easy access to BWI Thurgood Marshall Airport, Washington, D.C., and Baltimore; you'll be primed for a good night's sleep and a great vacation.
Walkable Downtown: Annapolis is consistently ranked one of America's most walkable towns and for a good reason. This quaint, historic waterfront town has changed little since its inception in the mid-17th century. Explore the best preserved colonial city in the US and enjoy quaint dining, shopping, and history along the shores of the Chesapeake Bay!
History in Annapolis: Annapolis, often called a "museum without walls", served as our nation's first peacetime capital. You could say our nation took its first breath in Annapolis when the Treaty of Paris was ratified here – officially ending the Revolutionary War.
Chesapeake Cuisine: Annapolis and Anne Arundel County are full of the Bay's Bounty! Savor the flavors all year long with our guide to delectable oysters, rockfish, shrimp, and, of course, Maryland Blue Crab in welcoming waterside eateries along our 500+ miles of scenic shoreline.
BWI Brewery Trail: If you're looking for a reason to roam outside of historic Annapolis, check out the BWI Brewery trail, located near the Arundel Mills shopping and entertainment district. With four great breweries, all within a 30 minute drive of Maryland's capital, you are sure to find a Kolsch, IPA, or Porter to delight your palette.
For more events and itineraries, head to our website and plan your bay-side adventure!
Follow Us
Download the Official Military Bowl App to keep up to date with the latest news, game information, and more!
Follow @MilitaryBowl on Twitter, Instagram and Facebook @MilitaryBowl for gameday updates. Use #MilitaryBowl for a chance to be on the scoreboard!