Parking + Transit
Parking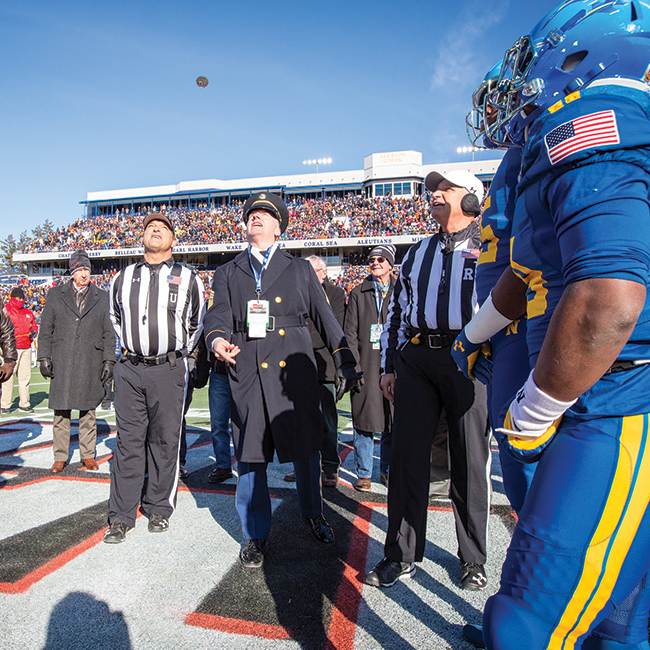 Parking and transportation information will be announced in Fall 2023.
*BELOW IS HIDDEN*
Stadium Parking Information
If you do not have a stadium parking pass, see below for our various overflow parking and transportation options. Have a plan in place before you arrive in Annapolis!
Pre-purchased parking passes should enter through Gate 1 (508 Farragut Road) or Gate 6 (550 Taylor Avenue) on the Gold side of the stadium and Gates 3A or 4 (1040 Cedar Park Road) on the Blue side of the stadium.
PLEASE NOTE: Parking lots open to the public at 8:30 a.m. on gameday. Fans are strongly encouraged to arrive early in order to avoid traffic. Road closures for the parade begin at 10:00 a.m., affecting Rowe Boulevard and Taylor Avenue alongside the stadium. Parking gates on Farragut Road and Cedar Park Road (1, 2, 3A, 4) will be accessible at all times. The parade is expected to conclude around Noon. For additional information on the parade route and closures, please visit our Parade page.
Handicapped parking is available with a pre-purchased stadium parking pass + a handicapped license plate or hangtag. If a hangtag is used, the expiration date must be visible through the windshield. On the Blue side, please use Gate 2 (230 Farragut Road). On the Gold side, please use Gate 6 (550 Taylor Avenue).
*THIS SECTION IS HIDDEN WITH CLASS: d-none*
The Germantown Elementary School PTA and Phoenix Academy Staff provides convenient offsite parking options located just a few blocks from Navy-Marine Corps Memorial Stadium. Parking is $25 for a single-space and $60 for an oversized vehicle. Payment is accepted in cash only. Parking lots will open 9:00 a.m. for the Military Bowl parking will conclude with kickoff.
– Germantown Elementary School, 200 Windell Ave.
– Phoenix Academy School, entrance at 1411 Cedar Park Road
– Studio 39 (Old Phoenix), 291 Locust Ave (oversize vehicle lot)
Harry S Truman Park and Ride, Harry S Truman Parkway & Riva Road, will open at five (5) hours before the game and end two (2) hours after the game. The shuttle runs approximately every 20 minutes, and drops off and picks up at the Stadium Ticket Office.
Annapolis Garages near the Stadium:
– Park Place, 5 Park Place, open 24/7
– Westin Annapolis, 100 Westgate Circle
Additional Downtown Annapolis Garages
– Noah Hillman Parking Garage, 150 Gorman St, open 24/7
– Knighton Parking Garage, 1A Colonial Ave, open 24/7
RV/Bus Parking
Those with pre-purchased stadium RV passes must enter the lot through Gate 1 off Farragut Avenue – NO EXCEPTIONS.
Overnight RV parking is not permitted in the stadium lots. Cherry Hill Park, located in nearby College Park, is a convenient option for local overnight parking. Visit cherryhillpark.com for additional information.
Fans are encouraged to join us at the Official Military Bowl Tailgate Festival located in the Blue lot on the west side of the stadium.
Tailgate Information
Tailgating is allowed on Navy-Marine Corps Memorial Stadium property only.Small gas grills are permitted.
Fans are not permitted to take up extra parking spaces within the Stadium lots for the purpose of tailgating. Tailgating is restricted to the area behind one's car.
Fans wanting to tailgate with other vehicles are encouraged to arrive at the same time to the same parking gate. Our parking attendants will be able to direct you to spaces next to one another, if space allows. Reserving a space is not permitted in the lots at Navy-Marine Corps Memorial Stadium.