Bowl History
Bowl History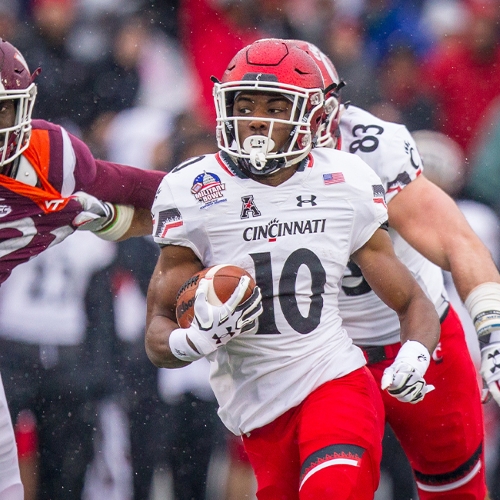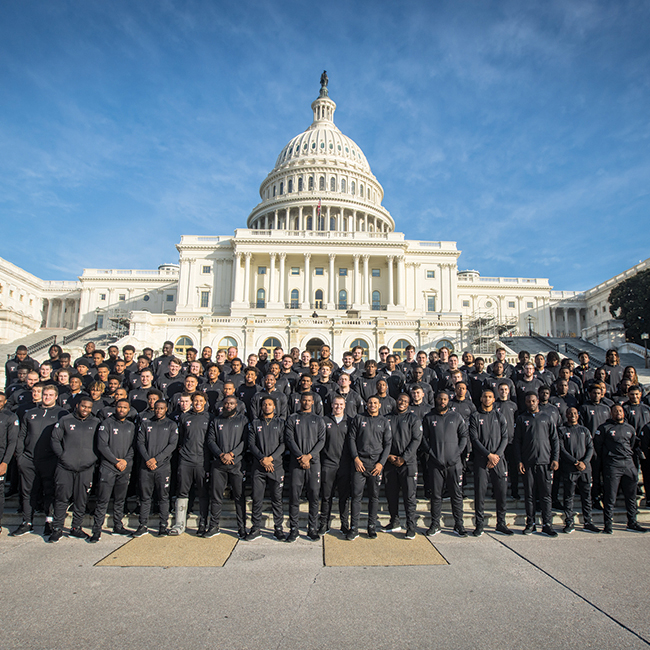 The idea of holding a college football bowl game in the National Capital Region started innocently enough. As friends Marie Rudolph and Sean Metcalf met at a neighborhood restaurant, they saw television commercials promoting upcoming bowl games across the nation and wondered why the Washington area did not have a game of its own.
Rudolph and Metcalf researched requirements to host a bowl game. They sought opinions from local political, business and community leaders.
Though the initial response was lukewarm, the former D.C. government employees remained confident. They continued their outreach and used their connections to gain support and build interest. The DC Bowl Committee, Inc., was created in August 2008.
The committee aimed to align the game – first named the Congressional Bowl – with team and conference tie-ins. Rudolph and Metcalf met with officials from the United States Naval Academy, the United States Military Academy at West Point and the Atlantic Coast Conference, which all expressed interest. Soon after, the bowl signed a TV contract with ESPN.
After the DC Bowl Committee, Inc., attained an NCAA license, the Washington Convention and Sports Authority (now known as Events DC) joined the initiative as a partner, bringing the city's support on a broader scale. In September 2008, Bethesda, Md.-based EagleBank signed on as the title sponsor and shortly thereafter the committee hired Steve Beck as President and Executive Director.
In October 2010, Northrop Grumman, a leading global security company based in Falls Church, Va., signed on as the bowl's new title sponsor, bringing with it a partnership with the USO. The bowl was renamed the Military Bowl presented by Northrop Grumman.
The game moved to Navy-Marine Corps Memorial Stadium in Annapolis, Md., beginning with the 2013 game and added a new partner in the American Athletic Conference the following year.
In 2017, the Bowl celebrated its 10th anniversary as Navy beat Virginia before a crowd of 35,921, the Bowl's third sellout in four years.
In 2019, the Bowl extended its partnerships with the Atlantic Coast Conference, the American Athletic Conference.
In 2022, the Military Bowl returned to action at Navy-Marine Corps Memorial Stadium with Duke defeating UCF, 30-13.
| | DATE | RESULT | ATTENDANCE | MVP |
| --- | --- | --- | --- | --- |
| 2022 Military Bowl presented by Peraton | Dec. 28, 2022 | Duke 30, UCF 13 | 17,974 | Riley Leonard, Duke |
| 2019 Military Bowl presented by Northrop Grumman | Dec. 27, 2019 | North Carolina 55, Temple 13 | 24,242 | Sam Howell, UNC |
| 2018 Military Bowl presented by Northrop Grumman | Dec. 31, 2018 | Cincinnati 35, Virginia Tech 31 | 32,832 | Michael Warren, Cincinnati |
| 2017 Military Bowl presented by Northrop Grumman | Dec. 28, 2017 | Navy 49, Virginia 7 | 35,921 | Zach Abey, Navy |
| 2016 Military Bowl presented by Northrop Grumman | Dec. 27, 2016 | Wake Forest 34, Temple 26 | 26,656 | Thomas Brown, Wake Forest |
| 2015 Military Bowl presented by Northrop Grumman | Dec. 28, 2015 | Navy 44, Pittsburgh 28 | 36,352 | Keenan Reynolds, Navy |
| 2014 Military Bowl presented by Northrop Grumman | Dec. 27, 2014 | Virginia Tech 33, Cincinnati 17 | 34,277 | J.C. Coleman, Virginia Tech |
| 2013 Military Bowl presented by Northrop Grumman | Dec. 27, 2013 | Marshall 31, Maryland 20 | 30,163 | Rakeem Cato, Marshall |
| 2012 Military Bowl presented by Northrop Grumman | Dec. 27, 2012 | San Jose St. 29, Bowling Green 20 | 17,835 | David Fales, San Jose State |
| 2011 Military Bowl presented by Northrop Grumman | Dec. 28, 2011 | Toledo 42, Air Force 41 | 25,042 | Bernard Reedy, Toldeo |
| 2010 Military Bowl presented by Northrop Grumman | Dec. 29, 2010 | Maryland 51, East Carolina 20 | 38,794 | Da'Rel Scott, Maryland |
| 2009 EagleBank Bowl | Dec. 29, 2009 | UCLA 30, Temple 21 | 23,072 | Akeem Ayers, UCLA |
| 2008 EagleBank Bowl | Dec. 27, 2008 | Wake Forest 29, Navy 19 | 28,777 | Riley Skinner, Wake Forest |