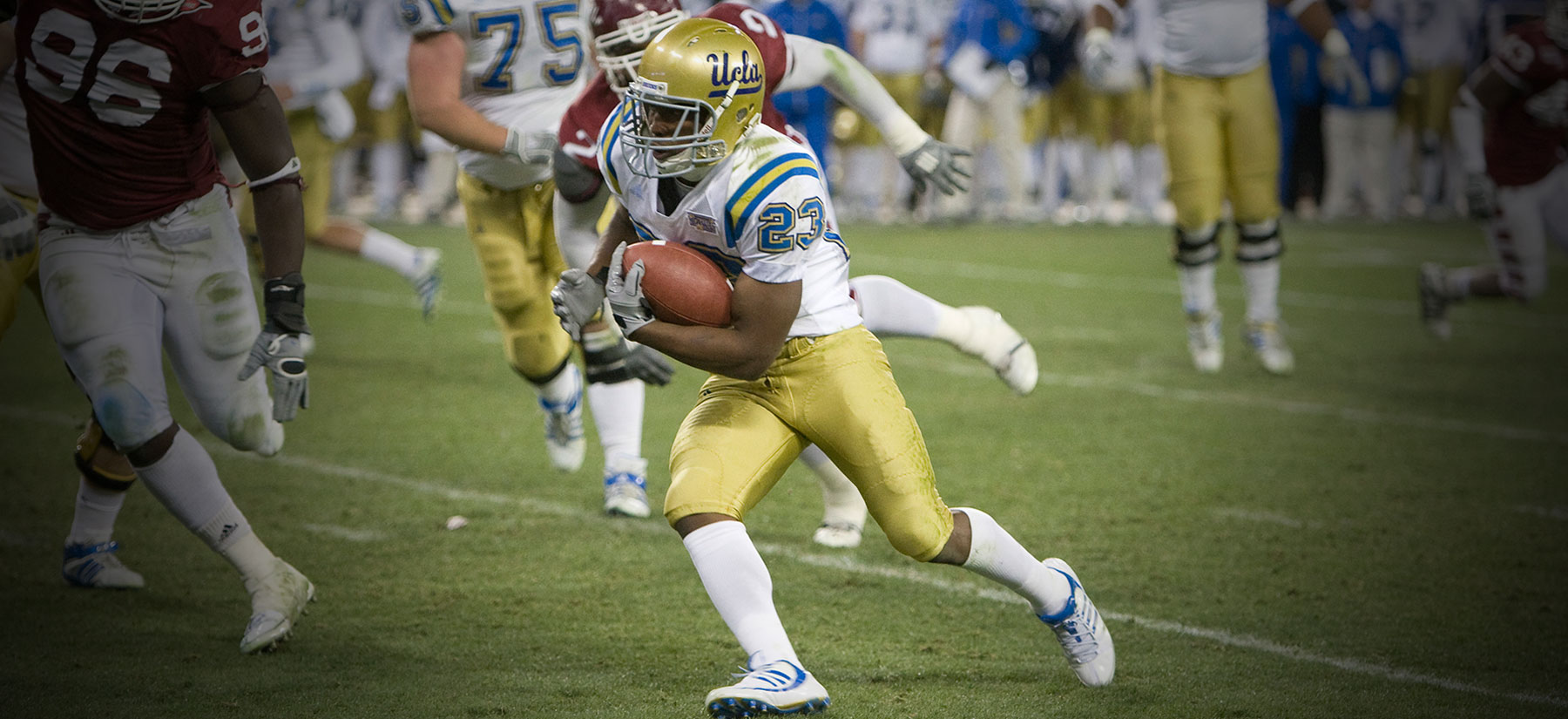 2009 EagleBank Bowl
The 2009 EagleBank Bowl pitted the UCLA Bruins (6-6) against the Temple Owls (9-3) on Dec. 29 at RFK Stadium. The exciting East-West matchup marked Temple's first postseason trip in 30 years.
Temple sandwiched a pair of touchdowns — a 26-yard pass from quarterback Vaughn Charlton to tight end Steve Maneri and a 12-yard run by running back Bernard Pierce — around a 46-yard touchdown pass from Bruin QB Kevin Prince to Nelson Rosario. The Owls' defense was just as staunch, as a key interception set up a 2-yard rush by running back Matt Brown. UCLA pulled closer wth a Kai Forbath field goal as time expired, but Temple led 21-10.
The Bruins shook off the lackluster first half with a burst of scoring in the third quarter. Prince completed a 32-yard pass to Terrence Austin, then set up a 42-yard field goal on the next drive. Early in the fourth, UCLA trailed 21-20.
The Bruin defense had clamped down. In the second half, UCLA shut out Temple and allowed just one completion. Linebacker Akeem Ayers gave the Bruins their first lead of the game with a 2-yard interception return With the 2-point conversion, UCLA pulled ahead 28-21. A botched punt attempt from Temple and subsequent safety ensured a 30-21 UCLA victory.
The win gave the Bruins their first winning season since 2006. Ayers garnered MVP honors, having recorded nine stops, an interception and a touchdown.
Bowl Tidbits
The game marked the first time Temple played in a bowl game in 30 years.
The win gave UCLA its first winning season in three years.
Akeem Ayers returned an interception two yards for a touchdown that gave the Bruins the lead, earning him MVP honors.
A stunning 17 players from both UCLA and Temple now play on the professional level, as the 2009 Owls boast a player in both the NFL and CFL and 15 former Bruins are either on NFL rosters or are free agents.
To see more of the 2009 Bowl Week and Bowl Game, visit our Facebook Albums.