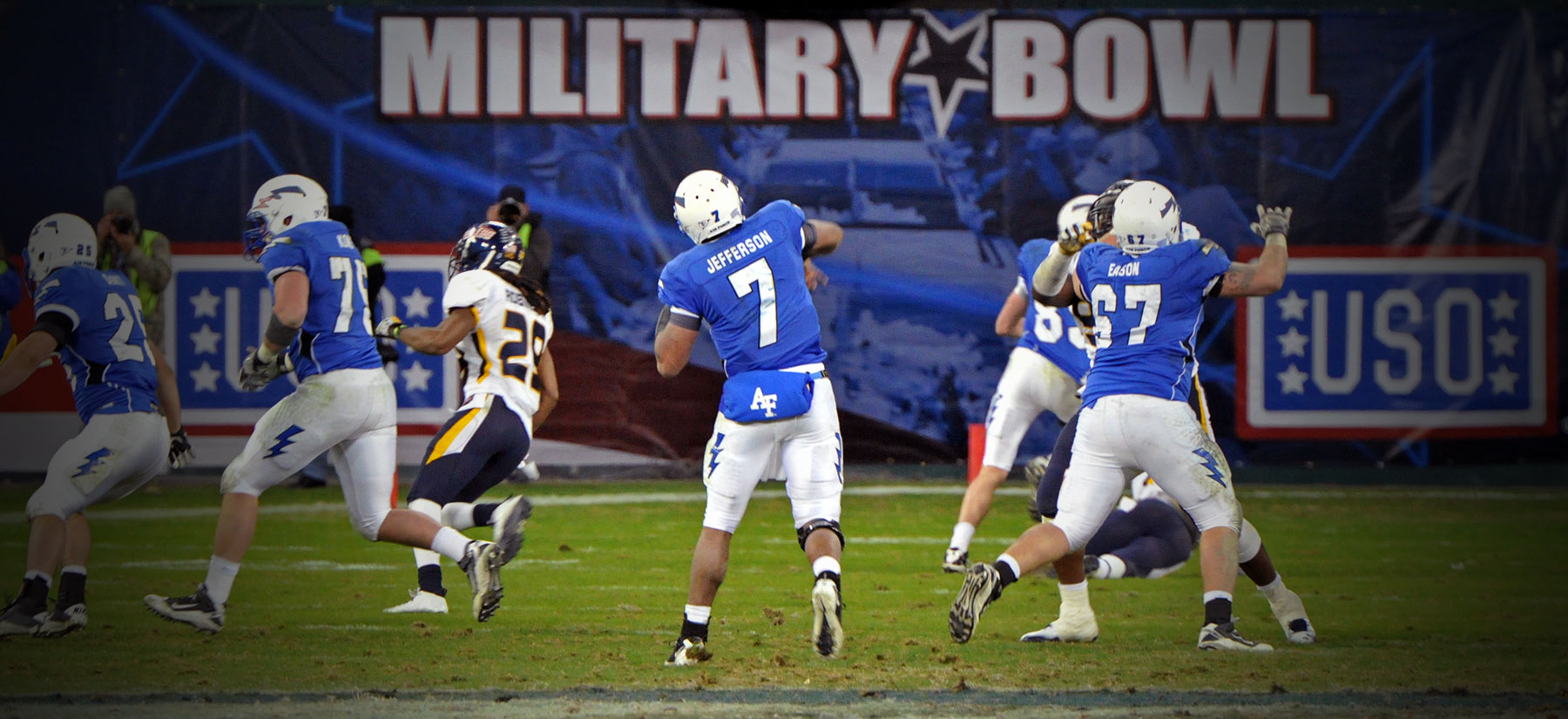 2011 Military Bowl
Featuring a matchup between two offensive powerhouses, the 2011 Military Bowl presented by Northrop Grumman lived up to the hype. The Air Force Falcons (7-5) and Toledo Rockets (8-4) entered RFK Stadium boasting offenses averaging more than 450 yards per game, with Toledo claiming the nation's eighth-best scoring offense at 42.3 points per game.
A scoring-heavy first half resulted in a bowl-record 56 points, including 35 in the first quarter. Three of the first five touchdowns scored occurred within a 53-second window in the first quarter — a 22-yard run by Air Force's Tim Jefferson with 2:29 left, an 87-yard kickoff return by Toledo's Eric Page with 2:17 to go and a 3-yard run by the Falcons' Mike DeWitt with 1:36 on the clock. By halftime, the teams were knotted at 28 apiece.
The defenses switched on in the second half as each team forced a turnover and held both offenses to just a touchdown each in the third quarter. The game remained tied until Rocket quarterback Terrance Owens spun a 33-yard touchdown pass to Bernard Reedy to give Toledo a 42-35 edge with 5:02 remaining in the game.
Air Force scored with 52 seconds left to pull within one of Toledo, electing for the 2-point conversion to win the game. The Rocket defense proved too much, however, thwarting kicker Parker Herrington on the attempt. Toledo snatched the on-side kick to hold on for the victory.
The win marked Toledo coach Matt Campbell's first victory, as the 32-year-old was named the youngest head coach in the Football Bowl Subdivision on Dec. 12, 2011. Campbell took over for Tim Beckman, who departed for the head coaching job at Illinois. Reedy secured MVP honors, snagging four receptions for 126 yards.
Bowl Tidbits
It was Air Force's fifth straight bowl appearance
Toledo coach Matt Campbell became the youngest FBS coach at age 32 after taking over for Tim Beckman, who departed for the vacant Illinois job.
The 83 combined points was the most in bowl history.
Reedy snagged four receptions for 126 yards en route to MVP honors.
Many more photos from the 2011 Bowl Week, Military Village, and 2011 Bowl Game can be found on our Facebook page.