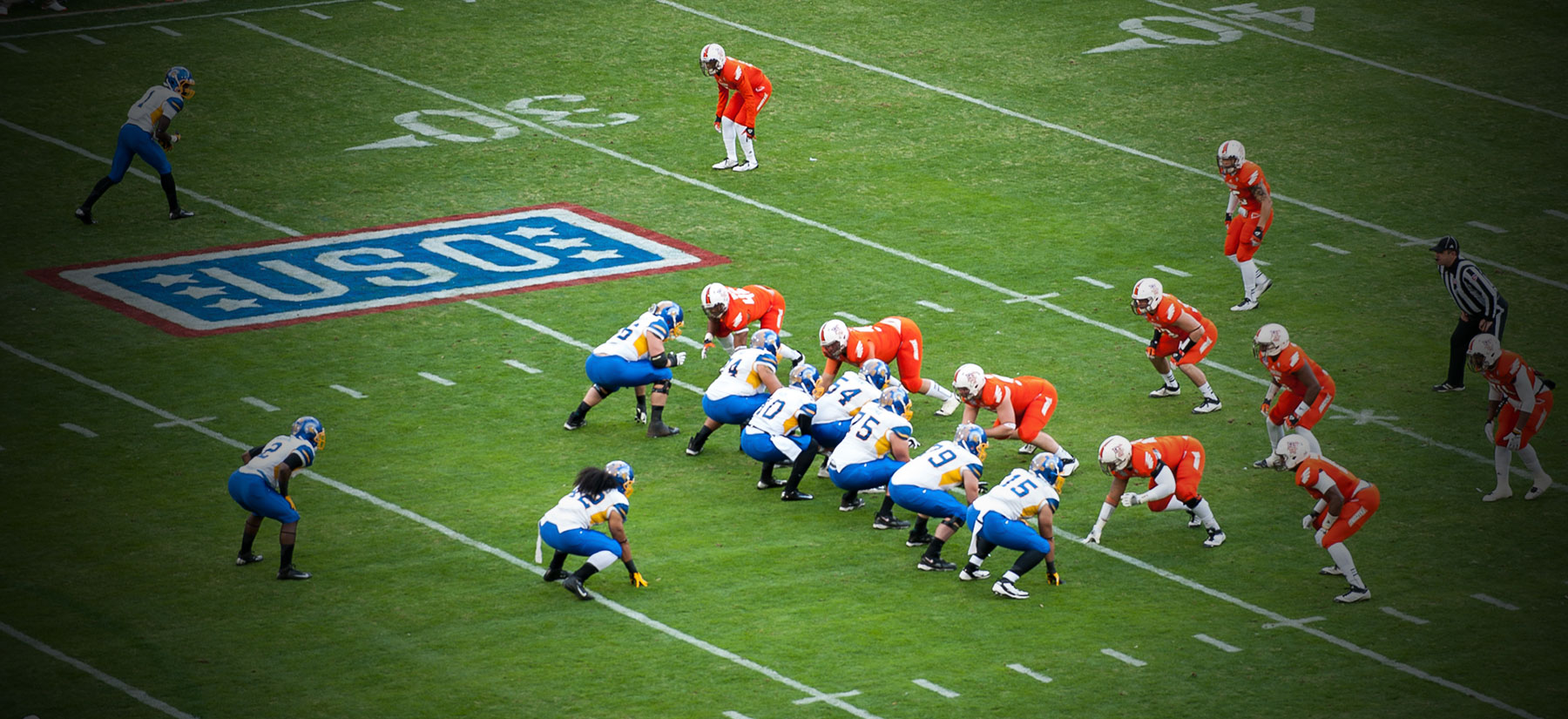 2012 Military Bowl
In a first-ever meeting between San Jose State and Bowling Green, RFK Stadium welcomed another great matchup to Washington, D.C., in 2012.
San Jose State (10-2), the highest-ranked team ever to play in the Military Bowl up to that point, entered with a six-game winning streak that propelled the Spartans into the national rankings for the first time since 1975. On the other side of the ball, Bowling Green (8-4) went on a late-season run, winning seven of its final eight regular season games to earn its first bowl bid since the 2009 Humanitarian Bowl. Defensive lineman Chris Jones, Mid-American Conference Defensive Player of the Year, led a unit that held seven opponents to one touchdown or less.
With the Spartans' outstanding passing game and the Falcons' exceptional defense, the lead changed hands throughout the game. It started with SJSU quarterback David Fales completing a 33-yard pass to Kyle Nunn for a touchdown just three minutes into the first quarter. BGSU answered with not only one but two Tyler Tate field goals to make the score 7-6. Just before halftime, SJSU extended their lead with a 36-yard field goal by Austin Lopez to make it 10-6 going into the locker rooms.
BGSU capitalized on a fumble recovery by Jones to open up the scoring in the second half. Anthon Samuel scored on an 8-yard run, giving the Falcons a 13-10 lead. The Spartans inched closer when Bene Benwikere blocked a punt in the BGSU end zone for a safety, and took the lead 19-13 not long after with Fales' 18-yard touchdown pass to Chandler Jones.
The lead changed hands once again at the start of the fourth, with John Pettigrew's 1-yard touchdown run to make it 20-19 Falcons. BGSU's lead wouldn't last long, as a 27-yard field goal by Lopez gave the Spartans the lead once again, 22-20. A BGSU fumble set up another drive for SJSU, capped off by De'Leon Eskridge's 1-yard touchdown run. The Falcons never recovered as the Spartans defense helped seal a 29-20 win.
Fales, the most accurate passer in the Football Bowl Subdivision that season, earned MVP honors after completing 33 of 43 passes for two touchdowns and a Military Bowl-record 395 yards, It was a fitting end to a breakthrough season for SJSU. The No. 21 Spartans finished 11- 2, their winningest season since going 11-1 in 1940. The team also ended 2012 on a seven-game winning streak, its longest run since winning eight straight in 1987.
For more pictures from the 2012 bowl week and game, check out our Facebook Albums!