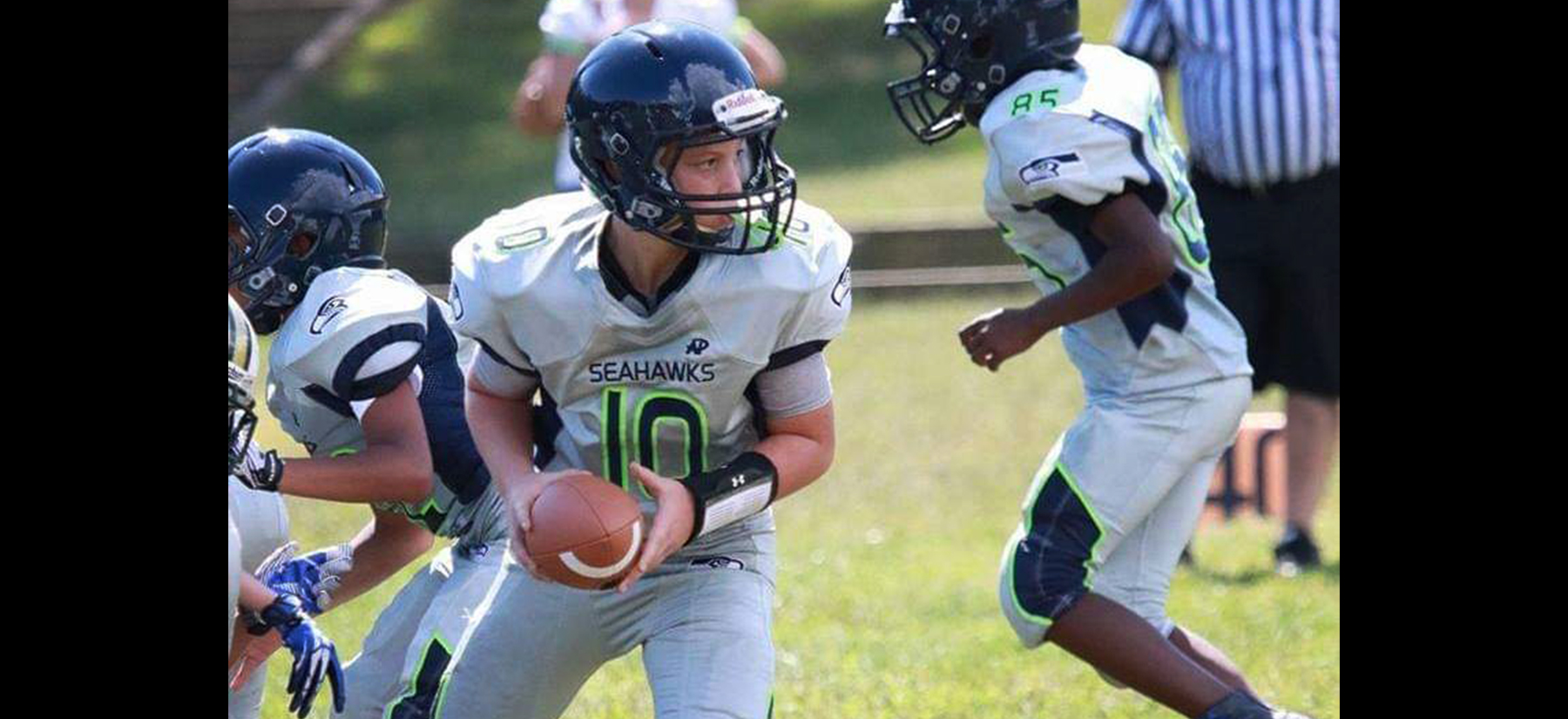 BRADY O'NEAL SELECTED AS FIRST 3M PLAY TO WIN FINALIST
Brady O'Neal, a seventh grader at Central Middle School in Edgewater, Md., has been selected as the first finalist for the 3M Play to Win Award presented by the Military Bowl and 3M.
As a finalist, Brady will receive two complimentary tickets to attend this year's Military Bowl presented by Northrop Grumman, benefiting the USO of Metropolitan Washington-Baltimore, which will be played on Monday, Dec. 31 at Navy-Marine Corps Memorial Stadium in Annapolis, Md. The 3M Play to Win Award winner, which will be announced in mid-December, will receive a prize package and the opportunity to be on the sidelines for the Military Bowl's opening kickoff.
Brady, who is 12 years old, plays quarterback for the South River Seahawks 12-and-under team. He comes from a family with a strong military background; his grandfather, Robert Finn, served in the Navy aboard the USS Intrepid during the Vietnam War, and his great grandfather, William Sheldon, served in Army and fought in Normandy during World War II.
Brady also is a strong math student. He is currently taking Math 7/8 at Central, an advanced STEM class. "It literally is my favorite subject," he said. "I'm good at it. I can do math in my head pretty easily."
This will be Brady's second trip to the Military Bowl. In 2014, he quarterbacked his South River Seahawks team to an Anne Arundel Youth Football Association championship, earning the team an invitation to participate in the Military Bowl Parade and receive complimentary game tickets.
However, after the parade, as Brady and his teammates were throwing a ball in the parking lot, Brady experienced a seizure. "We were lucky to be close enough to the stadium that paramedics rushed over and helped us," his mother, Jenna O'Neal said. "It was pretty scary."
Brady was taken to the hospital – where he asked to watch the Military Bowl on television — but all subsequent tests came up negative. He has returned to playing football and this season led his Seahawks team back to the playoffs.
Nominations for the 3M Play to Win Award are still being accepted at militarybowl.org/3M. The Award is open to student-athletes in fifth through eighth grades who have some or all of these qualities:
Passionate about football and displaying team spirit
Has demonstrated STEM attributes (by integrating STEM into their education plan and has on-going community engagement)
Has a parent who serves or has served in the military
Lives in the greater Washington-Baltimore metropolitan area
Tickets for the Military Bowl presented by Northrop Grumman, benefiting the USO, are on sale. Starting at $30, tickets can be purchased online at militarybowl.org or by calling Ticket Alternative at 877-725-8849. This year's Military Bowl once again will match representatives from the Atlantic Coast Conference and the American Athletic Conference.
Proceeds from the Bowl also benefit Patriot Point, the Military Bowl's 290-acre retreat for recovering service members, their families and caregivers on Maryland's Eastern Shore.
For the latest updates please visit militarybowl.org, follow on Twitter @MilitaryBowl or like the Military Bowl presented by Northrop Grumman on Facebook.