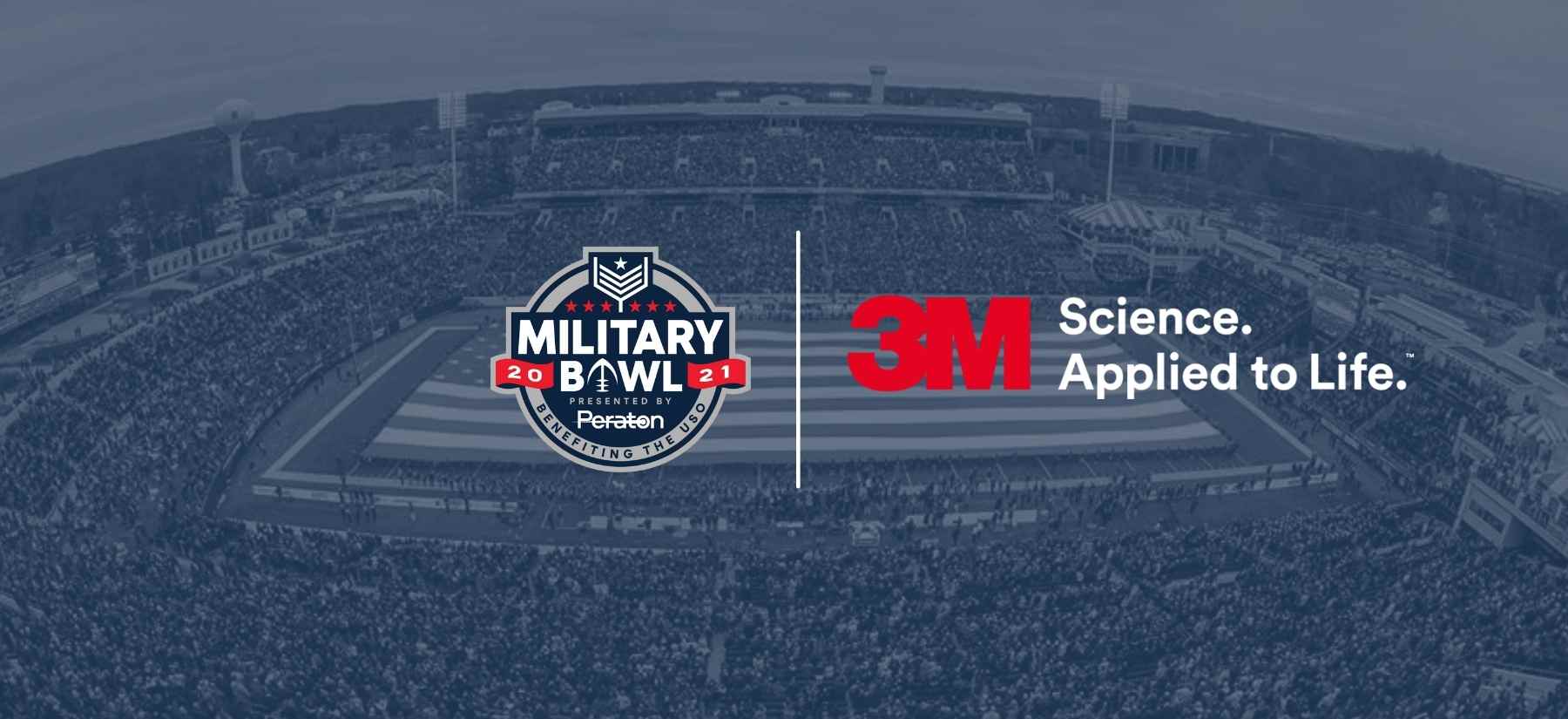 MILITARY BOWL CONTINUES PARTNERSHIP WITH 3M
A leading sponsor of the Bowl since 2015, 3M will continue its partnership for five more years.
The Military Bowl presented by Peraton, benefiting the USO, proudly  announces that 3M has extended its partnership with the National Capital Region's college football  postseason bowl game. 
A Military Bowl partner since 2015, 3M will continue as one of the Bowl's top sponsors for the next five  years.  
As part of the agreement, 3M will continue as a Five-Star Sponsor of the Military Bowl and remains the title  sponsor of the DC Touchdown Club 3M Awards Dinner. In 2021, 3M will launch a new award to recognize  players that are engaged in STEM-related degree programs from the conferences that are represented in  the Military Bowl. 3M will honor these top college student-athletes through the Military Bowl 3M STEM  Scholar-Athlete Program. 
"3M is excited to continue its partnership with the Military Bowl," said Troy Gerry, Vice President of 3M  Government Markets. "This game serves a much greater purpose: To improve the lives of military  personnel and their families. 3M is honored to support this mission." 
This year's Military Bowl presented by Peraton, benefiting the USO, will be held on Monday, December 27,  kicking off at 2:30 p.m. ET and televised on ESPN. Tickets go on sale November 1. The game once again will  match teams from the Atlantic Coast Conference and the American Athletic Conference. Proceeds from the  Bowl benefit the USO and Patriot Point, the Military Bowl Foundation's 294-acre retreat for wounded, ill  and injured service members, their families and caregivers. 
"3M's support of the Military Bowl is indicative of its support of our nation's service members," Military Bowl  Foundation President & Executive Director Steve Beck said. "There is no doubt that 3M is committed to  help our men and women in uniform and we look forward to working together for the next five years."