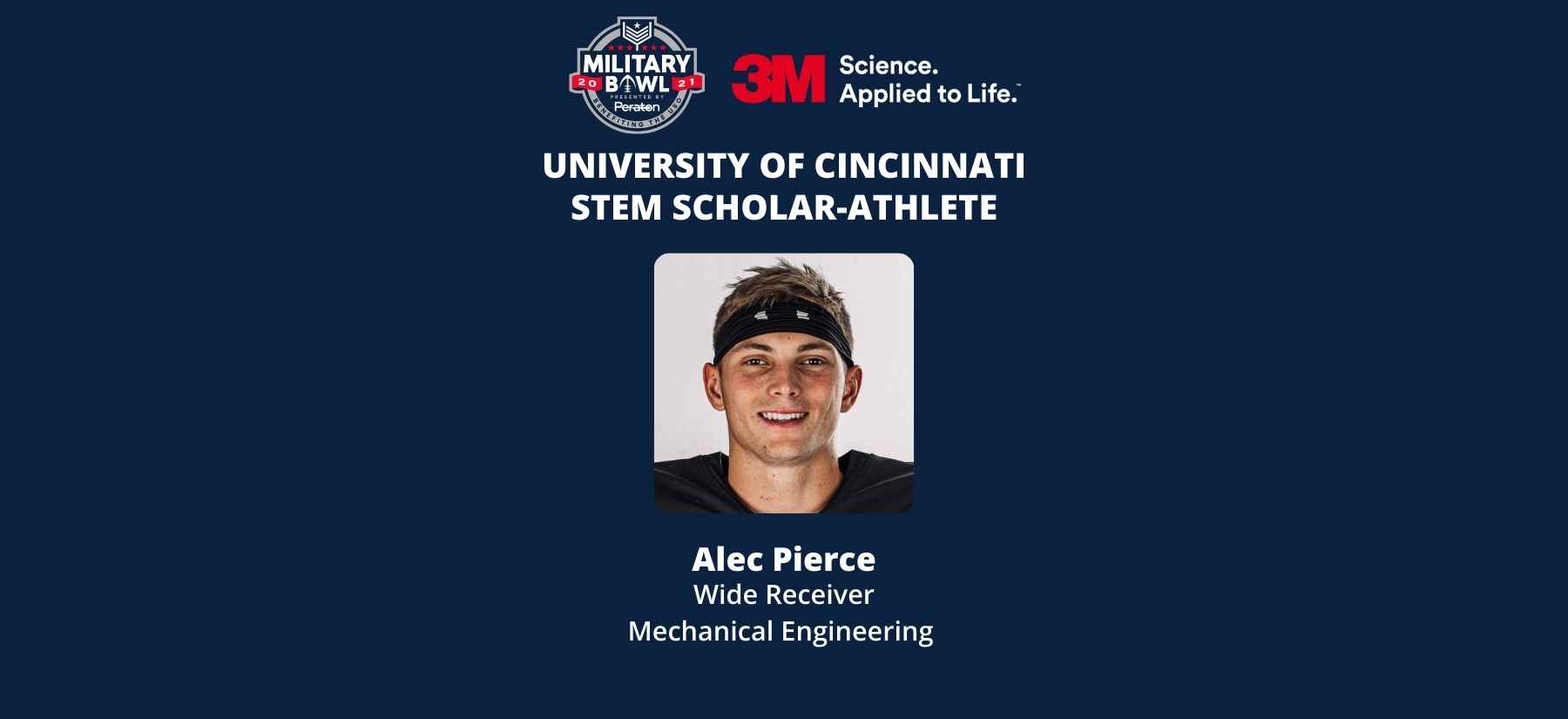 Alec Pierce, University of Cincinnati
University of Cincinnati wide receiver Alec Pierce, a senior majoring in mechanical engineering, has been named a Military Bowl 3M STEM Scholar-Athlete.
Pierce, who is from Glen Ellyn, Illinois, and is the undefeated Bearcats' leading receiver, has a 3.8 grade-point average. He pursued engineering because he was strong in math and science and enjoyed cars. He now enjoys sport science, including daily interactions with Catapult, which tracks GPS, distance run, velocity, acceleration and other football movements.
In the past, Pierce has worked in the Micro and Nano Manufacturing lab on the Cincinnati campus and worked part-time in manufacturing at Valco Melton in Fairfield, Ohio. He has been named to the American Athletic Conference All-Academic Team.
"During the Military Bowl in 2018, I met a UC fan who told me his son played on the UC team," professor Nora Honken said. "I told him I taught engineering, so I probably did not have his son as a student. Right after he told me his son was a first-year engineering student, Alec made a great tackle on a kickoff. The first day of the spring semester, I asked if anyone in my Introduction to Engineering Design II course had attended the game and Alec said, 'I played in the game.'
"Engineering Design II is more demanding than first-year engineering courses taught at other universities. We cover Python, LabVIEW, Visual Basic and touch on electrical theory, statistics, mechanics and material balance. The students complete three projects, as well as homework, quizzes and exams. Alec excelled in the class, particularly when it came to statics."
The Military Bowl 3M STEM Scholar-Athlete Program honors one football player at each university that is a member of the ACC and the American Athletic Conference – the two conferences that are represented in the Military Bowl college football game. These players are studying STEM (science, technology, engineering, math) subjects and/or aspire to STEM careers.
"What an incredible collection of student-athletes, who demonstrate their leadership on the field and in the classroom while tackling challenging subjects that prepare them for the future," Military Bowl President & Executive Director Steve Beck said. "We are thrilled to honor these student-athletes for their dedication and success."
For the two teams that participate in the 2021 Military Bowl, 3M will make a donation in the name of each school's Military Bowl 3M STEM Scholar-Athlete Program representative to their school's general scholarship fund, designated to be used by a STEM major from an under-represented population.
"3M is excited to recognize these outstanding students pursuing degrees in STEM-related fields," said Skip Driessen, Director of 3M Government Markets. "We know how hard these scholar-athletes have worked on the field and in the classroom and look forward to their continued success."