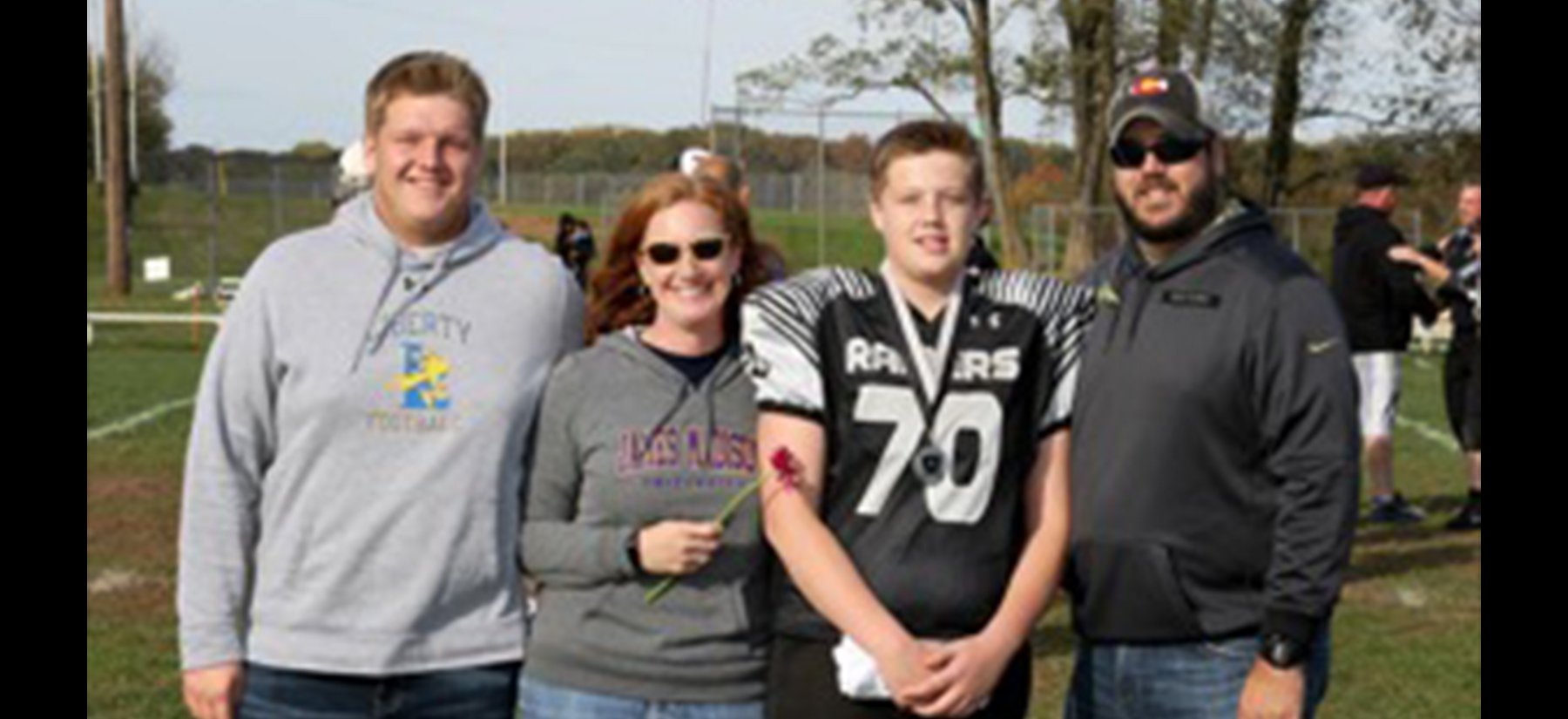 BRADY MORRIS SELECTED AS FIRST 3M PLAY TO WIN FINALIST
Eighth-grader at Oklahoma Road Middle School is the son of Army and Air Force retirees, plays offensive line for the Sykesville Raiders
Brady Morris, an eighth-grader at Oklahoma Road Middle School in Eldersburg, Md., whose parents served in the U.S. Army and the U.S. Air Force for more than 20 years each, has been selected as the first finalist for the 3M Play to Win Award presented by the Military Bowl and 3M.
As a finalist, Brady will receive two complimentary tickets to attend this year's 10th anniversary Military Bowl presented by Northrop Grumman, benefiting the USO, which will be played on Thursday, Dec. 28 at Navy-Marine Corps Memorial Stadium. The 3M Play to Win Award winner, which will be announced in early December, will receive a prize package and the opportunity to be on the sidelines for the Military Bowl's opening kickoff.
Brady, who is 13 years old, has lived in different locations during his childhood, moving as his parents were assigned to duty in Hawaii, Maryland, Philippines, Germany and then back to Maryland. His mother, Michelle, served 21 years in the Air Force as an intelligence analyst. His father, Jason, served 24 in the Army in civil affairs, including deployments to Afghanistan, Iraq and Africa. The family has lived in Sykesville since 2010.
Brady, who is 6 feet and 215 pounds, plays center for an under-13 Sykesville Raiders and has his sights set on playing college football. He loves getting on the field and being a part of a team.
"He has learned what hard work/real teamwork is and has created a bond with his teammates," Michelle Morris wrote in her nomination. "This lesson is very similar to what military soliders, sailors and airmen learn on Day 1 upon entering the service; it's not about YOU anymore, it's about the TEAM. It's these lessons that he will take and apply the rest of his life."
Nominations are still being accepted at militarybowl.org/3M for the 3M Play to Win Award, which is open to student-athletes in fifth through eighth grades who have some or all of these qualities:
Passionate about football and displays team spirit
Has demonstrated the abilities to innovate, take initiative and overcome challenges and/or dealt with adversity
Has a parent who serves or has served in the military
Lives in the greater Washington-Baltimore metropolitan area
Tickets for the Military Bowl presented by Northrop Grumman, benefiting the USO, are on sale. Starting at $25, tickets can be purchased online at militarybowl.org or by calling Ticket Alternative at 877-725-8849. This year's Military Bowl once again will match representatives from the Atlantic Coast Conference and the American Athletic Conference.
Proceeds from the Bowl also benefit Patriot Point, the Military Bowl's 290-acre retreat for recovering service members, their families and caregivers on Maryland's Eastern Shore.
For the latest updates please visit militarybowl.org, follow on Twitter @MilitaryBowl or like the Military Bowl presented by Northrop Grumman on Facebook.