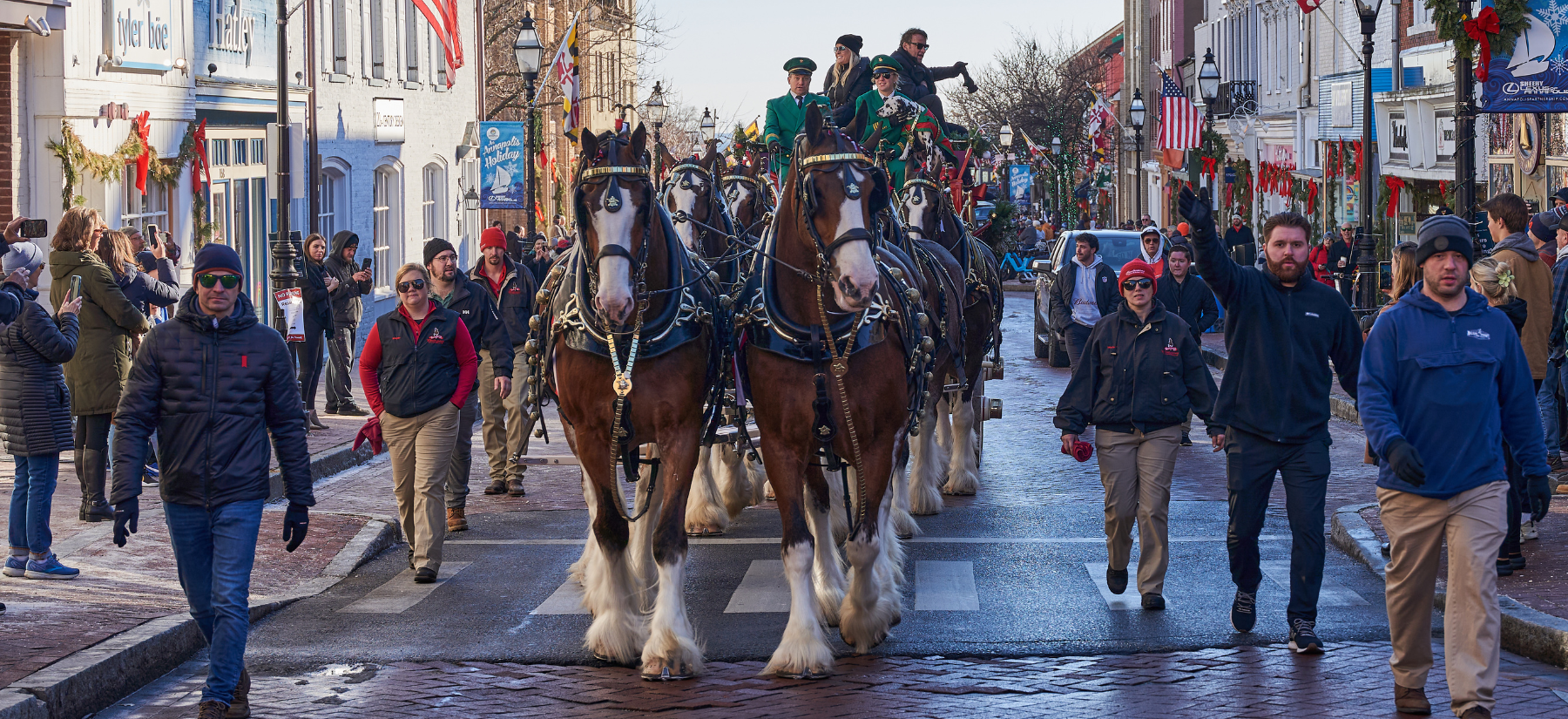 BUDWEISER CLYDESDALES SET TO LEAD THE MILITARY BOWL PARADE
The Military Bowl Foundation announced that the world-famous Budweiser Clydesdales will continue their annual tradition headlining the gameday Military Bowl Parade from Downtown Annapolis to Navy-Marine Corps Memorial Stadium prior to the 2023 Military Bowl on Wednesday, December 27.
This year's Military Bowl Parade steps off at City Dock at 10 a.m. ET and proceeds through historic downtown along Main Street and West Street en route to the stadium.
Registration is now open for groups interested in participating in the parade.
Admission to the parade is free.
The 2023 Military Bowl, matching teams from the ACC and the American Athletic Conference, kicks off at 2 p.m. ET. The game will be televised on ESPN. Bowl tickets are on sale now.
The parade annually attracts thousands of spectators lining the streets of Annapolis to view a wide variety of groups. The parade also features several Recipients of the Medal of Honor, the nation's highest military honor presented for personal acts of valor above and beyond the call of duty.
A color guard will lead the procession, followed by the Budweiser Clydesdales, team marching bands and spirit squads, musical groups, civic organizations, military-themed groups and youth clubs, including Anne Arundel Youth Football Association (AAYFA) championship teams. (The Bowl invites AAYFA championship teams to participate in the parade and provides complimentary game tickets for these teams.)
"It is always a thrill to see the world-famous Budweiser Clydesdales coming up Main Street packed with fans and with City Dock and the Chesapeake Bay in the background," Military Bowl Foundation President & Executive Director Steve Beck said. "It is a great way to start gameday and certainly provides an electric atmosphere. We look forward to another terrific parade and welcome both the groups that participate and the spectators who come to watch. Thank you to Katcef Brothers Inc. for their continued partnership and arranging the Clydesdales' participation."
For the latest updates on the Military Bowl, visit militarybowl.org, follow @MilitaryBowl on Twitter and Instagram and like Military Bowl on Facebook! To plan your trip to Annapolis, go to Visit Annapolis.