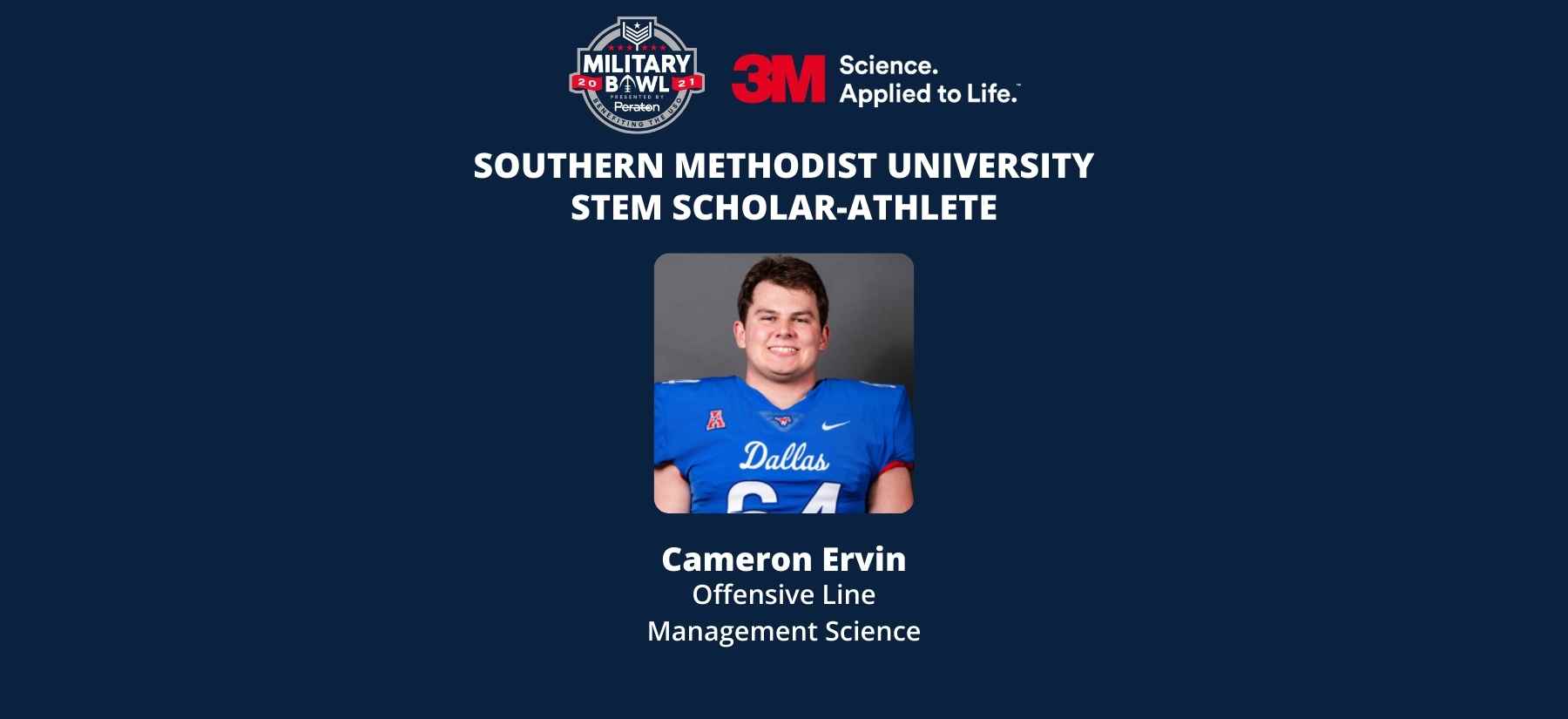 Cameron Ervin, Southern Methodist University
Southern Methodist University offensive lineman Cameron Ervin, a sophomore majoring in management science, has been named a Military Bowl 3M STEM Scholar-Athlete.
Ervin, who is from Fayetteville, Arkansas, has a 3.562 grade-point average and twice has been named to the American Athletic Conference All-Academic Team. He has worked as an operations research intern at J.B. Hunt and is interested in a career in management or technology consulting.
"Camerin has proven himself to be a dedicated student in a program with a very rigorous course load while balancing the demands of being an athlete," SMU football counselor Sam McElreath said. "During the summer of 2020, with his internship at J.B. Hunt, he was able to gain real-world experience and take what he learned back to the classroom."
The Military Bowl 3M STEM Scholar-Athlete Program honors one football player at each university that is a member of the ACC and the American Athletic Conference – the two conferences that are represented in the Military Bowl college football game. These players are studying STEM (science, technology, engineering, math) subjects and/or aspire to STEM careers.
"What an incredible collection of student-athletes, who demonstrate their leadership on the field and in the classroom while tackling challenging subjects that prepare them for the future," Military Bowl President & Executive Director Steve Beck said. "We are thrilled to honor these student-athletes for their dedication and success."
For the two teams that participate in the 2021 Military Bowl, 3M will make a donation in the name of each school's Military Bowl 3M STEM Scholar-Athlete Program representative to their school's general scholarship fund, designated to be used by a STEM major from an under-represented population.
"3M is excited to recognize these outstanding students pursuing degrees in STEM-related fields," said Skip Driessen, Director of 3M Government Markets. "We know how hard these scholar-athletes have worked on the field and in the classroom and look forward to their continued success."