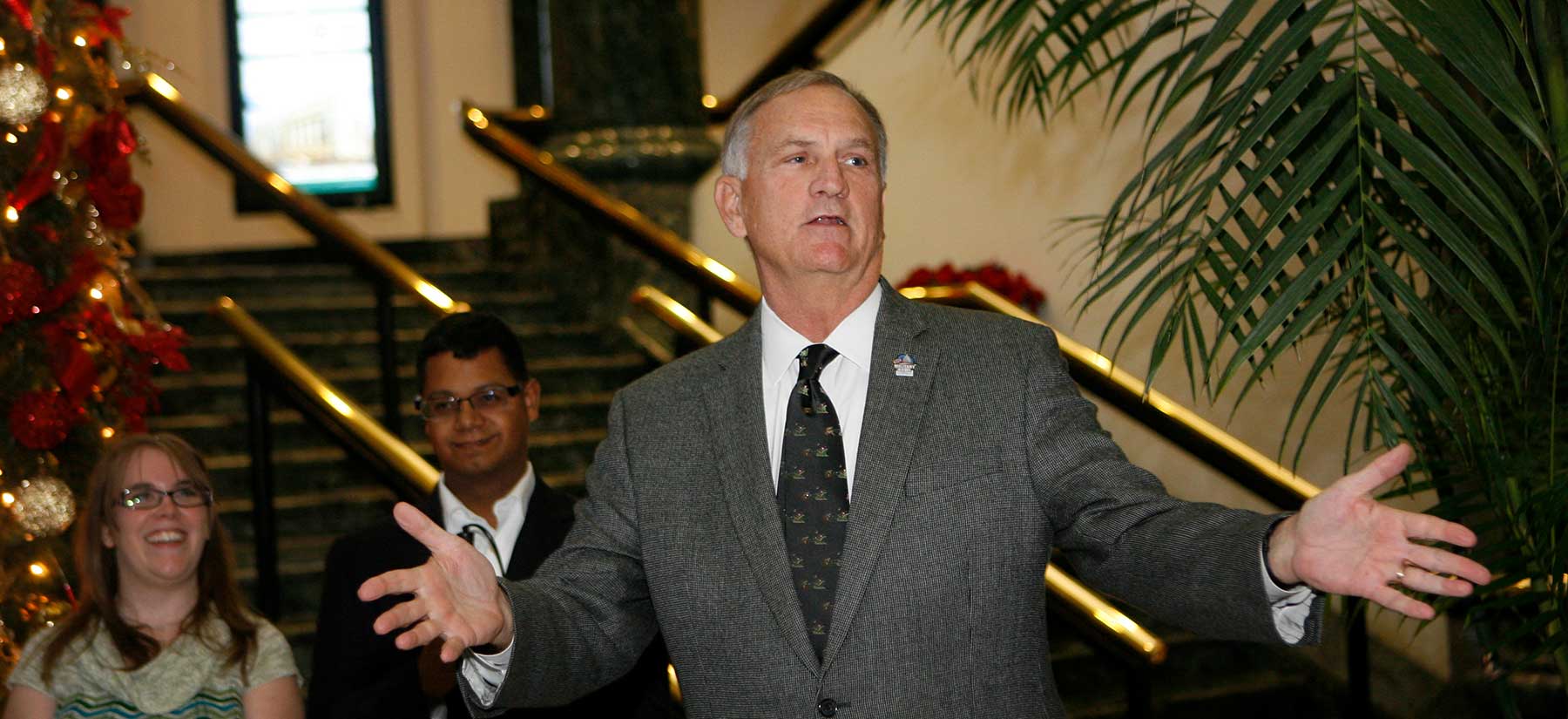 Chris Cole, Chairman of Military Bowl Foundation's Board of Directors
Rear Admiral Christopher W. Cole. USN (Ret.) had a distinguished 32-year career in the U.S. Navy, serving in various flying and staff positions, commanding two aircraft squadrons and two amphibious ships. He retired from the Navy in 2004 and now serves on the Board of Directors of the Navy Safe Harbor Foundation.
But while Admiral Cole remains busy, he makes sure to dedicate time to one other position, as chairman of Military Bowl Foundation's Board of Directors.
Admiral Cole became involved with the Bowl on an invitation from a friend and fellow Naval officer, Vice Admiral Gordon Holder, USN (Ret.), who at the time was a member of the Bowl's board of directors.
"We got to know each other in the mid-90s when we commanded ships," Cole said. "He went to Florida State, I went to North Carolina and the Bowl was looking for board members from the ACC."
When Military Bowl Foundation President & Executive Director Steve Beck asked Cole to join the board in 2013, Cole said the decision was easy because of the Bowl's mission to support and honor the men and women of the Armed Forces. Cole also pointed to the Bowl's philanthropic commitment to the USO and its connection to its previous sponsor Northrop Grumman – which built airplanes for the Navy.
"And then as the Military Bowl grew into the Military Bowl Foundation and bought Patriot Point and started to do things directly for active-duty service members and veterans, it made me even more proud to be a part of the organization and tremendously lucky to be involved," Cole said.
Indeed, much has changed during Admiral Cole's tenure on the board as the organization broadened its reach and solidified the bowl's place on the sporting calendar.
"What Steve and our donors, the board and staff have been able to achieve is nothing short of outstanding," Cole said. "But the impact on the military is even more impressive and I'm tremendously proud of it because of what it does for the military and families. I see only greater things ahead as we learn to improve what we do and as people learn about us as well."