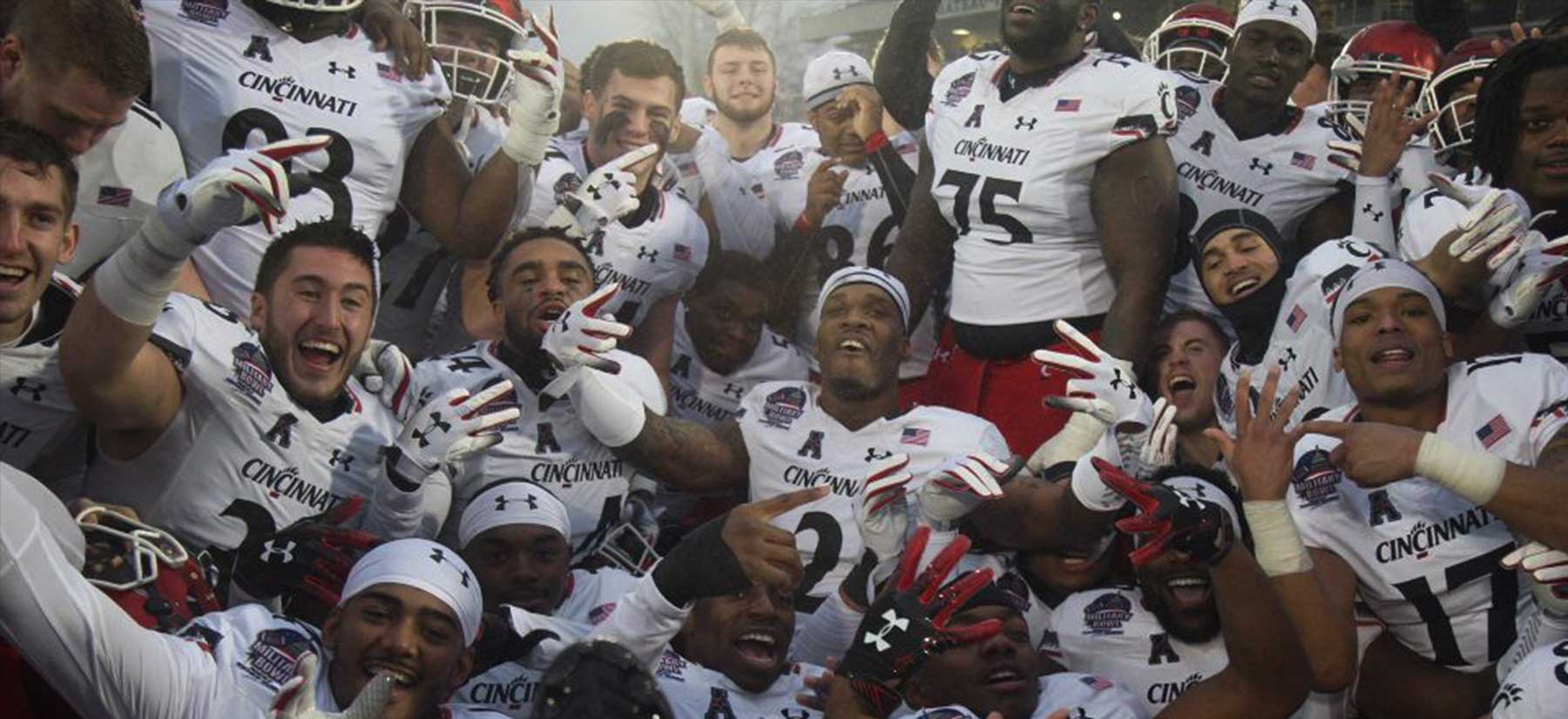 Cincinnati Wins the 2018 Military Bowl presented by Northrop Grumman
ANNAPOLIS, Md. – The downpours started just before kickoff, but it did not rain on the Cincinnati Bearcats' parade on New Year's Eve in the Military Bowl presented by Northrop Grumman, benefiting the USO.
Running back Michael Warren rushed for a career-high and Bearcats'-bowl record 166 yards and two touchdowns, leading Cincinnati to a 35-31 victory over the Virginia Tech Hokies before a crowd of 32,832 at Navy-Marine Corps Memorial Stadium.
After a special Bowl Week that included visits to various Washington landmarks and saw Downtown Annapolis teeming with fans throughout the weekend, the game was just as exciting, featuring a Military Bowl-record seven lead changes. Neither team led by more than a touchdown.
The victory gave Cincinnati (11-2) its third 11-win season in the 131-year history of the program, while the loss ended the Hokies' run of 25 consecutive winning season. Virginia Tech finished 6-7.
"Give Virginia Tech credit, they played their hearts out," Cincinnati Coach Luke Fickell said. "That game had a lot of ups and downs and being able to win that type of game is what makes it so special."
The forecasted rain held off in the morning for the Military Bowl Parade, which featured 12 Medal of Honor Recipients, Miss America 2019 Nia Franklin, Grand Marshal and Maryland Governor Larry Hogan and plenty of youth and community groups. The Military Bowl Official Tailgate also was a hit and invited guests enjoyed the pregame Medal of Honor/USO Reception.
As the clock struck noon, the focus shifted to the field.
Virginia Tech took an early 7-0 lead on a 21-yard touchdown pass from Ryan Willis to Eric Kumah. Cincinnati answered on a 38-yard touchdown pass from Desmond Ridder to Charles McClelland. Ridder left soon after with a leg injury, but backup Hayden Moore proved plenty capable.
The Bearcats took a 14-7 lead on a crazy play that saw wide receiver Kahlil Moore recover a teammate's fumble in the end zone. But the Hokies drew even by halftime at 14-14 on Steven Peoples' 1-yard touchdown run.
The teams traded the lead in the third quarter, before Cincinnati forged ahead 28-24 on Moore's 19-yard touchdown run early in the fourth quarter. It was Willis – who finished 20 of 31 for 219 yards and two touchdowns passing – who put the Hokies back in front, 31-28, with a five-yard touchdown run with 10 minutes 32 seconds left.
After the teams traded possessions, Cincinnati put together a quick drive, capped by Warren's decisive 8-yard touchdown run with 1:29 left.
"Our kids had a wonderful time this week, fantastic experience," Virginia Tech Coach Justin Fuente said. "They got to experience things they'll never forget. We're certainly appreciative of the hospitality and the way we were treated."