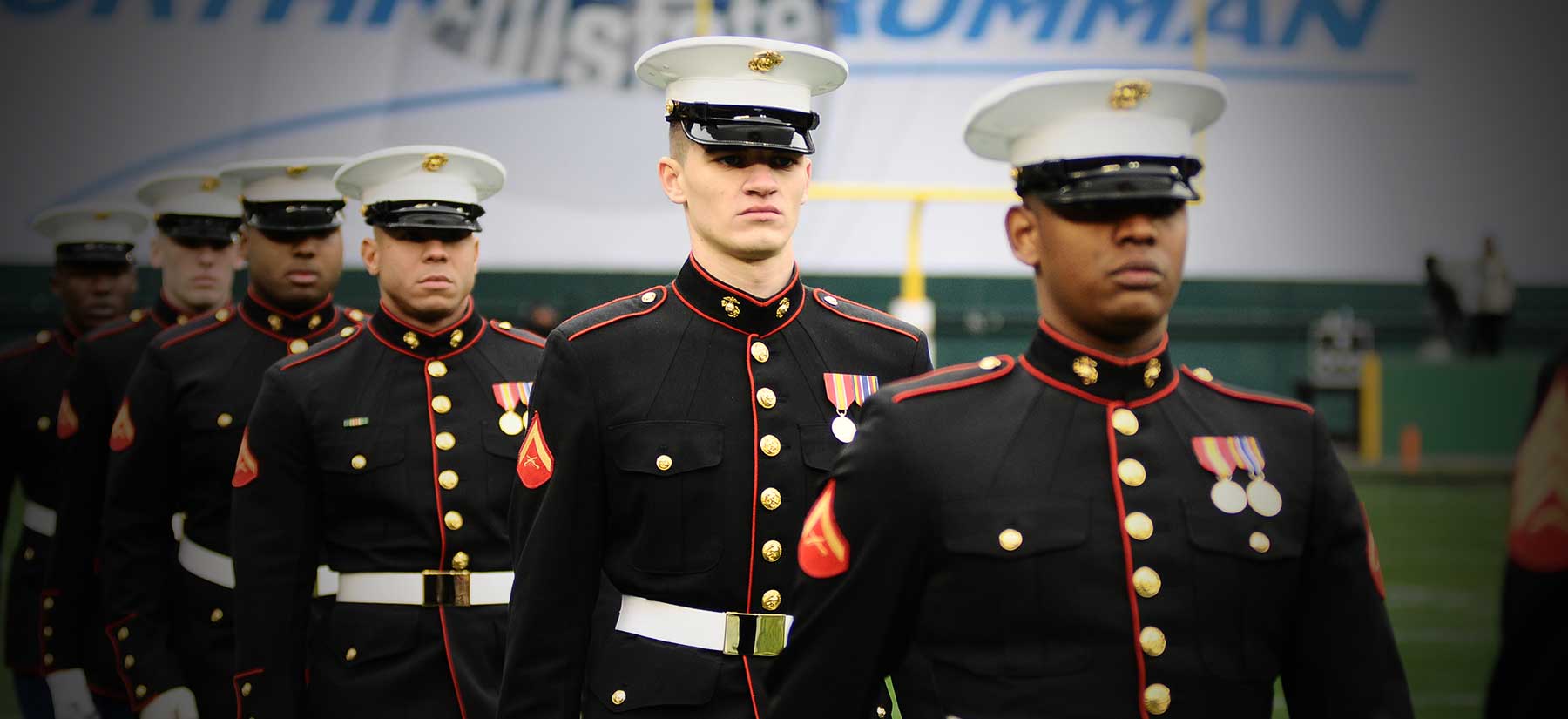 COMPLIMENTARY TICKETS AVAILABLE FOR SERVICE MEMBERS TO ATTEND THE 10th ANNIVERSARY MILITARY BOWL PRESENTED BY NORTHROP GRUMMAN
Complimentary tickets are now available for service members and their families to attend the 10th anniversary Military Bowl presented by Northrop Grumman, benefiting the USO. This year's game matches the Virginia Cavaliers and Navy Midshipmen on Thursday, Dec. 28 at Navy-Marine Corps Memorial Stadium in Annapolis. Kickoff is set for 1:30 p.m. and the game will be televised on ESPN.
Beginning today, service members can sign up to receive as many as eight vouchers for these tickets via USO of Metropolitan Washington-Baltimore's Ticketline program beginning at noon on Wednesday, Dec. 6. Active Duty, Active Reservists and Active National Guard Service Members and their military dependents are eligible to receive the vouchers.
These vouchers will be available for pickup from Dec. 18-20 at these locations:
Fort George G. Meade USO Center, 8612 6th Armored Cavalry Road, Fort Meade, Md. 20755. Open daily 9 a.m. to 9 p.m.
Joint Base Myer – Henderson Hall Honor Guard USO Lounge, 228 McNair Road, Building 405, Fort Myer, Va. 22211. Open daily, 8 a.m. to 8 p.m.
USO Warrior and Family Center at Fort Belvoir, 5940 9th Street, Fort Belvoir, Va. 22060. Open daily 8 a.m. to 8 p.m.
USO Warrior and Family Center at Bethesda, 4565 Taylor Road, Building 83, Bethesda, Md. 20889. Open daily 8 a.m. to 8 p.m.
The vouchers can be redeemed for tickets on gameday at the USO tent located in the Military Bowl Official Tailgate in the parking lot on the west (Blue) side of Navy-Marine Corps Memorial Stadium.
The Military Bowl thanks its sponsors of the Tickets for Troops program, including Northrop Grumman, Dell EMC, NewDay USA, Under Armour, 3M, Navy Federal Credit Union, Vencore, GE Aviation. Fans can also donate to Tickets for Troops at militarybowl.org/militarytickets.
"It is awesome that our our partners believe in the importance of making sure that so many service members and their families are able to enjoy the game," Military Bowl President & Executive Director Steve Beck said. "The Bowl takes great pride in its commitment to supporting and honoring the men and women of our nation's Armed Forces and we look forward to them joining us on gameday."
Starting at $25, Military Bowl tickets can be purchased online at militarybowl.org or by calling Ticket Alternative at 877-725-8849. Proceeds from the Bowl also benefit Patriot Point.
For the latest updates please visit militarybowl.org, follow on Twitter @MilitaryBowl or like the Military Bowl presented by Northrop Grumman on Facebook. Fans also are encouraged to download the Military Bowl app.