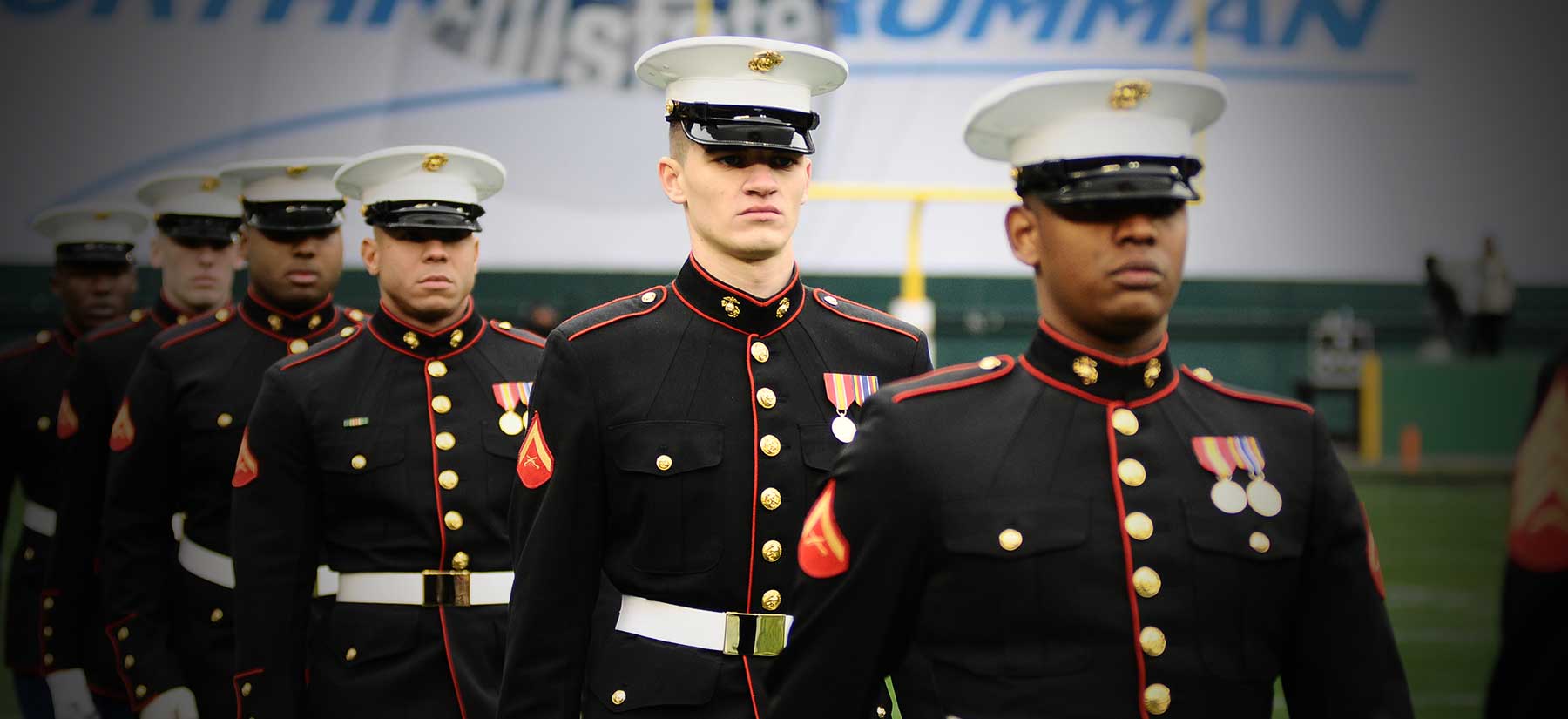 COMPLIMENTARY TICKETS AVAILABLE FOR SERVICE MEMBERS AND THEIR FAMILIES TO ATTEND THE MILITARY BOWL PRESENTED BY NORTHROP GRUMMAN
WASHINGTON, D.C. – Complimentary tickets are now available for service members and their families to attend the 2016 Military Bowl presented by Northrop Grumman, benefiting the USO. This year's game, which celebrates USO's 75th anniversary matches No. 23 Temple and Wake Forest. Kickoff is set for 3:30 p.m. ET on Tuesday, Dec. 27 at Navy-Marine Corps Memorial Stadium. The game will be televised on ESPN.
Beginning today, service members can sign up to receive as many as six vouchers for these tickets via USO of Metropolitan Washington-Baltimore's Ticketline program. Active Duty, Active Reservists and Active National Guard Service Members and their military dependents are eligible to receive the vouchers.
These vouchers will be available for pickup from Dec. 19-21 at these locations:
Fort George G. Meade USO Center, 8612 6th Armored Cavalry Road, Fort Meade, MD 20755. Open daily 9 am to 9 pm.
Joint Base Myer – Henderson Hall Honor Guard USO Lounge, 228 McNair Road, Building 405, Fort Myer, VA 22211. Open Monday to Friday, 8 am to 8 pm.
USO Warrior and Family Center at Fort Belvoir, 5940 9th Street, Fort Belvoir, VA 22060. Open daily 8 am to 8 pm.
NSF Indian Head USO Center, 14 Strauss Avenue, Indian Head, MD 20640. Open Monday to Friday, 8 am to 1 pm.
USO Warrior and Family Center at Bethesda, 4565 Taylor Road, Building 83, Bethesda, MD 20889. Open daily 8 am to 8 pm.
The vouchers can be redeemed for tickets on gameday at the USO tent located in the Military Bowl Official Tailgate in the parking lot on the west (Blue) side of Navy-Marine Corps Memorial Stadium.
The Military Bowl thanks USAA for being the presenting sponsor of the Tickets for Troops program. Other sponsors contributing to the program are Northrop Grumman, Events DC, NewDay USA, Microsoft, Under Armour, 3M, Northrop Grumman Federal Credit Union, Navy Federal Credit Union, Vencore, Fidelity Investments, GE Aviation, GEICO and Towers Watson. Fans can also donate to Tickets for Troops at militarybowl.org/militarytickets.
"We are very appreciative of our partners' efforts to make sure that so many service members and their families are able to enjoy the game," Military Bowl President & Executive Director Steve Beck said. "The Bowl takes great pride in honoring the men and women of our nation's Armed Forces and we look forward to seeing many of them in attendance on December 27."
Tickets for the general public start at $25 and are on sale now at militarybowl.org or by calling 888-841-2787. For information on suites and hospitality packages, please contact Director of Marketing & Ticketing Ryan Bartholomew at rbartholomew@militarybowl.org.
For the latest updates please visit militarybowl.org, follow on Twitter and Instagram @MilitaryBowl or like the Military Bowl presented by Northrop Grumman on Facebook.
###

About the Military Bowl presented by Northrop Grumman
The Military Bowl presented by Northrop Grumman kicks off for the ninth time on Dec. 27 at 3:30 p.m. ET at Navy-Marine Corps Memorial Stadium, featuring a matchup between representatives from the Atlantic Coast Conference and the American Athletic Conference. Organized by the DC Bowl Committee, the Military Bowl serves as a premier regional event benefiting the USO and other organizations supporting members of the Armed Forces and their families. Since its inception in 2008, the Bowl has donated more than $600,000 to the USO and provided more than 30,000 complimentary tickets for troops and their families. For more information, please visit militarybowl.org.
About the USO
The USO strengthens America's military service members by keeping them connected to family, home and country, throughout their service to the nation. At hundreds of locations worldwide, we are united in our commitment to connect our service members and their families through countless acts of caring, comfort, and support. The USO is a private, non-profit organization, not a government agency. Our programs, services and entertainment tours are made possible by the American people, support of our corporate partners and the dedication of our volunteers and staff.
In addition to individual donors and corporate sponsors, the USO is supported by President's Circle Partners: AT&T, the BNSF Railway Foundation, Clark Construction Group, LLC, The Coca-Cola Company, FedEx, Jeep, Johnson & Johnson, Kroger, NFL, Southern New Hampshire University and Four-Star Partners: Advisors Excel, BIC, ConAgra Foods, GEICO, Harris Teeter, Lockheed Martin, Microsoft, Starbucks, TKS, USAA and the Wawa Foundation. We are also supported through the United Way and Combined Federal Campaign (CFC-11381). To join us in this important mission, and to learn more about the USO, please visit uso.org.