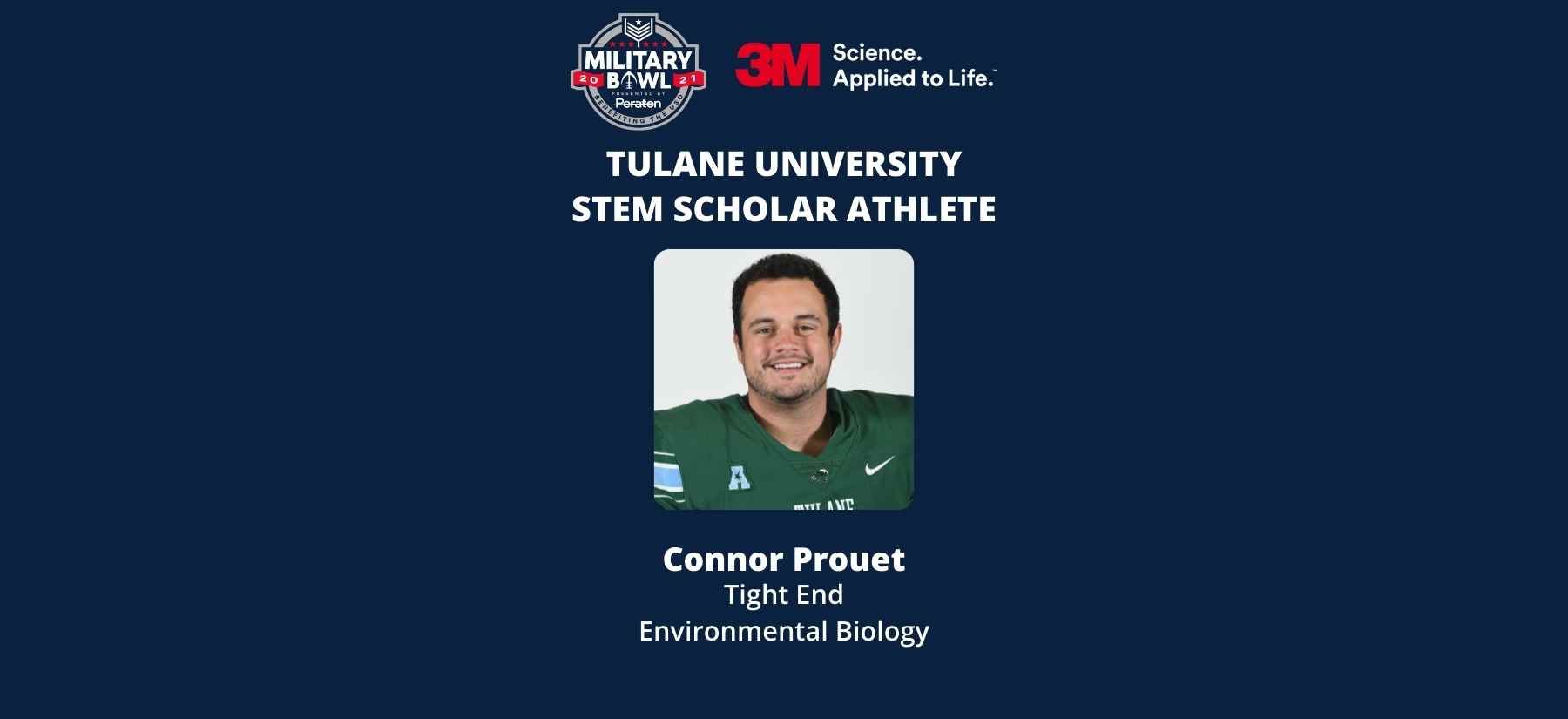 Connor Prouet, Tulane University
Tulane University tight end Connor Prouet, a redshirt junior majoring in environmental biology, has been named a Military Bowl 3M STEM Scholar-Athlete.
Prouet, who is from New Orleans, has a 3.267 grade-point average. He is a member of the Tulane 3.0 Club and recently interned in a doctor's office.
"Connor truly defines what it means to be a student-athlete," said Hannah Richards, senior academic advisor for Tulane football. "In working with Connor, I have had a front row seat in seeing the value that he places on academic and athletic achievement. He also understands the importance of gaining real-world experience in his field of study, which I know will serve him well as he moves on to the career stage of his life."
The Military Bowl 3M STEM Scholar-Athlete Program honors one football player at each university that is a member of the ACC and the American Athletic Conference – the two conferences that are represented in the Military Bowl college football game. These players are studying STEM (science, technology, engineering, math) subjects and/or aspire to STEM careers.
"What an incredible collection of student-athletes, who demonstrate their leadership on the field and in the classroom while tackling challenging subjects that prepare them for the future," Military Bowl President & Executive Director Steve Beck said. "We are thrilled to honor these student-athletes for their dedication and success."
For the two teams that participate in the 2021 Military Bowl, 3M will make a donation in the name of each school's Military Bowl 3M STEM Scholar-Athlete Program representative to their school's general scholarship fund, designated to be used by a STEM major from an under-represented population.
"3M is excited to recognize these outstanding students pursuing degrees in STEM-related fields," said Skip Driessen, Director of 3M Government Markets. "We know how hard these scholar-athletes have worked on the field and in the classroom and look forward to their continued success."