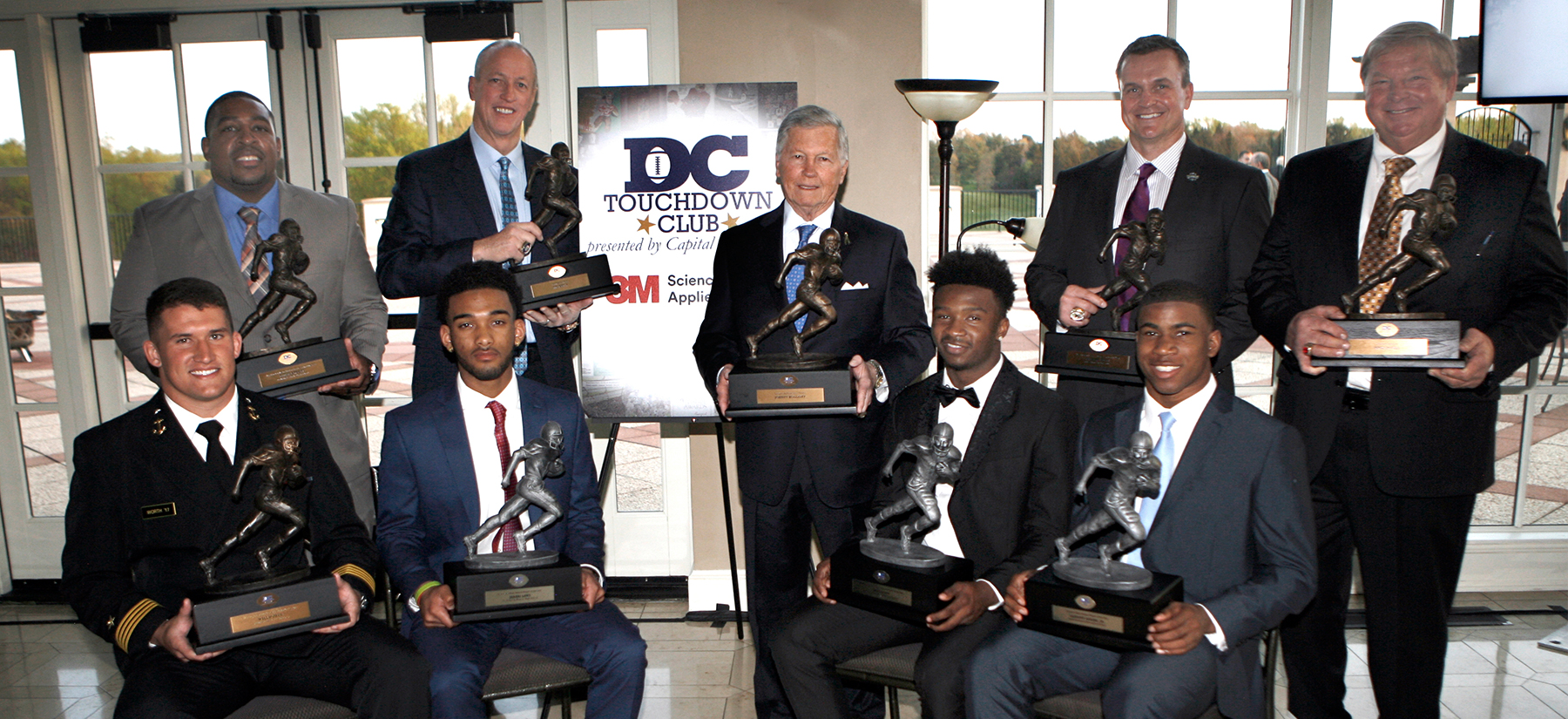 DC Touchdown Club 3M Awards Dinner Honors Jim Kelly, Johnny Holliday and Local High School and College Players and Coaches
Bethesda, Md. — The DC Touchdown Club presented by Capital Bank N.A. honored one of the best to play the game along with one of the best voices in the game at its fifth annual 3M Awards Dinner on Thursday night before a capacity crowd of more than 300.
Hall of Fame quarterback Jim Kelly, who post-playing career has been a business and philanthropic success, was presented the Club's Founder's Award for all he has done to help promote the game of football. University of Maryland broadcaster Johnny Holliday, who just completed his 38th season on the call for Terrapins' football and basketball games, was honored with a Lifetime Achievement Award.
Those awards highlighted a special evening as guests celebrated the best and brightest players in the Washington area.
"It was another incredible event," DC Touchdown Club Executive Director Steve Beck said. "The 3M Awards Dinner continues to bring together so many facets of the local football community and remind us why we love this game so much. And this year's collection of award winners might be our best yet, which is really saying something."
Proceeds from the Dinner will benefit Patriot Point, the 290-acre retreat for recovering service members, their families and caregivers on Maryland's Eastern Shore.
The crowd included several former Timmie Award winners, retired military personnel, University of Maryland football coach DJ Durkin, University of Virginia assistant football coach Mark Atuaia and several local executives.
Following a cocktail reception, recently retired Bob Milloy, a member of the Touchdown Club's Coaches Committee, introduced longtime Wilde Lake Coach Doug DuVall as DuVall was inducted into the Circle of Legends.
After dinner, emcee Doc Walker presented the local high school award winners. Lake Braddock running back Lamont Atkins, who is already enrolled at the University of Virginia, was named the Virginia High School Player of the Year. Wilson wide receiver Sean Savoy, who has signed with Virginia Tech, was named the D.C. High School Player of the Year. Wise quarterback Jabari Laws, who will play at Army West Point, was named the Maryland High School Player of the Year. DeMatha's Elijah Brooks was named the Washington Metro High School Coach of the Year.
The Washington Metro College Player of the Year was presented to Navy quarterback Will Worth, while James Madison's Mike Houston was honored as the Washington Metro College Coach of the Year.
That set the stage for the night's biggest awards. University of Maryland Athletic Director Kevin Anderson introduced Holliday, who recapped his career, from growing up in South Florida to being a top 40 disc jockey, to being the voice of the Maryland Terrapins for football and basketball and hosting the Washington Nationals pregame and postgame shows.
Then Kelly took the stage to receive the Founder's Award, joining select company to have received this honor. Previous Founder's Award recipients were Hall of Famer Mike Ditka and Under Armour.
Kelly gave a powerful speech about toughness and perseverance, from being rejected from the college of his dreams, losing Super Bowls, losing his son to Krabbe Disease, and his two bouts with cancer. Kelly closed by telling the audience to be sure to make a difference in somebody's life.
Following his remarks, Kelly was joined on stage by Andrew Phillips who presented a check from the Bill Phillips Memorial Fund, named after his late father, to the Hunter's Hope foundation run by Kelly and his wife, Jill, in honor of their late son.
Check out photos from the event on our Facebook Page!