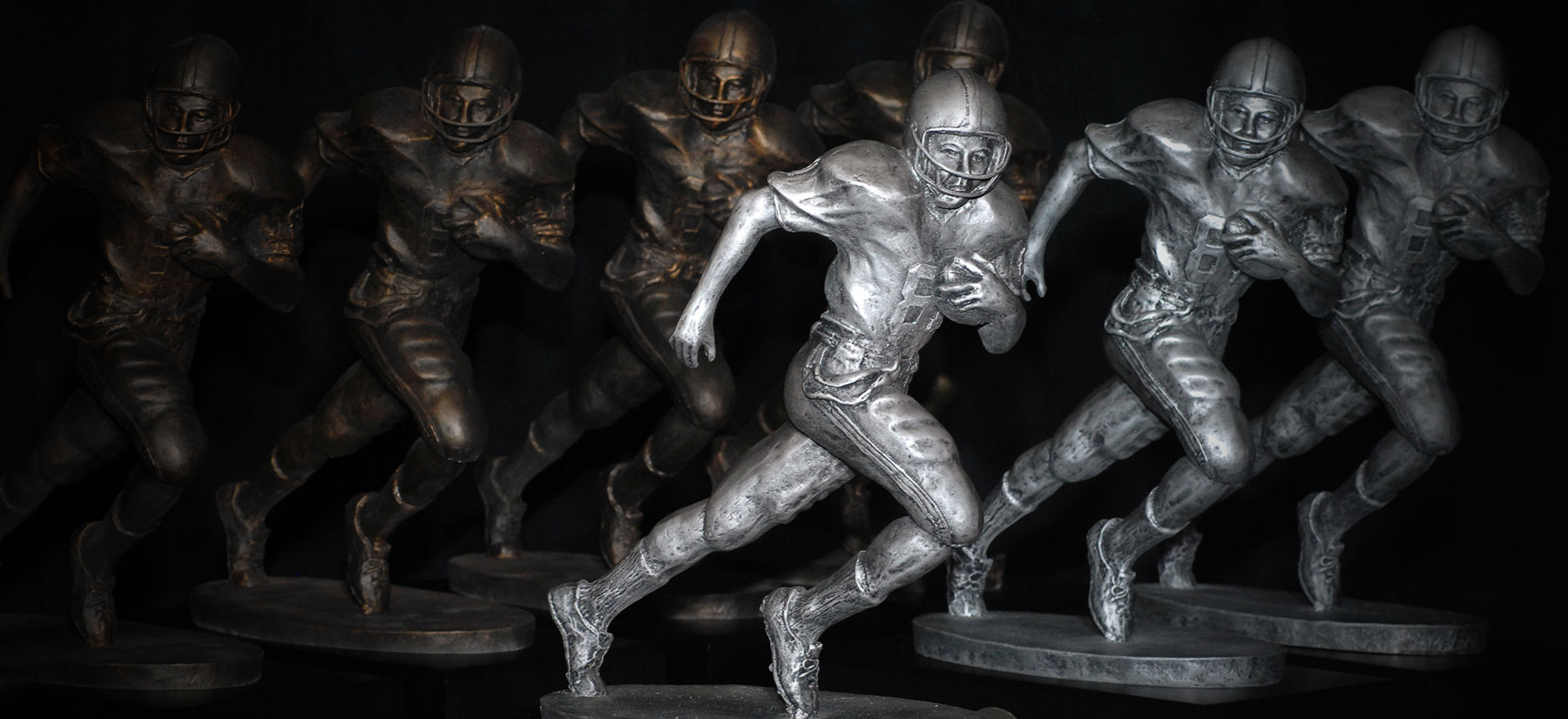 DC Touchdown Club presented by Capital Bank N.A. to honor Lee Corso, Keenan Reynolds, Under Armour at 3M 2016 Awards Dinner
WASHINGTON, D.C. — The DC Touchdown Club presented by Capital Bank N.A. is excited to announce its 3M Awards Dinner, which will honor ESPN commentator Lee Corso, Navy quarterback Keenan Reynolds and longtime local coach Al Thomas on Thursday, April 14, in Bethesda, Md. Additionally, Under Armour will be presented with the Founders Award at the Touchdown Club's fourth annual dinner.
"What a terrific lineup of award winners," DC Touchdown Club Executive Director Steve Beck said. "We look forward to another capacity crowd enjoying each other's camaraderie as we celebrate a night of football."
Corso will receive the Club's Lifetime Achievement Award. A native of Lake Mary, Fla., Corso played quarterback and cornerback at Florida State. As a college coach, he spent seven seasons as an assistant at Maryland, followed by three seasons at Navy. He then embarked on a head coaching career that saw stops at Louisville, Indiana and Northern Illinois, as well as one year with the Orlando Renegades of the USFL. After coaching, Corso went into broadcasting and quickly became a fixture on ESPN's GameDay program; he has worked on the set of the Saturday morning preview show since 1987.
In a relatively short amount of time, Under Armour has established itself as one of the world's foremost manufacturers of athletic apparel. Under Armour had revenue of $3.96 billion in the 2015 fiscal year. Under Armour Founder and CEO Kevin Plank, a Kensington native who played football for the Maplewood Athletic Association before going onto St. John's College High School and the University of Maryland, is expected to accept the Club's Founders Award.
The record-setting Reynolds, who finished fifth in the Heisman Trophy voting, will be presented the Washington Metro College Player of the Year Award for the second time in three seasons. Reynolds guided Navy to an 11-2 record, the most victories in the Midshipmen's 135 years of playing football. Reynolds finished his career with a victory over Pitt in the 2015 Military Bowl presented by Northrop Grumman, where he established an NCAA Football Bowl Subdivision record with 88 touchdowns. His 4,559 yards rushing is the most ever by a Division I quarterback.
Thomas, regarded as one of the region's greatest high school coaches, will be inducted into the Club's Circle of Legends. Thomas coached at Seneca Valley, Damascus and Sherwood high schools, winning eight state championships, tied for the most by a coach in Maryland history. (The other coach with eight Maryland championship is Touchdown Club Coaches Committee member Bob Milloy.) Thomas's final victory came in the 2008 Maryland 4A title game and he retired after that season with 242 victories, which still ranks 10th all-time in the state.
This year's lineup of high school award winners is one of the Club's finest yet, with representatives on both sides of the ball from across the region.
The Maryland High School Player of the Year is Damascus running back Jake Funk, who rushed for 2,866 yards and scored 57 touchdowns as the Swarmin' Hornets went 14-0 and won the Maryland 3A championship. Funk, who was twice named the DC Touchdown Club Player of the Week this past fall, will play for Maryland.
The Virginia High School Player of the Year is Tuscarora quarterback Daniel Smith, the second consecutive year that a player from the Leesburg school has claimed the award. One of just two returning offensive starters from a team that went undefeated until falling in the 2014 Virginia 5A championships, Smith was spectacular this season. He passed for 2,649 yards and 27 touchdowns and rushed for 1,109 yards and 24 touchdowns as the Huskies won their first 13 games. Smith will play for Campbell University.
The D.C. High School Player of the Year is St. John's defensive end Terrell Hall. Hall was named the D.C. Gatorade Player of the Year after making 42 tackles with 21 tackles for loss and nine sacks for the Cadets. He also forced two fumbles and had two fumble recoveries and is considered one of the nation's top college prospects. Hall will play for Alabama.
The Washington Metro High School Coach of the Year is DaLawn Parrish of Wise. The former Howard High and Wake Forest University standout defensive back is regarded as the architect of one of the region's football powerhouses at Wise, where he has taken the Pumas to eight consecutive playoff appearances. This past season, Wise went 14-0 and won the Maryland 4A championship. In 10 seasons at the Upper Marlboro school, Parrish has a record of 92-30.
Tables can be purchased at dctouchdownclub.com/awards-dinner. Sponsorship opportunities are also available by contacting Bob Treseler at 301-538-2046 or btreseler@militarybowl.org. For more information, please contact Steve Beck at 301-370-5454 or sbeck@militarybowl.org.
###
About the DC Touchdown Club presented by Capital Bank N.A.                       
The DC Touchdown Club presented by Capital Bank N.A. honors the best in Washington-area football, with year-round events highlighted by the 3M Awards Dinner. The Club hosts entertaining social events for its members, promotes the benefits of the game of football, and generates a significant philanthropic impact. For more information, visit dctouchdownclub.com.
About Capital Bank N.A.
Capital Bank, N.A., is a leading private bank in the Washington, D.C. metropolitan area that offers a range of services encompassing cash management, commercial lending, consumer credit and residential mortgage/Veterans Administration mortgage loans. Capital Bank's core commercial banking and lending business includes two rankings by the U.S. Small Business Administration (SBA), ranked number two among community lenders and in the top ten among all lenders in the Washington Metropolitan District for loan volume for Fiscal Year 2014.  With double-digit asset growth over the past three years, Capital Bank has more than $600 million in assets and is well positioned to fulfill its culture of collaborative partnerships and solutions for area businesses and consumers nationwide. For more information, visit www.capitalbankmd.com. Member FDIC. An Equal Housing Lender.
CAPITAL BANK, PARTNERS IN YOUR VISION
About 3M
3M applies science in collaborative ways to improve lives daily. With $32 billion in sales, 3M's 90,000 employees connect with customers all around the world. Learn more about 3M's creative solutions to the world's problems at www.3M.com or on Twitter @3M or @3MNewsroom.