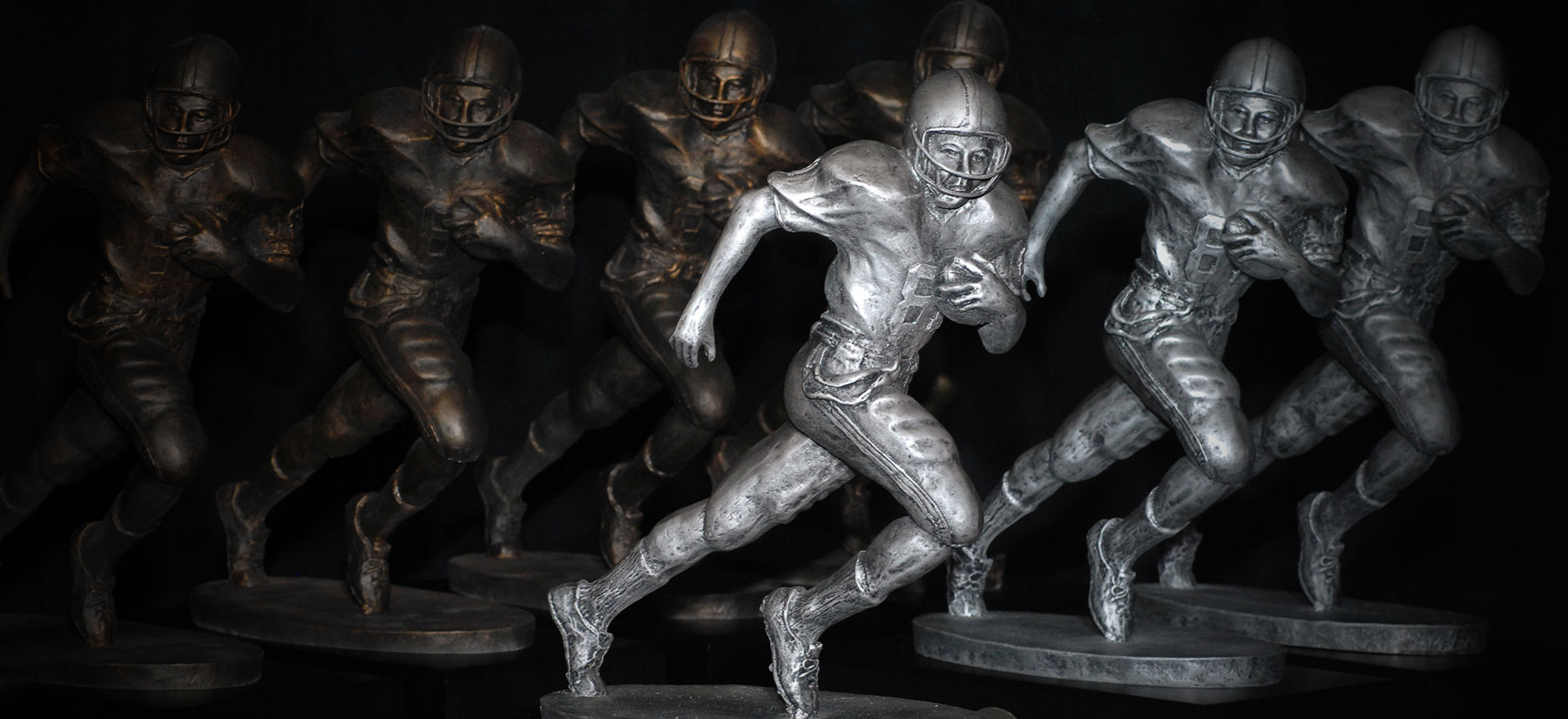 DC TOUCHDOWN CLUB PRESENTED BY CAPITAL BANK N.A. TO HONOR HALL OF FAME QB JIM KELLY AND BROADCASTER JOHNNY HOLLIDAY AT 3M AWARDS DINNER
WASHINGTON, D.C. — The DC Touchdown Club presented by Capital Bank N.A. is excited to announce its fifth annual 3M Awards Dinner, which will honor Pro Football Hall of Fame quarterback Jim Kelly and broadcaster Johnny Holliday, on Thursday, April 13, in Bethesda, Md. The dinner also will honor the region's top high school and college players and coaches, including James Madison University Coach Mike Houston, who led the Dukes to the Football Championship Subdivision national championship this past season, and United States Naval Academy record-setting quarterback Will Worth. Proceeds from the dinner will benefit Patriot Point, the DC Bowl Committee's retreat for recovering service members.
"What an amazing lineup of award winners," DC Touchdown Club Executive Director Steve Beck said. "We are honored to be joined by so many people who have accomplished great things on and off the field. It is exciting to think about what Jim Kelly achieved during his playing career and since, while Johnny Holliday is one of the most recognizable voices and faces in the Washington area."
Kelly was a five-time Pro Bowl selection during his NFL career, leading the Buffalo Bills to four Super Bowl appearances. He was inducted into the Pro Football Hall of Fame in 2002. Much of Kelly's post-football life has been dedicated to his son, Hunter, who was diagnosed with Krabbe disease and passed away in 2005 at age 8. Kelly founded the Hunter's Hope foundation to raise funds to fight the disease. He also runs an annual football camp for children and founder of the Kelly for Kids Foundation.
Once a top-rated radio personality, Holliday is best known for being for his role as the play-by-play voice for University of Maryland football and basketball and for hosting the Washington Nationals pregame and postgame shows on MASN. Holliday, who is in his 38th season broadcasting Maryland games, is a member of the Radio Television Broadcasters Hall of Fame and he has been honored by the National Football Foundation, the College Football Hall of Fame and the All-American Football Foundation. The annual Johnny Holliday Scholarship Classic golf tournament has raised more than $1 million for the Youth Leadership Foundation.
Mike Houston was a guest at the 2016 DC Touchdown Club Awards Dinner and made an immediate impact in his first season at James Madison, guiding the Dukes to a 14-1 record and their second national championship as they knocked off five-time FCS defending champion North Dakota State in the semifinals. Houston was named the American Football Coaches Association FCS National Coach of the Year. The Washington Metro College Coach of the Year is now 57-20 with four postseason appearances in six seasons as a collegiate head coach.
Will Worth began the season as backup, but was thrust into the lineup because of an injury in Navy's opening game. All he did was respond with one of the best seasons in the academy's history, rushing for 1,198 yards and 25 touchdowns, passing for 1,397 yards and eight touchdowns and leading the Midshipmen to the American Athletic Conference West Division championship.
The Touchdown Club will induct longtime Wilde Lake High School coach Doug DuVall into the Circle of Legends. DuVall, known for wearing shorts in all weather conditions, coached the Wildecats for 36 seasons before retiring after the 2008 season. His teams 20 Howard County championships and five Maryland state championships. DuVall, who now enjoys captaining a Chespeake Bay sport fishing boat, ranks third all-time among the state's high school football coaches with 308 career victories.
This year's lineup of high school award winners is as strong as ever.
The Maryland High School Player of the Year is Wise quarterback Jabari Laws, who accounted for more than 3,000 yards of total offense as 52 touchdowns while guiding his Upper Marlboro school to its second consecutive Maryland 4A championship and undefeated season. He has accepted an appointment to the United States Military Academy, where he will play football for the Black Knights.
The Virginia High School Player of the Year is Lake Braddock running back and linebacker Lamont Atkins, who rushed for 1,905 yards and 31 touchdowns while also leading the Burke school in tackles. He was named the Conference 7 Player of the Year on offense and defense and has already enrolled at the University of Virginia.
The D.C. High School Player of the Year is Wilson wide receiver and defensive back Sean Savoy, who caught 45 passes for 945 yards and 15 touchdowns while leading his Northwest Washington school to a berth in the DCIAA Turkey Bowl. He will play for Virginia Tech next season.
The Washington Metro High School Coach of the Year is Elijah Brooks of DeMatha, who guided the Stags to their fourth consecutive Washington Catholic Athletic Conference championship and their first undefeated season since 2006. A former standout running back at DeMatha and at William & Mary, Brooks has guided his Hyattsville alma mater to a 58-12 mark in six seasons.
Tables and a limited number of individual tickets can be purchased at dctouchdownclub.com/awards-dinner. Sponsorship opportunities are also available by contacting Steve Beck at 301-370-5454 or sbeck@militarybowl.org.
###
About the DC Touchdown Club presented by Capital Bank N.A.
The DC Touchdown Club presented by Capital Bank N.A. honors the best in Washington-area football, with year-round events highlighted by an annual awards dinner. The Club hosts entertaining social events for its members, promotes the benefits of the game of football, and generates a significant philanthropic impact in the local football community. For more information, visit dctouchdownclub.com.
About 3M
3M applies science in collaborative ways to improve lives daily. With $32 billion in sales, 3M's 90,000 employees connect with customers all around the world. Learn more about 3M's creative solutions to the world's problems at www.3M.com or on Twitter @3M or @3MNewsroom.
About Capital Bank N.A.
Capital Bank, N.A., is a leading private bank in the Washington, D.C. metropolitan area that offers a range of services encompassing cash management, commercial lending, consumer credit and residential mortgage/Veterans Administration mortgage loans. Capital Bank's core commercial banking and lending business includes two rankings by the U.S. Small Business Administration (SBA), ranked number two among community lenders and in the top ten among all lenders in the Washington Metropolitan District for loan volume for Fiscal Year 2014.  With double-digit asset growth over the past three years, Capital Bank has more than $600 million in assets and is well positioned to fulfill its culture of collaborative partnerships and solutions for area businesses and consumers nationwide. For more information, visit http://www.capitalbankmd.com. Member FDIC. An Equal Housing Lender.
Capital Bank, Partners in Your Vision