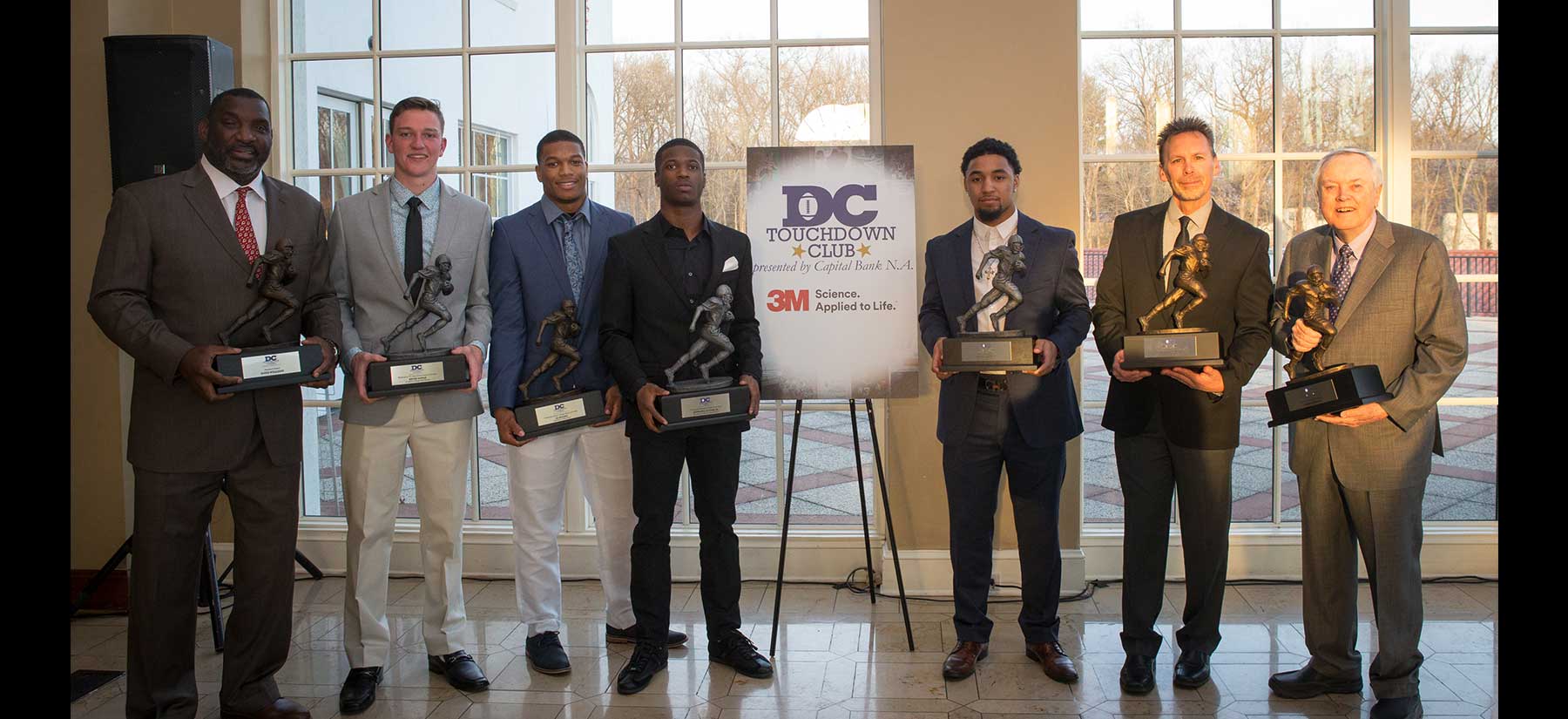 The DC Touchdown Club presented by Capital Bank N.A. honored the region's best and brightest in the game of football Sixth Annual 3M Awards Dinner
Bethesda, Md. — The DC Touchdown Club presented by Capital Bank N.A. enjoyed a beautiful night as it honored a Super Bowl MVP, one of the best broadcasters in the business and one of the most influential college coaches of all-time at its sixth annual 3M Awards Dinner on Thursday night before a capacity crowd of more than 300.
With a handful of his former teammates and several co-workers in attendance, Washington Redskins executive and Super Bowl XXII Most Valuable Player Doug Williams was presented the Founder's Award for all of his contributions to the game of football. Play-by-play announcer Mike Patrick, who worked 35 years at ESPN and was on the call for countless college football and basketball games, was honored with a Lifetime Achievement Award.
While he was unable to attend, longtime University of Maryland basketball coach Charles "Lefty" Driesell joined the Awards Dinner via a video call in order to be inducted into the Touchdown Club's Circle of Legends.
Those awards highlighted a special evening as guests celebrated the best and brightest players in the Washington area.
"What an amazing night," Military Bowl Foundation Executive Director Steve Beck said. "The 3M Awards Dinner is a memorable event, bringing together the top players and coaches and those who support the game throughout our region. We have been fortunate to honor so many great players and others who have done so much for the game. It really is a highlight of the year, and this was one of our best Awards Dinners yet!"
Proceeds from the Dinner benefit Patriot Point, the Military Bowl Foundation's 290-acre retreat for recovering service members, their families and caregivers on Maryland's Eastern Shore.
The crowd included several former Timmie Award winners, retired military personnel, University of Maryland football coach DJ Durkin, University of Virginia football coach Bronco Mendenhall, several former Redskins players and local executives.
Following a cocktail reception, Chuck Driesell introduced his father, Lefty, to be inducted into the Circle of Legends, an honor for the top coaches ever in the Washington area.
After dinner, emcee Doc Walker of The Team 980 presented the local high school award winners. Hylton running back Ricky Slade Jr. was named the Virginia High School Player of the Year. St. John's quarterback Kevin Doyle was named the D.C. High School Player of the Year. Wise defensive back A.J. Lytton was named the Maryland High School Player of the Year. Westfield's Kyle Simmons, who has guided the Bulldogs to three consecutive Virginia 6A state championships, was named the Washington Metro High School Coach of the Year.
Durkin presented the Washington Metro College Player of the Year award to Maryland wide receiver DJ Moore, who led the Big Ten Conference in receiving this past season.
That set the stage for the night's biggest awards. Former Washington sportscaster Kevin Kiley introduced Patrick, whose broadcasting career began after he opted not to try out for the George Washington University baseball team. Patrick went on to work 35 years at ESPN, including 17 as the voice of Sunday Night Football.
"There is a theme of dumb luck," Patrick said. "But when the opportunity presented itself, I took advantage."
Former Redskins wide receiver Gary Clark then introduced Williams, who told stories about his playing and coaching career. Williams enjoyed talking about his brief tenure as a high school head coach, when he directed his alma mater, Northeast High in Zachary, Louisiana, to a 13-1 season in 1993 that included a postseason victory over Peyton Manning's team.