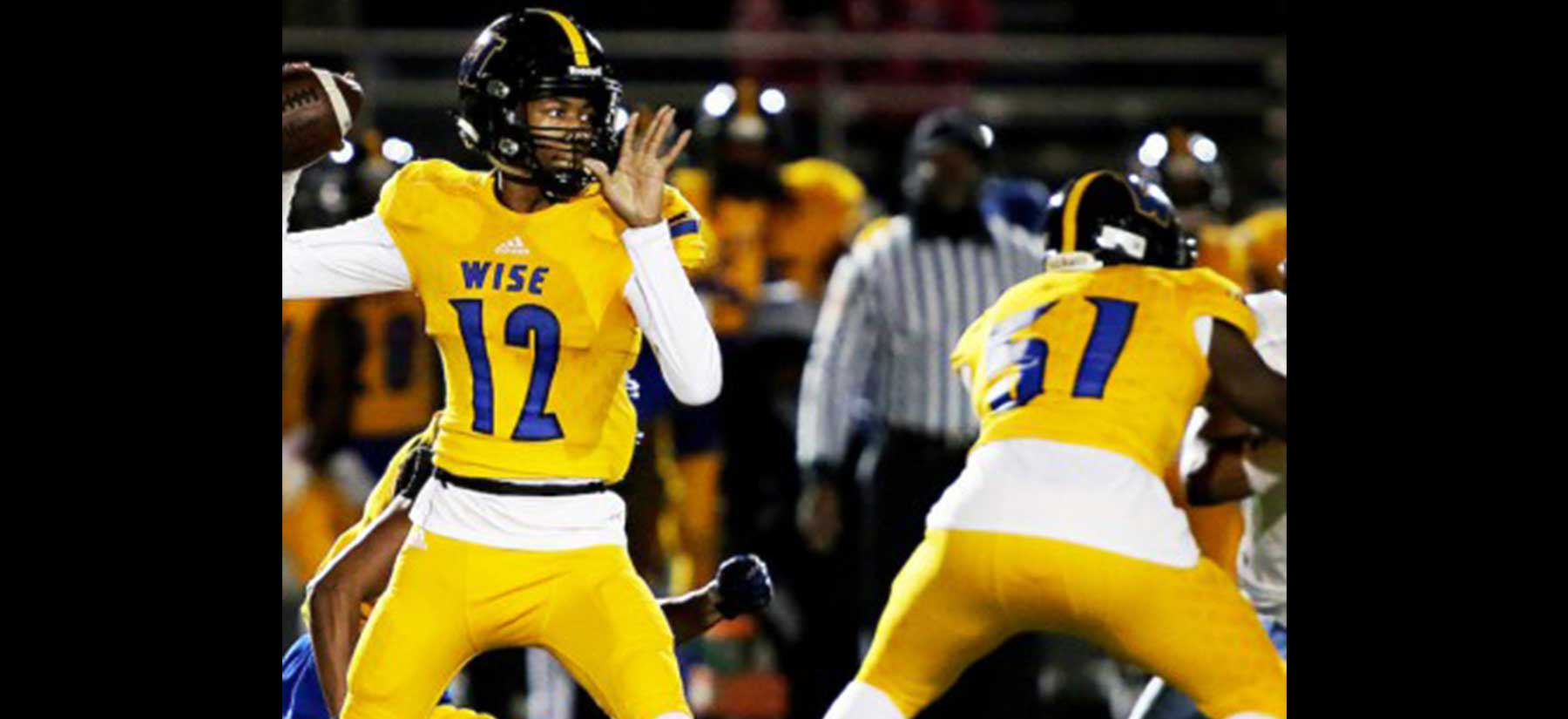 DC Touchdown Club Week 10 Player of the week: Quinton Williams
Wise quarterback Quinton Williams has always been comfortable using his strong arm to sling the ball around the field. As this season has progressed, though, Coach DaLawn Parrish has noticed Williams becoming more of a threat running the ball.
"It's opened up a lot for our offense," Parrish said.
That certainly showed this past Friday night as Williams completed 9 of 13 passes for 252 yards and three touchdowns while also rushing nine times for 77 yards and three more scores as the Pumas beat DuVal, 42-13, to secure the top seed in the Maryland 4A South Region playoffs.
For his efforts, Williams was named the Military Bowl DC Touchdown Club High School Football Player of the Week.
It has been a strong season for Williams, a senior and two-year starter who has accepted a scholarship offer to play for Morgan State. He has completed 61 percent of his passes for 1,449 yards and 14 touchdowns and also rushed for 472 yards and 10 touchdowns.
"I think I'm playing well," Williams said. "We're trying to make this playoff run to the state championship and I think we're clicking on all cylinders. I'm more aggressive with my legs and that puts more stress on the defense to make decisions and helps our offense."
Wise, which is seeking its fourth consecutive Maryland 4A championship, hosts Eleanor Roosevelt in a Maryland 4A South Region semifinal on Friday night.
Others receiving Player of the Week consideration were:
ANNE ARUNDEL
Broadneck QB Joshua Ehrlich passed for 244 yards and five touchdowns, including three to WR Ethon Williams (a Boston College recruit), as the Bruins beat Annapolis, 48-6, to complete an undefeated regular season.
DC
H.D. Woodson RB Milton Brown rushed for 93 yards and two touchdowns as the Warriors beat Dunbar, 19-0, for their seventh consecutive victory.
FREDERICK
FB Maurio Goings rushed 13 times for 121 yards and three touchdowns as Oakdale beat Tuscarora, 24-0, to complete its first undefeated regular season.
HOWARD
Glenelg RB Wande Owens rushed 24 times for 286 yards and four touchdowns, tying the Howard County single-season record of 31 rushing touchdowns, as the Gladiators beat Wilde Lake, 33-7, to complete an undefeated regular season.
LOUDOUN
Broad Run QB Mitch Griffis rushed 11 times for 75 yards and one touchdown and completed 17 of 26 passes for 148 yards and two touchdowns as the Spartans beat rival Stone Bridge, 26-20.
MONTGOMERY
Churchill RB Patrick Richardson rushed 18 times for 217 yards and two touchdowns as the Bulldogs beat Walter Johnson, 36-28.
NORTHERN REGION
Langley RB Tre Vasiliadis rushed 38 times for 256 yards and four touchdowns as the Saxons beat McLean, 26-0.
PRINCE WILLIAM
Hylton's Joseph Walton forced one fumble and recovered two fumbles in the last two minutes as the Bulldogs beat Forest Park, 6-3, to clinch a postseason berth for the ninth consecutive year.
PRIVATE
Spalding QB Jayden Umbarger completed 17 of 32 passes for 233 yards and one touchdown and rushed 29 times for 111 yards and two touchdowns and caught a four-yard touchdown pass as the Cavaliers rallied from a 23-0 deficit to beat Mount St. Joseph, 28-25.
Georgetown Prep RB Jalen Hampton had his sixth consecutive 100-yard game, carrying eight times for 160 yards and three first-quarter touchdowns as the Little Hoyas beat St. Albans, 35-14, to set up next week's game at Bullis to decide the Interstate Athletic Conference title.
SOUTHERN MARYLAND
Westlake QB Jalon Spencer threw three touchdown passes, including the game-winning, 13-yarder to Nate Tyler with 10 seconds left, as the Wolverines beat Calvert, 32-27, to earn a Maryland 2A South Region playoff berth.
WCAC
St. John's RB Ron Cook rushed for two touchdowns as the Cadets beat Gonzaga, 34-17, for their 16th consecutive win.