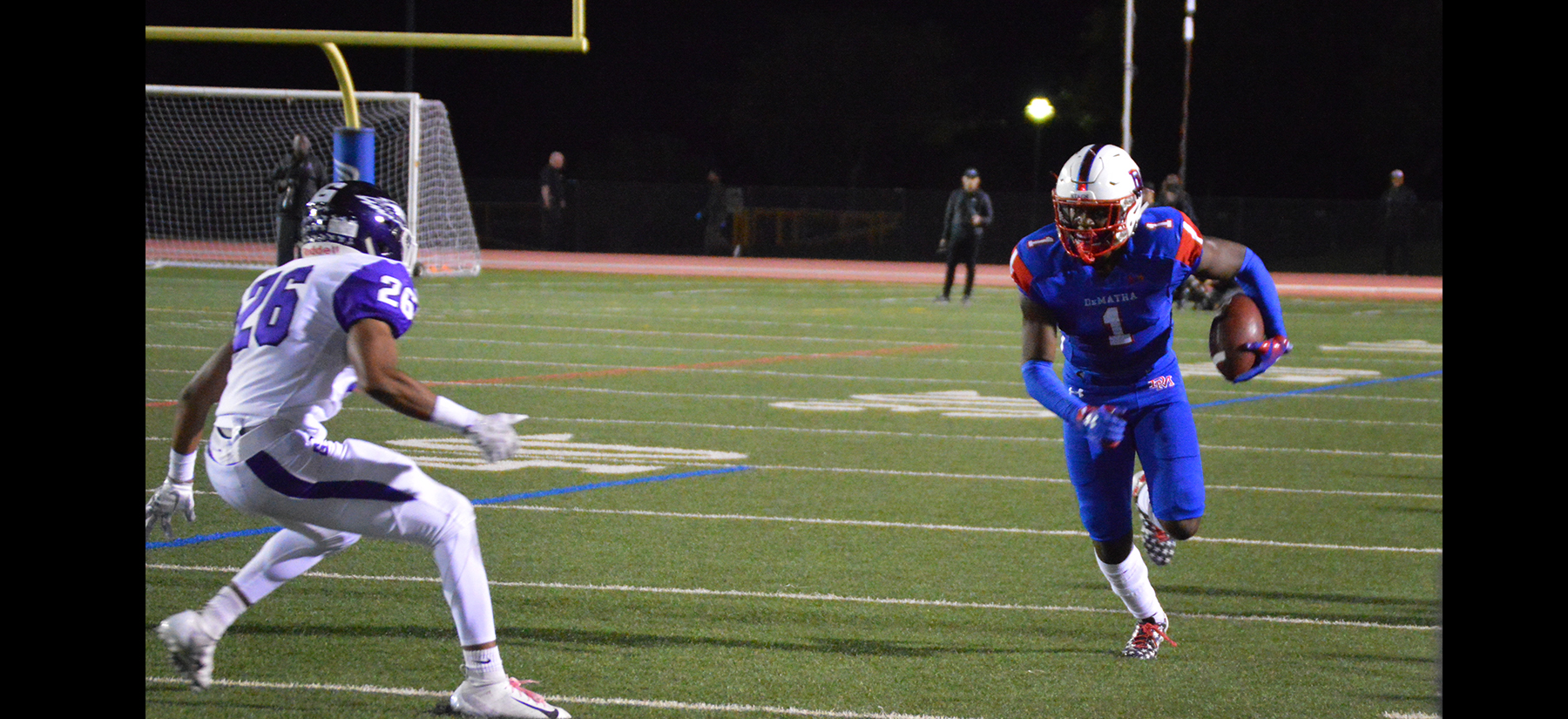 DC TOUCHDOWN CLUB WEEK 11 PLAYER OF THE WEEK: DEMARCCO HELLAMS
The expectations have always been high for DeMarcco Hellams. A three-year starter at both wide receiver and free safety for DeMatha, Hellams had generally met that lofty standard. He has accepted a scholarship to play for defending national champion Alabama.
This season, though, Coach Elijah Brooks said that his team captain has taken things to another level.
That certainly was evident this past Friday, as Hellams caught two long touchdown passes, intercepted two passes and blocked a punt that resulted in a safety as the Stags beat Good Counsel, 30-14, a Washington Catholic Athletic Conference playoff semifinal.
"He's been solid the past three years, but this year he is dominating in all facets," Brooks said.
Hellams has intercepted eight passes – he plans to play on defense in college. Offensively, he has caught nine touchdown passes, though Brooks said that Hellams' production has been held back.
"Our defense has been playing lights out," Brooks said. "Offensively, we're smoke and mirrors, not as good as we have been in the past. We've been struggling to get him the football. But he's been the MVP of our team this year."
DeMatha (8-2) plays Gonzaga in the WCAC championship game on Sunday at 6 p.m. at Catholic University.
Others considered for Player of the Week honors included:
ANNE ARUNDEL
South River RB Joe Foy rushed 30 times for 203 yards and one touchdown as the Seahawks beat previously undefeated Broadneck, 28-21, in a Maryland 4A East Region semifinal.
FREDERICK
Oakdale QB Collin Schlee completed 15 of 28 passes for 225 yards and two touchdowns, including a momentum-turning Hail Mary 55-yard on the final play of the first half, as the Bears beat Liberty, 38-14.
HOWARD
Glenelg RB Wande Owens rushed for 246 yards and scored five touchdowns as the Gladiators beat Oakland Mills, 42-0, in a Maryland 2A South Region semifinal.
LOUDOUN
Loudoun County WR Derek McCandless caught eight passes for 220 yards and three touchdowns as the Raiders rallied with three touchdowns in the final 10 minutes to beat Riverside, 34-27, in a Virginia 4A Region C quarterfinal.
MONTGOMERY
RB T.D. Ayo-Durojaiye rushed 11 times for 155 yards and three touchdowns as the Swarmin' Hornets won their 53rd consecutive game, 42-3 over Century in a Maryland 2A West Region semifinal.
NORTHERN REGION
Falls Church RB Dakwandre Marshall rushed 42 times for 402 yards and six touchdowns as the Jaguars beat Potomac Falls, 52-30, in a Virginia 5A Region C quarterfinal.
PRINCE GEORGE'S
Douglass CB Amandre Payton had two interceptions, returning the first 65 yards for a touchdown, as the Eagles beat Lackey, 9-7, in a Maryland 1A South Region semifinal.
PRINCE WILLIAM
Freedom-Woodbridge DT Josh Fuga, the Cardinal District Defensive Player of the Year, had three sacks as the Eagles beat Hylton, 42-7, in a Virginia 6A Region C quarterfinal.
PRIVATE
Georgetown Prep QB Peter Davin threw three long touchdown passes as the Little Hoyas beat Bullis, 21-5, to claim the Interstate Athletic Conference title.
SOUTHERN MARYLAND
North Point WR-DB Malik Lawrence had a touchdown run, a touchdown catch and returned an interception 100 yards for a third score as the Eagles beat Arundel, 43-13, in a Maryland 4A East Region semifinal.