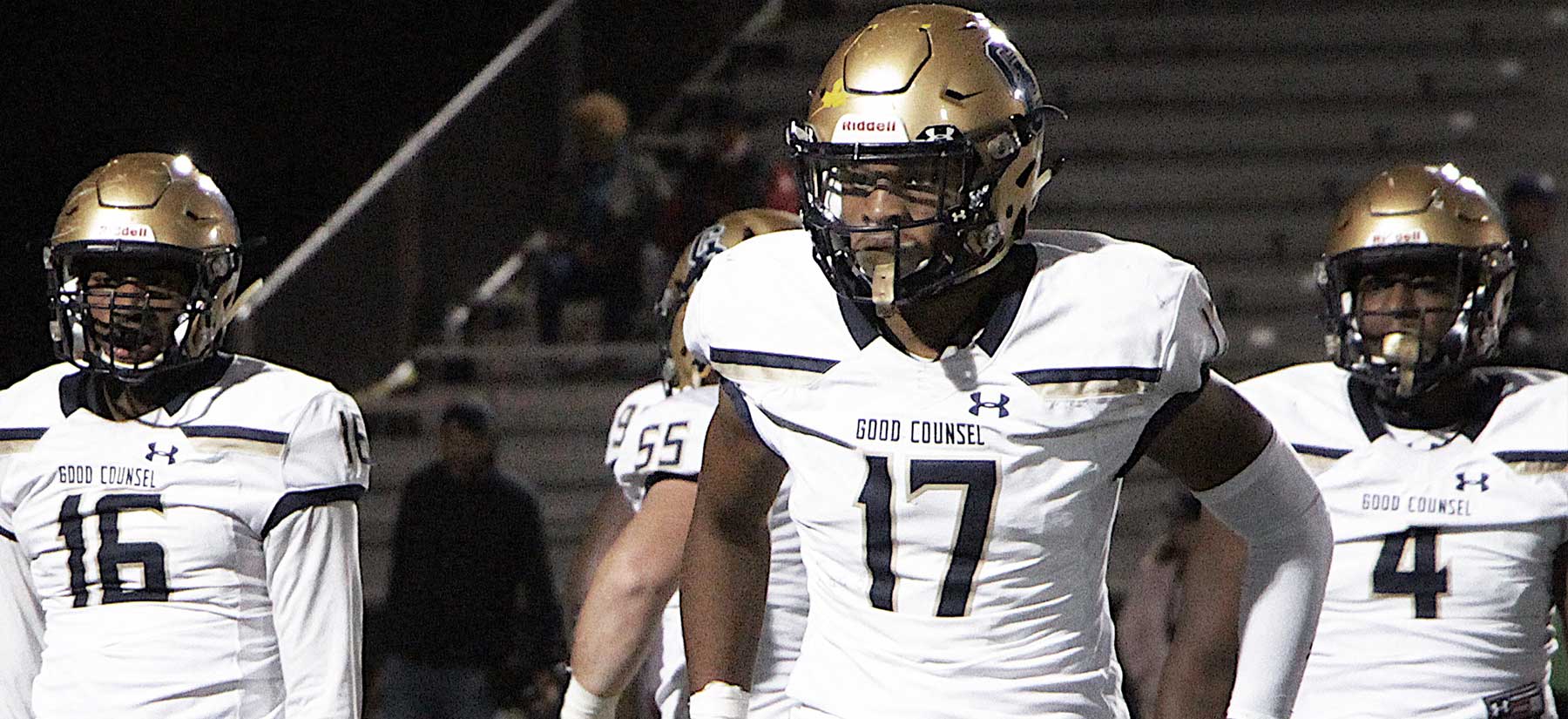 DC TOUCHDOWN CLUB WEEK 12 PLAYER OF THE WEEK: MITCHELL MELTON, GOOD COUNSEL
At 6 feet 4 and 235 pounds, Mitchell Melton is one of the leaders on defense for the Good Counsel football team. He has the size and speed that colleges covet at outside linebacker; it is one of the reasons why dozens of programs recruited Melton, who has accepted a scholarship offer from Ohio State University.
Also piquing college interest was Melton's football ability. Now in his second year as a starter, he has set the Good Counsel single-season record for sacks. And, most importantly, he came through with another big game when the Falcons needed it most.
Melton made eight tackles, had 3 ½ sacks and deflected a pass that a teammate returned for a touchdown as Good Counsel beat Gonzaga, 44-14, in a Washington Catholic Athletic Conference semifinal game.
"He came in as a football and basketball player. Played basketball two years, varsity as a sophomore. Football wasn't always first," Good Counsel Coach Andy Stefanelli said. "But after his sophomore year, he realized his future was in football, so he focused in on that. He had a really good year last year, got a lot of huge offers. This year, he's just come into his own and become a dominant player, as the good ones usually do."
Melton, who has 17 sacks this season, will lead Good Counsel into Sunday's WCAC championship game against St. John's. Kickoff is 6 p.m. at Catholic University.
Others receiving Player of the Week consideration were:
ANNE ARUNDEL
Arundel QB Austin Slye completed 15 of 23 passes for 254 yards and two touchdowns and threw for two two-point conversions as the Wildcats beat previously undefeated South River, 47-34, in a Maryland 4A second-round game.
DC
H.D. Woodson QB Novaun Lee completed 8 of 13 passes for 101 yards and a touchdown as the Warriors advanced to the DCIAA Turkey Bowl with a 28-0 win over Wilson.
FREDERICK
Middletown QB Reese Poffenbarger completed 15 of 19 passes for 160 yards and a touchdown and rushed 21 times for 139 yards and four touchdowns, including the game-winning five-yarder in overtime as the Knights beat Walkersville, 41-34, in a Maryland 2A second-round game.
HOWARD
Wilde Lake DE Cameron Burris had three sacks as Wilde Lake beat Manchester Valley, 22-0, in a Maryland 3A second-round game.
LOUDOUN
Broad Run RB David Hundley rushed 25 times for 168 yards and four touchdowns as the Spartans beat Millbrook, 34-26, in a Virginia 4A first-round game.
MONTGOMERY
Damascus RB Chris Shaw rushed for three touchdowns as the Swarmin' Hornets won their ninth consecutive game, 35-6 over South Hagerstown in a Maryland 3A second-round game.
NORTHERN REGION
Westfield RB Mikal Legall rushed 14 times for 111 yards and three touchdowns as the Bulldogs beat Wakefield, 43-7, in a Virginia 6A first-round game.
PRINCE GEORGE'S
Douglass RB Zavier Price rushed for 175 yards and two touchdowns and rushed for a two-point conversion as the Eagles beat Patuxent, 14-0, in a Maryland 2A second-round game.
Wise LB Rodney Gainous had 18 tackles (three for loss) and two sacks and blocked an extra-point attempt as the Pumas beat Suitland, 20-6, in a Maryland 4A second-round game.
PRINCE WILLIAM
Freedom-Woodbridge QB Quest Powell completed 14 of 21 passes for 277 yards and four touchdowns as the Eagles beat John Champe, 60-0, in a Virginia 6A first-round game.
SOUTHERN MARYLAND
North Point RB Michael Craig rushed for two touchdowns and the Eagles rallied to beat Oxon Hill, 28-23, in a Maryland 3A second-round game.