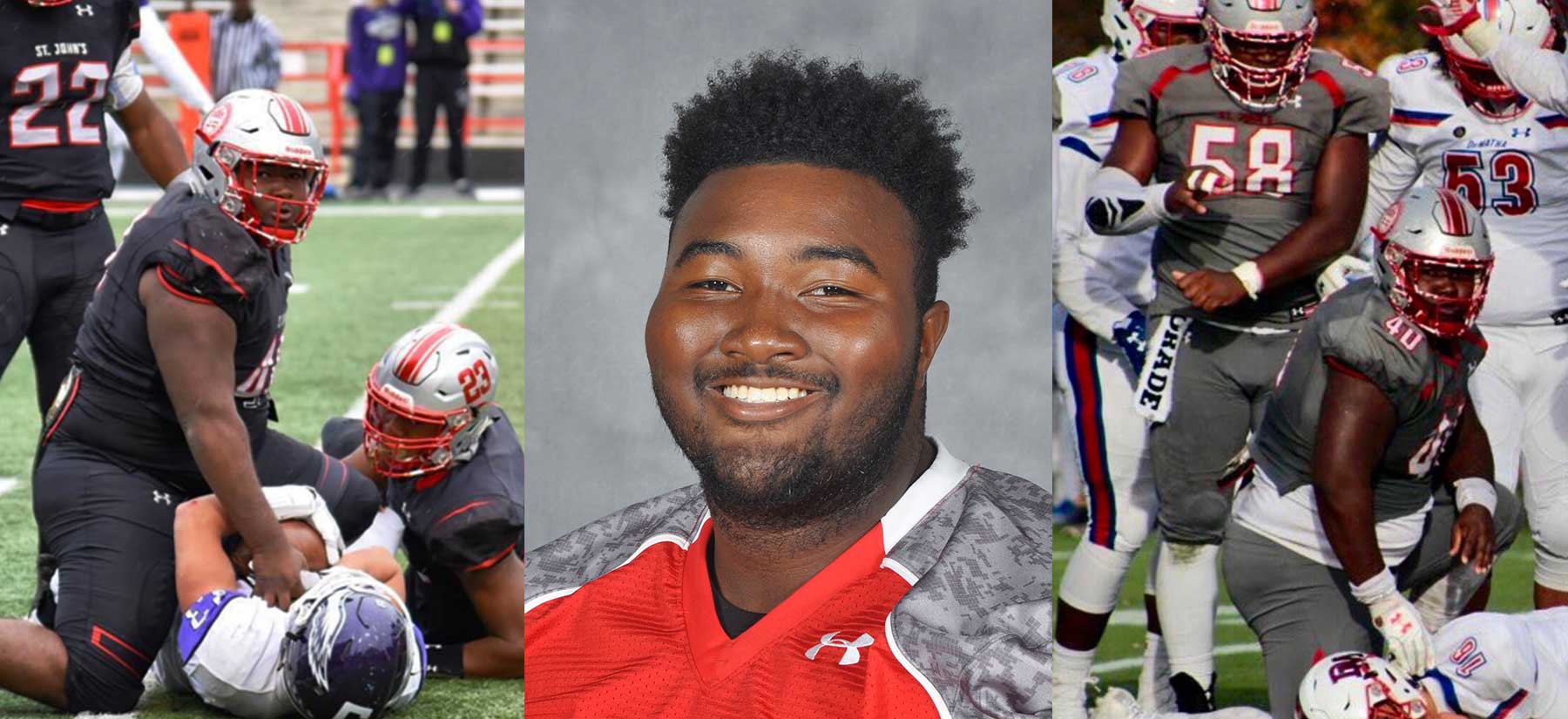 DC Touchdown Club Week 12 Player of the Week: Cam Goode, St. Johns
Image courtesy of Joe Inglima JVI-Photos.com

Through the week of practice and into warmups for this past Saturday's Washington Catholic Athletic Conference championship game, Cam Goode said that he and his St. John's teammates could feel the pressure building. The Cadets have endured a succession of close calls in recent years, with talent-laden rosters coming oh-so-close to winning their first league title since 1989.
And with Goode playing a leading role – starring at defensive tackle while also playing fullback and tight end on offense – the Cadets finally finished the job.
Goode, who has committed to play for Virginia Tech, had seven tackles, two tackles for loss and one sack as St. John's beat Gonzaga, 30-7, at Maryland Stadium.
For his performance, Goode was named the DC Touchdown Club presented by Capital Bank High School Football Player of the Week, powered by Under Armour.
"It was a big monkey on our backs," Goode said. "As a team we were extremely nervous. But we all knew it was our time and we needed to do it."
Others considered for Player of the Week honors were:
DC
Theodore Roosevelt WR Kamau Stith caught a 21-yard touchdown pass on the game's final play to lift the Rough Riders to a 13-12 victory over Bell in the DCIAA Stripes Division championship game.
FREDERICK
Linganore RB Davon Butler rushed 23 times for 257 yards and one touchdown in a 16-14 win over Westminster in the Maryland 3A West Region final.
HOWARD
Long Reach RB KaDarrian Booker rushed 28 times for 177 yards and one touchdown as the Lightning beat Atholton, 37-0, in the Maryland 3A East Region final.
LOUDOUN
Stone Bridge TE Daniel Thompson caught five passes for 103 yards, including three first-half touchdowns, as the Bulldogs beat Champe, 45-22, in a Virginia 5A North Region quarterfinal.
MONTGOMERY
Quince Orchard QB Doc Bonner rushed for 85 yards and two touchdowns and passed for 138 yards and another score as the Cougars beat Northwest, 31-20, in the Maryland 4A West Region final.
NORTHERN REGION
South Lakes QB Devin Miles completed 19 of 23 passes for 240 yards and two touchdowns as the Seahawks beat Madison, 35-0, in a Virginia 6A Region D semifinal.
PRINCE GEORGE'S
Wise RB John Oliver rushed 13 times for 75 yards and two touchdowns as the Pumas beat Eleanor Roosevelt, 34-16, in the Maryland 4A South Region final for their 40th consecutive victory.
PRINCE WILLIAM
Hylton RB Ricky Slade rushed for 326 yards and four touchdowns as the Bulldogs beat previously undefeated Freedom-Woodbridge, 45-28, in a Virginia 6A Region C semifinal.
PRIVATE
Flint Hill RB Jordan Houston rushed 21 times for 189 yards and three touchdowns as the Huskies beat Collegiate, 33-21, to win the VISAA Division 1 title and complete an undefeated season.
SOUTHERN MARYLAND
Northern QB Reese Crounse completed 32 of 52 passes for 477 yards and four touchdowns in a 37-28 loss to Oxon Hill in the Maryland 3A South Region final.