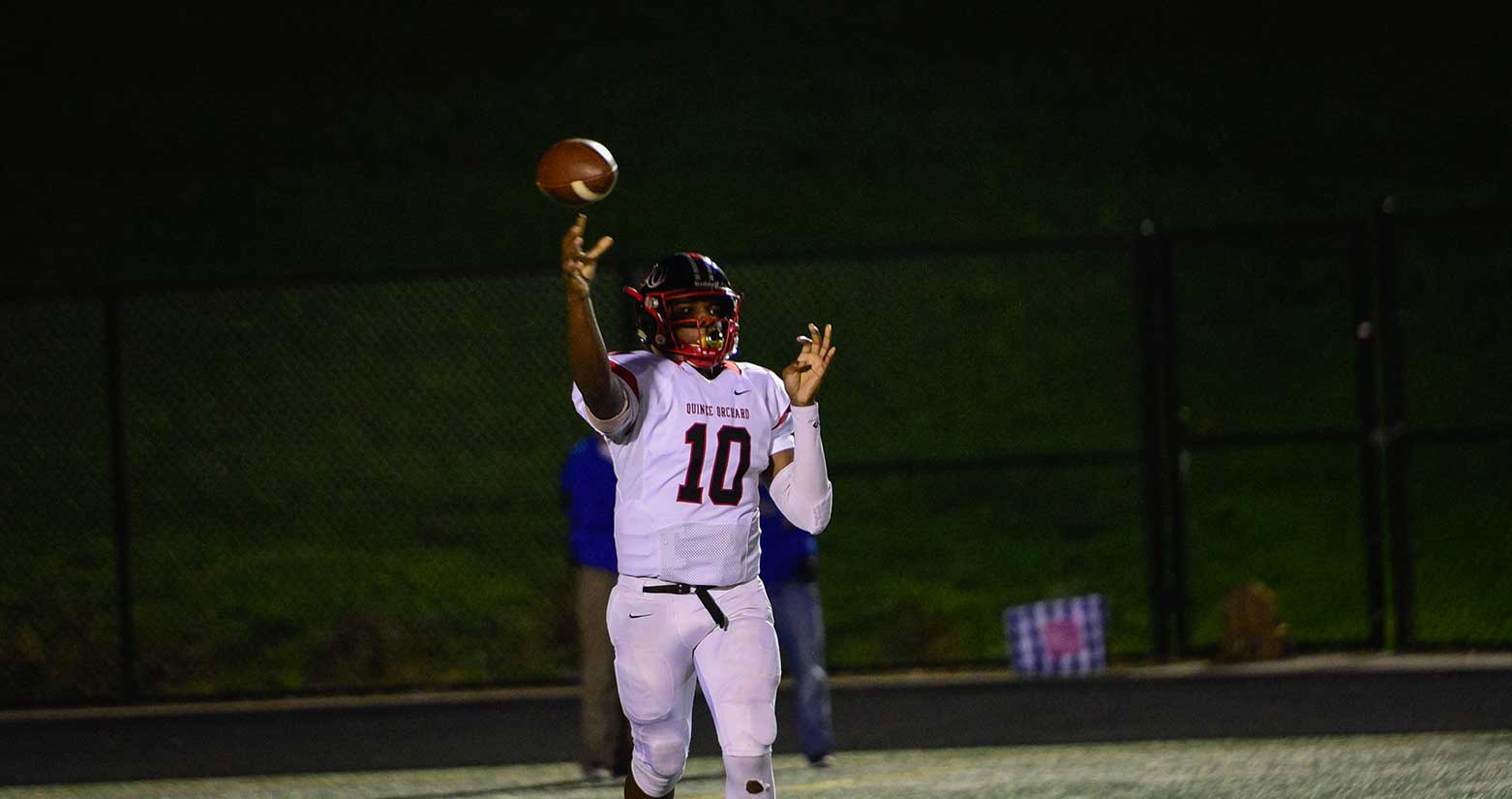 DC Touchdown Club Week 13 Player of the Week: Doc Bonner, Quince Orchard

Doc Bonner has done it all at Quince Orchard. A three-year starter at quarterback, he is the school's all-time leader in touchdown responsibility (89) and touchdown passes (51). He has passed for 2,132 yards and 24 touchdowns with just two interceptions this season, while also rushing for 633 yards and 15 touchdowns.
But it was Bonner's first career catch that was the icing on the cake in the Cougars' 40-21 victory over previously undefeated North Point in a Maryland 4A semifinal this past Friday.
Bonner took a shotgun snap and handed off to running back Tre Wade running to the left. Wade then pitched the ball to wide receiver Brendan McGonagle running to his left on a reverse. As McGonagle took the ball, Bonner had snuck out of the backfield undetected and was wide open. McGonagle delivered a strike and Bonner hauled it in for an 18-yard touchdown catch.
"As soon as I handed the ball off, I saw the corner playing man [to man] and thought, 'Man, this is going to be nice,' " Bonner said. "I was real pumped about it. My first receiving touchdown."
It was just one more highlight for Bonner, who also completed 11 of 17 passes for 213 yards and two touchdowns and rushed 15 times for 112 yards and two more scores. For his efforts, Bonner was named the DC Touchdown Club presented by Capital Bank High School Football Player of the Week, powered by Under Armour.
"He can hurt you both ways, with his speed and his arm," said Cougars Coach John Kelley, noting Bonner's 3.7 grade-point average and his career record of 34-5 as a starter. "He's very football savvy and a hard worker. He's the kind of player you don't get to coach very often, so you have to take advantage of it when you have the opportunity."
Quince Orchard (11-2) plays Maryland 4A two-time defending champion Wise in the Maryland 4A final on Friday night at Navy-Marine Corps Memorial Stadium in Annapolis.
Others considered for Player of the Week honors were:
DC
Theodore Roosevelt RB Alonzo Beverly rushed for 202 yards and three touchdowns as the Rough Riders beat previously undefeated National Collegiate, 34-8, to win the DCSAA Class A championship.
FREDERICK
Linganore's Nick Albano intercepted two passes and blocked a punt as the Lancers beat Oxon Hill, 51-14, in a Maryland 3A semifinal.
LOUDOUN
Tuscarora WR Kyle Jenkins caught three first-half touchdown passes and the Huskies held on to beat previously undefeated Stone Bridge, 28-27, to advance to the Virginia 5A semifinals.
NORTHERN REGION
Westfield QB Noah Kim passed for 114 yards and three touchdowns as the Bulldogs beat South Lakes for the third consecutive postseason, 27-7, to advance to the Virginia 6A semifinals.
PRINCE GEORGE'S
Wise RB John Oliver rushed for 128 yards and four touchdowns as the Pumas beat previously undefeated Howard, 42-7, in a Maryland 4A semifinal.
PRINCE WILLIAM
Woodbridge DB Andrew Hardin returned an interception 77 yards for the game-clinching touchdown to cap a strong defensive effort as the Vikings beat Hylton, 28-14, to advance to the Virginia 6A semifinals.
SOUTHERN MARYLAND
Lackey QB Robert Middleton rushed 30 times for 120 yards, threw a touchdown pass and ran for a game-tying two-point late in regulation as the Chargers fought valiantly before losing to Maryland 1A four-time defending champion Fort Hill, 34-33 in overtime, in a state semifinal.