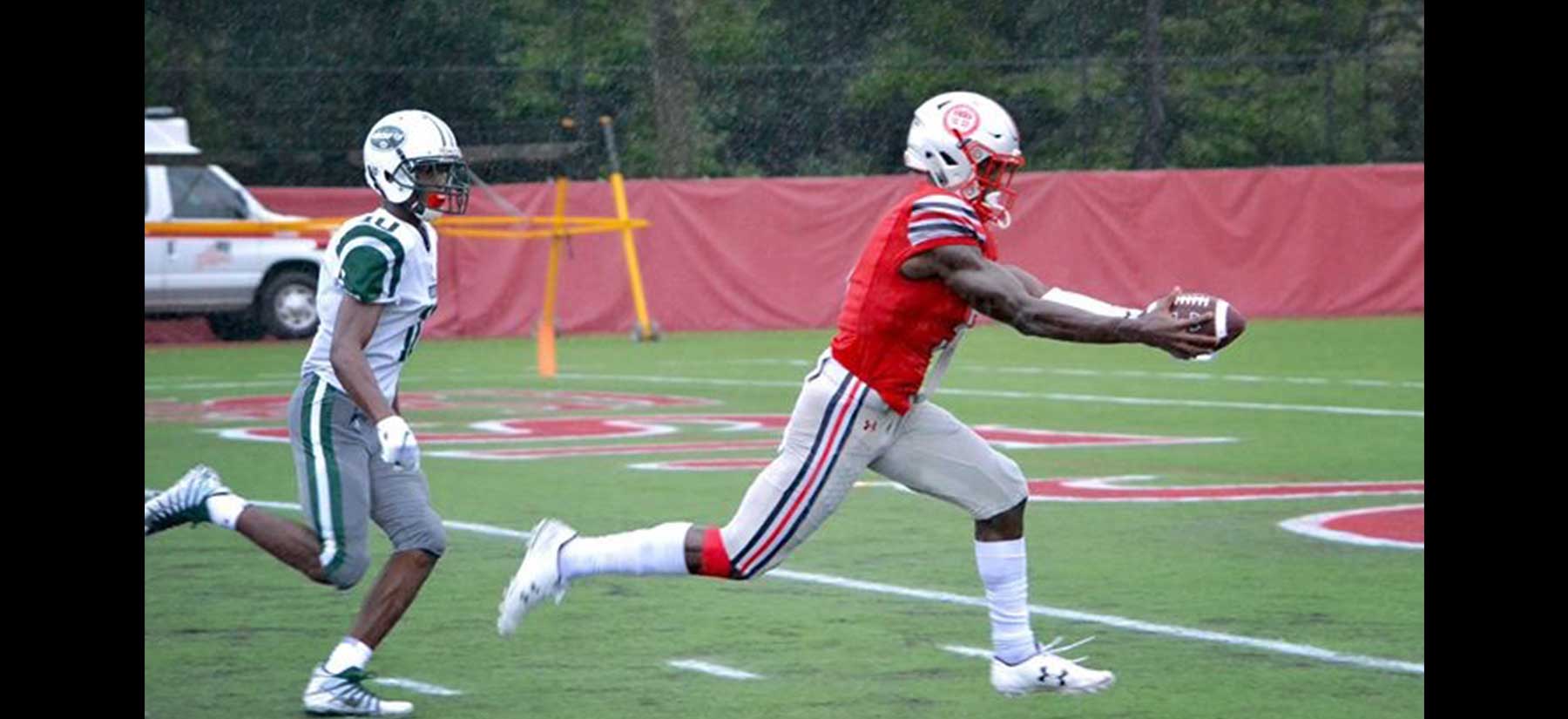 DC TOUCHDOWN CLUB WEEK 2 PLAYER OF THE WEEK: RAKIM JARRETT, ST. JOHN'S
When wondering about which of the nation's top college football teams have offered a scholarship to Rakim Jarrett, perhaps it is easiest to list those programs that have yet to offer the St. John's Cadets speedy junior wide receiver.
Watching Jarrett play, it is obvious to see why Alabama, Ohio State, Penn State, LSU and many more teams like him. And in a big moment this past weekend, Jarrett gave yet one more example of what those teams desire.
With St. John's needing a score in the fifth overtime in a meeting of nationally-ranked teams, Jarrett got his fingers on a pass and tipped it to himself twice before pulling it in fir the game-winning, 25-yard touchdown as the Cadets beat visiting Miami Central, 37-34.
"It was like a movie, our quarterback Sol-Jay [Maiava] came over to me [before the Cadets' possession in the fifth overtime] and said, 'I'm going to throw you the ball,' " Jarrett said. "I was excited. They hadn't thrown to me in overtime, so I had to make a play."
The catch capped a huge afternoon for Jarrett, who finished with six catches for 133 yards and three touchdowns. It was his second consecutive big game; he had five catches for 125 yards and a touchdown last week against then-nationally-ranked Hoover (Ala.). At 6 feet and 190 pounds, Jarrett often appears to be running effortlessly while he speeds past opposing defenders.
"It is a testament to my speed training in the summer and with my team," said Jarrett, noting that he began running – five times a week – with the Glenarden Track Club when he was 11. "And working hard to get faster."
Others receiving Player of the Week consideration included:
 ANNE ARUNDEL
Chesapeake QB Dylan Young completed 10 of 19 passes for 278 yards and one touchdown as the Cougars beat Severna Park, 21-10.
FREDERICK
Linganore WR-DB Joey Felton caught seven passes for 161 yards and a touchdown and returned an interception 60 yards for another score as the Lancers beat Edgewood, 54-18.
HOWARD
Glenelg RB Wande Owens rushed 18 times for 199 yards and three touchdowns (13, 82, 72) and returned an interception 95 yards for another score as the Gladiators beat Howard, 42-14.
MONTGOMERY
Damascus RB TD Ayo-Durojaiye rushed 30 times for 152 yards and four touchdowns and returned a punt 43 yards for a fifth touchdown as the Swarmin' Hornets beat Sherwood, 35-14, for their 44th consecutive victory.
PRINCE GEORGE'S
Douglass QB Malik Pettaway threw two touchdown passes and rushed for another score as the Eagles beat Central, 42-0.
PRINCE WILLIAM
Patriot QB Chris Sonnenberg completed 33 of 43 passes for 413 yards and five touchdowns in just three quarters of play as the Pioneers beat Colgan, 41-13, in a game that was called after three quarters because of lightning.
PRIVATE
Georgetown Prep RB Jalen Hampton rushed 24 times for 224 yards and four touchdowns as the Little Hoyas won their season opener, 37-12, over Gilman.
SOUTHERN MARYLAND
North Point QB Asa Williams rushed for two touchdowns and threw a touchdown pass as the Eagles beat Westlake, 26-6.