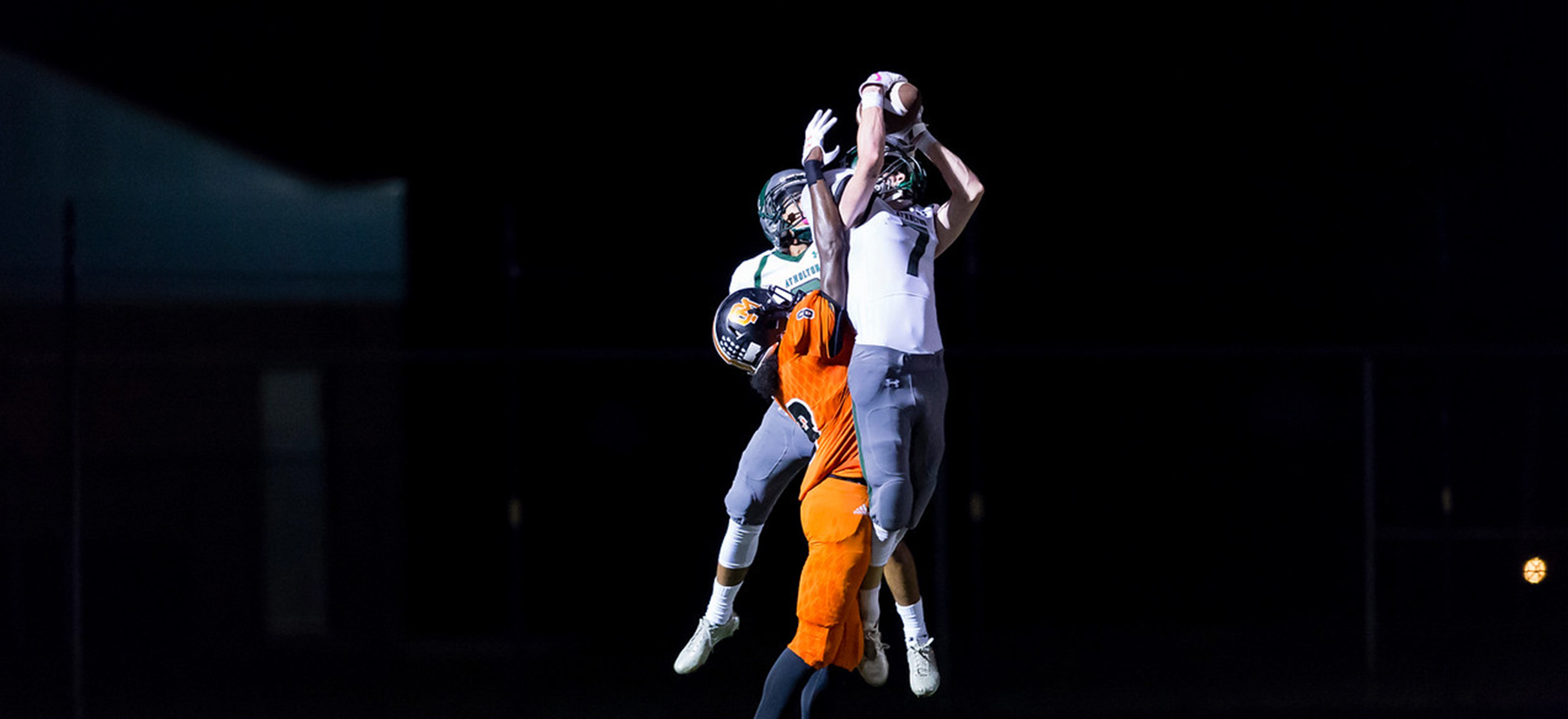 DC Touchdown Club Week 3 Player of the Week: Jake Peretti, Atholton
After electing not to play football as a high school junior in 2016 so that he could focus on schoolwork
and improving as a lacrosse player, Jake Peretti faced a difficult decision this past offseason. Would he
go back to the game he had played every fall since age 7?
"I still loved football and supported the team, but I decided to take a year off," Peretti said, adding that
he thought it would have been hard to compete for playing time as a junior. "After the season was over,
I was just thinking about how I missed it. I had to decide If I wanted to play. But it was my senior year
and I didn't want to miss my last opportunity to play."
Three games into the season, Peretti – and his Atholton coaches and teammates – sure are glad that he
opted to play one final football season.
This past Friday, Peretti set a Maryland state high school record as he intercepted five passes – playing
free safety, he also made 16 tackles – as the Raiders beat Oakland Mills, 17-14.
"We knew that they were a throwing team and they like to throw it deep," said Peretti, who had one
interception in the season's first two games. "So I was sitting back and waiting for their quarterback to
throw the deep ball. And we knew he liked to target No. 8, so I was keying him. I guess it worked out."
Atholton Coach Justin Carey said that two of the interceptions came on overthrown balls that Peretti
was in position to snag. The other three, however, Peretti went up and got the ball at its highest point,
before the intended receivers could make a play. Peretti had a sixth interception negated by a penalty.
Other players considered for the Week 3 Player of the Week Award were:
ANNE ARUNDEL
Broadneck QB Shane Davis completed 18 of 22 passes for 275 yards and four touchdowns in the first
half as the Bruins beat Severna Park, 49-7.
DC
Friendship Collegiate RB Josiah Crute rushed 23 times for 174 yards and three touchdowns, including
the decisive 11-yard run in the fourth quarter as the Knights beat H.D. Woodson, 25-19.
FREDERICK
Linganore QB Ryan Leyh completed 13 of 22 passes for 203 yards and three touchdowns as the Lancers beat Westminster, 50-28.
HOWARD
Long Reach RB KaDarrian Booker rushed 25 times for 203 yards and two touchdowns in a 21-0 win over Wilde Lake.
LOUDOUN
Stone Bridge TE Daniel Thompson had nine catches for 237 yards and three touchdowns as the Bulldogs beat previously undefeated Madison, 35-10.
Tuscarora RB Leron West rushed 13 times for 280 yards and five touchdowns and caught two passes for 108 yards and a sixth score as the Huskies beat Woodgrove, 62-40.
MONTGOMERY
Paint Branch QB Norman Douglas Jr. completed 13 of 19 passes for 235 yards and four touchdowns in a 47-6 win over Whitman.
NORTHERN REGION
South Lakes RB Spencer Alston rushed eight times for 297 yards and three touchdowns in a 42-10 win
over Dominion.
West Potomac RB Daiimon Cleveland rushed 18 times for 259 yards and three touchdowns as the
Wolverines beat Chantilly, 35-24.
PRINCE GEORGE'S
DuVal RB David Dupree rushed 32 times for 236 yards and three touchdowns and caught an 11-yard
touchdown pass as the Tigers beat Urbana, 26-6.
PRINCE WILLIAM
Osbourn QB Chance Hollingsworth rushed 15 times for 123 yards and three touchdowns and passed for
62 yards and another score in a 28-18 win over Gar-Field.
PRIVATE
Flint Hill RB Jordan Houston rushed eight times for 211 yards and three touchdowns in a 56-20 win over
Blue Ridge.
SOUTHERN MARYLAND
Northern QB Reese Crounse passed for three touchdowns and rushed for a fourth score in a 31-22 win
over La Plata.
WCAC
Good Counsel WR Cam Hart had four catches for 102 yards and two touchdowns and intercepted a pass on defense as the Falcons rallied to beat Spalding, 37-21.