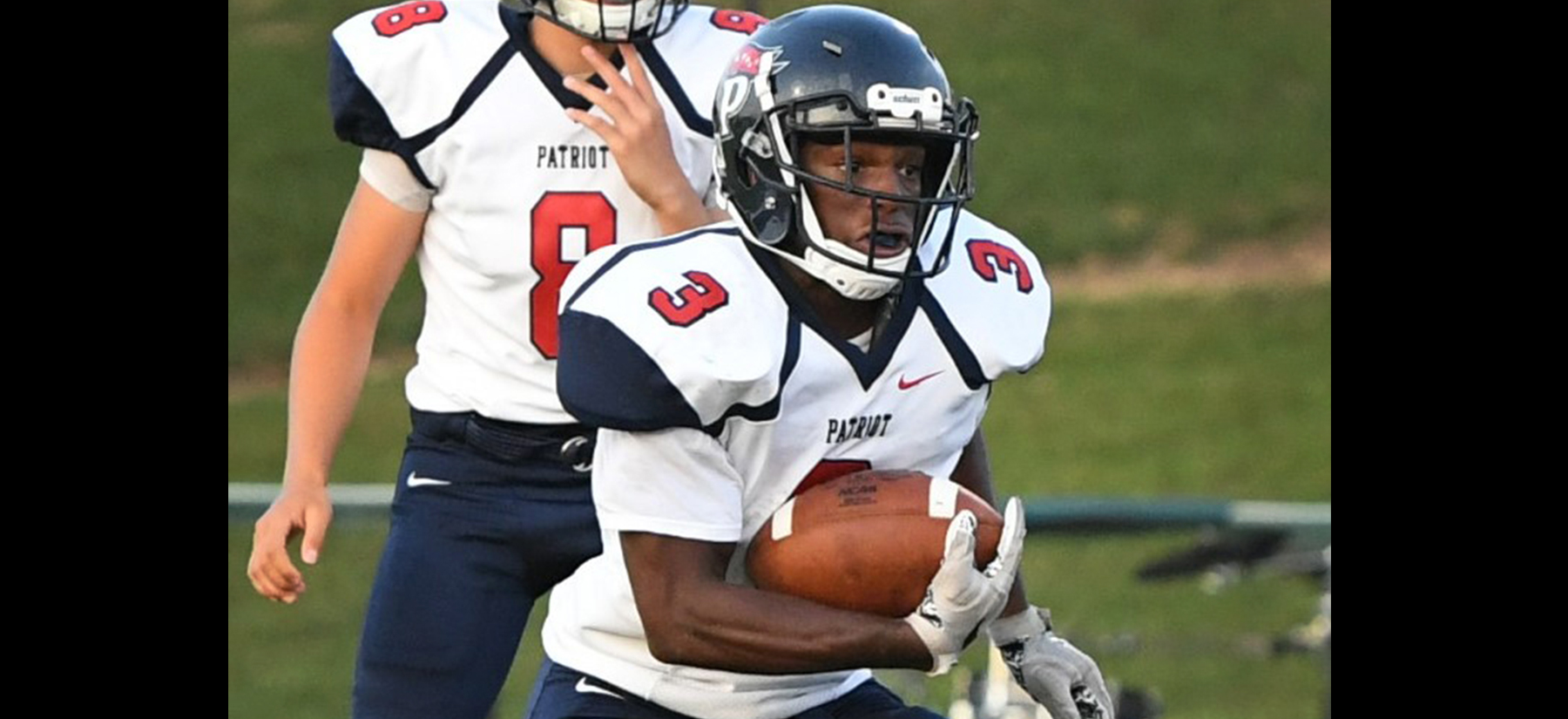 DC Touchdown Club Week 4 Player of the Week: Ike Onwuka, Patriot
On the football field and on the basketball court, Ike Onwuka can sense when opponents size him up. They see Onwuka – all 5 feet 8 and 160 pounds of him – and think they have found an easy mark.
"They underestimate me," said Onwuka, a senior who starts at running back for Patriot High's football team and has started the past two seasons at point guard for the Prince William County school's basketball team. "That makes me want to make a statement even more."
Onwuka made his biggest statement yet this past Friday. Starting when he touched the ball for the first time and returned a punt 55 yards for a touchdown, it felt like was going to be a special night. Onwuka also rushed 21 times for 201 yards and two touchdowns, returned a kickoff 89 yards for another score and caught two passes for 57 yards as Pioneers beat T.C. Williams, 42-26.
For his efforts, Onwuka was named the DC Touchdown Club High School Football Player of the Week, powered by Under Armour.
"He's not very big, but he's cat-quick and a very dynamic player," Patriot Coach Brud Bicknell said. "We thought he had the potential to have a dynamic year and we changed things around to get him more touches."
Onwuka had scored seven touchdowns in the season's first three games, but that was nothing compared to this past Friday's explosion.
Other players considered for Week 4 Player of the Week honors were:
ANNE ARUNDEL
South River WR Ryan Proctor caught eight passes for 243 yards and three touchdowns (44, 60, 81) as the Seahawks beat Annapolis, 46-42.
DC
H.D. Woodson RB Mychale Salahuddin rushed 10 times for 204 yards and four touchdowns as the Warriors beat Theodore Roosevelt, 30-6.
FREDERICK
Oakdale QB Cory Schlee, who missed the season's first two games while battling mononucleosis, completed 10 of 17 passes for 219 yards and four touchdowns as the Bears beat Urbana, 56-17.
HOWARD
Oakland Mills QB Shallon Robinson completed 7 of 9 passes for 91 yards and one touchdown and rushed seven times for 101 yards and two touchdowns as the Scorpions beat Mount Hebron, 52-15.
LOUDOUN
Dominion RB Alex Wertz rushed 16 times for 289 yards and three touchdowns as the Titans beat Heritage, 38-0.
MONTGOMERY
Walter Johnson WR Aziz Diomande caught eight passes for 191 yards and two touchdowns as the Wildcats beat Kennedy, 20-0.
NORTHERN REGION
Fairfax QB Trevor Marchiando rushed 16 times for 86 yards and two touchdowns and completed 24 of 32 passes for 242 yards and another score as the Rebels beat Annandale, 21-20.
Marshall QB Andrew Margiotta rushed 15 times for 229 yards and four touchdowns in the second half (13, 30, 54, 69) as the Statesmen rallied to beat Falls Church, 43-24.
PRIVATE
Flint Hill RB Jordan Houston rushed 23 times for 281 yards and three touchdowns (45, 70, 80) and caught a 95-yard touchdown pass as the Huskies beat Collegiate, 41-27.
SOUTHERN MARYLAND
Patuxent QB Reese Crounse rushed for one touchdown and passed for 265 yards and two more scores, including the game-winning nine-yard pass to Xavier Harris for his third touchdown of the game as the Northern rallied to beat Chopticon, 36-33, to remain undefeated.