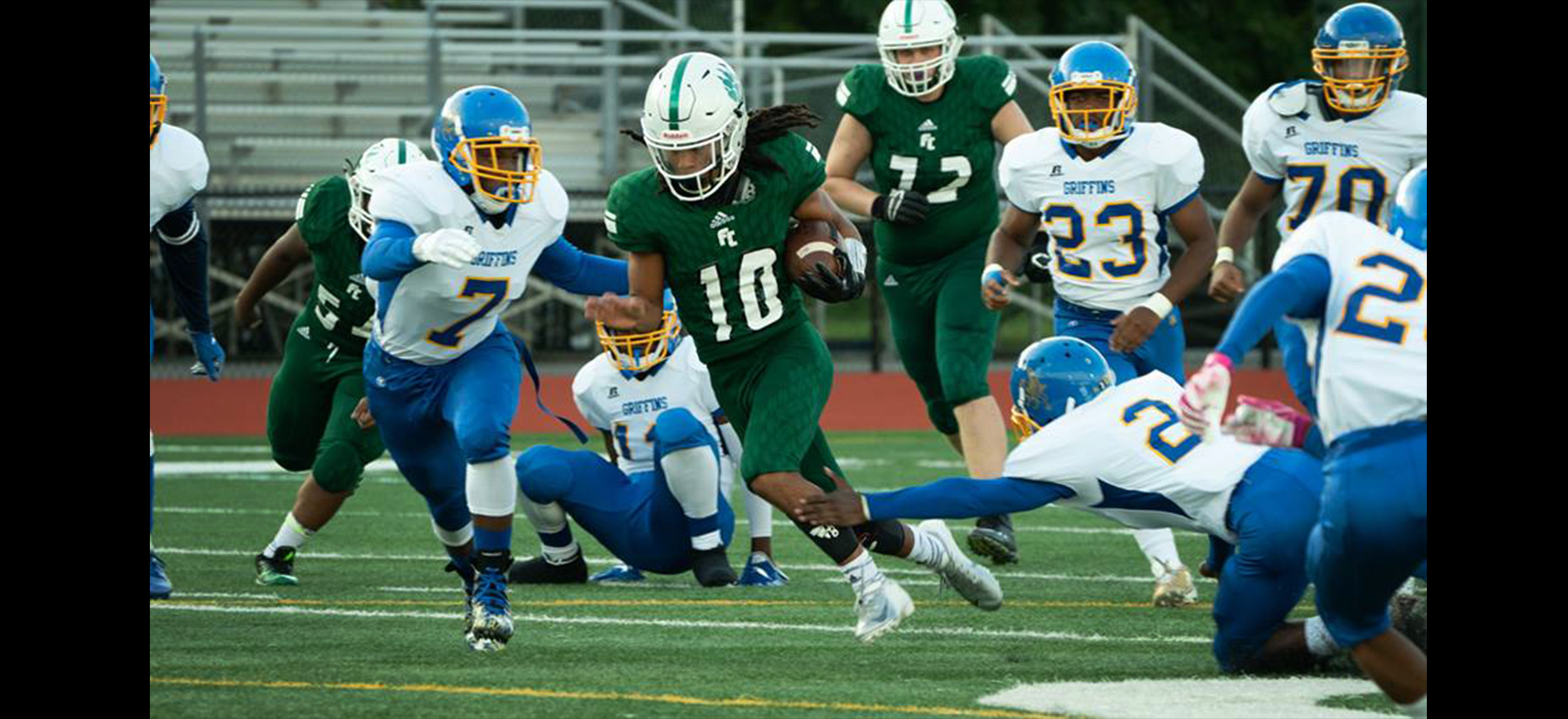 DC TOUCHDOWN CLUB WEEK 6 PLAYER OF THE WEEK: DAKWANDRE MARSHALL
Dakwandre Marshall is on a tear rarely seen, putting together three consecutive 300-yard games. This past Friday, Marshall carried 33 times for 305 yards and four touchdowns, leading Falls Church to a 46-34 victory over Lee.
"He's a special football player. He does things you can't coach," Falls Church Coach Said Aziz said. "We're so technique driven because of a lot of our kids don't play until they get to high school. But Dre, he just glides on the turf. We try not to teach him too much because it will slow him down."
Marshall, who is 5 feet 8 and 160 pounds, is a three-year starter. He rushed for 1,500 yards as a sophomore and was named all-state as a return specialist, with seven special teams touchdowns. Aziz called it a "down year" last season as Marshall rushed for 1,700 yards.
Marshall committed to Morgan State during the offseason and worked hard to improve his speed and strength. "He knew he was going to be our only weapon because we graduated 25 seniors," Aziz said.
For his efforts, Marshall was named the Military Bowl DC Touchdown Club High School Football Player of the Week.
Others receiving Player of the Week consideration were:
ANNE ARUNDEL
Chesapeake WR Russell Tongue caught two touchdown passes and made a key interception late in the game near his own goal line as the Cougars remained unbeaten with a 28-24 win over South River.
FREDERICK
Oakdale WR Blake Baxter caught five passes for 165 yards and three touchdowns as the Bears beat Linganore, 56-7, in a meeting of previously unbeaten teams.
HOWARD
Hammond QB Sam Mercedes threw two touchdown passes and rushed for two more scores, including the game-winning 35-yarder with two minutes left as the Bears beat Atholton, 30-28.
LOUDOUN
Woodgrove RB KJ Lewis rushed for 186 yards and three touchdowns as the Wolverines beat Riverside, 43-7.
MONTGOMERY
Quince Orchard RB Marquez Cooper rushed 34 times for 229 yards and two touchdowns as the Cougars beat previously unbeaten Paint Branch, 24-8.
PRINCE GEORGE'S
Eleanor Roosevelt RB Antwain Littleton rushed for 130 yards and two touchdowns as the Raiders beat DuVal, 34-0.
PRINCE WILLIAM
Patriot QB Chris Sonnenberg completed 9 of 15 passes for 298 yards and one touchdown before leaving with a second-half ankle injury as the Pioneers beat Stonewall Jackson, 29-19.
PRIVATE
Georgetown Prep RB Jalen Hampton rushed 26 times for 203 yards and one touchdown and returned a kickoff 79 yards for another score as the Little Hoyas beat Benedictine, 24-14.
SOUTHERN MARYLAND
Great Mills RB Martrel Mason rushed for four touchdowns as the Hornets earned their first win of the season with a 40-16 win over Chopticon.
WCAC
Good Counsel RB Sy'Veon Wilkerson rushed for 262 yards, including a 67-yard touchdown, as Good Counsel beat Gonzaga, 38-31, in a meeting of top-five local teams.
GAME OF THE WEEK
Not sure how you want to handle this week – there are 3 great private school games that easily will attract the most attention. Good Counsel-St. John's is on ESPN2 and is the headliner, but also have Gonzaga (6-1) vs DeMatha (4-1) and Landon (5-0) at Bullis (4-1). I wouldn't be opposed to adding those games in or subbing them in somehow as they will generate interest.
Maryland: Damascus (6-0) at Watkins Mill (5-1), Friday, 6:30
DC: Wilson (5-1) at H.D. Woodson (2-4), Saturday, 2
Virginia: Freedom-Woodbridge (5-1) at Woodbridge, (6-0), Saturday, 2
Private: Good Counsel (5-1) vs. St. John's (6-0) at Catholic University, Saturday, 7