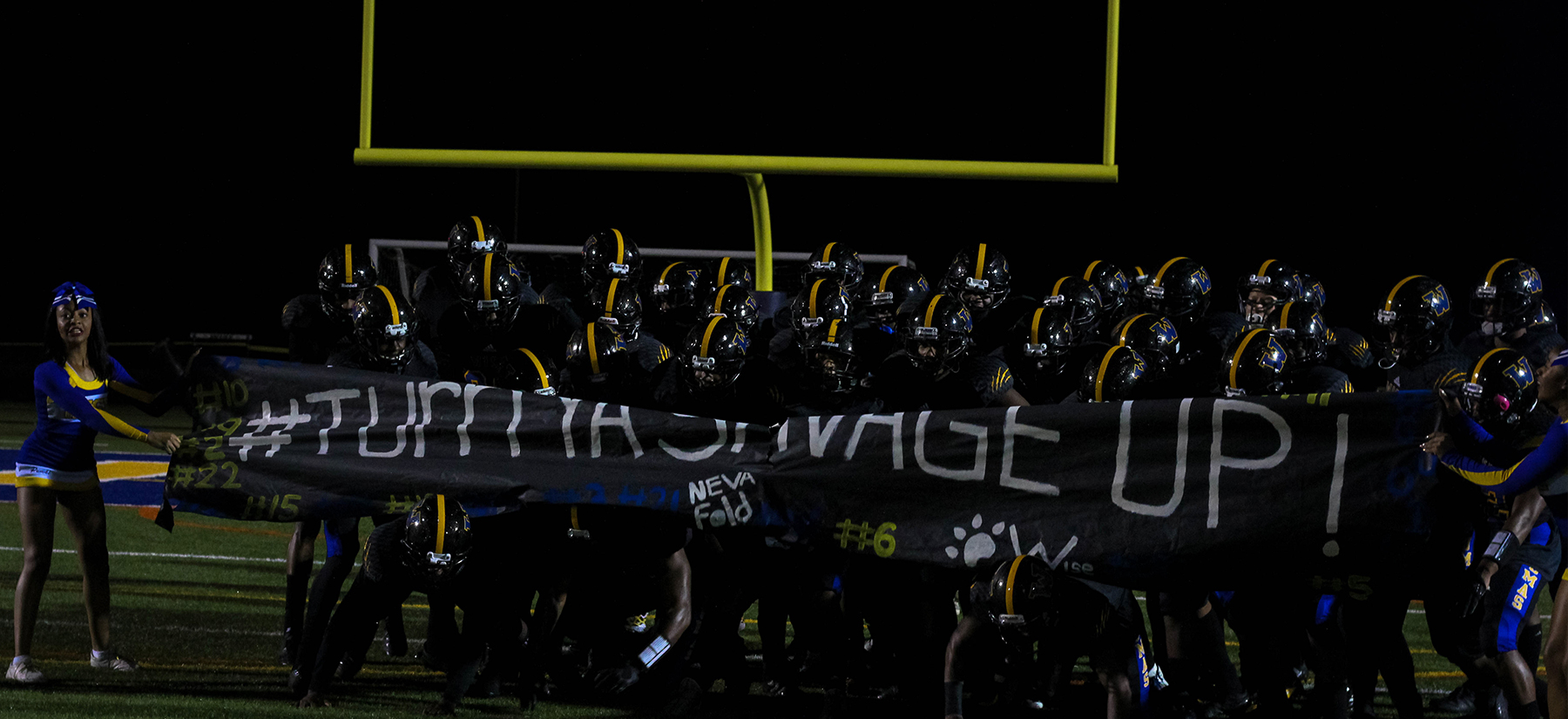 DC Touchdown Club Week 7 Player of the Week: Quinton Williams, Wise

The Wise Pumas have a new starting quarterback this season, but moving on from one of the best players in school history has not been a problem for the Maryland 4A three-time defending champions. Junior Quinton Williams, a 6-foot-4, strong-armed passer, has kept Wise on course for another state championship run.
Williams completed 12 of 18 passes for 189 yards and four touchdowns this past weekend, leaving Wise to its 36th consecutive victory, 58-14 over Oxon Hill.
For his efforts, Williams was named the DC Touchdown Club High School Football Player of the Week, powered by Under Armour.
"I've never had a 6-4 quarterback, I'm like a kid in a candy store," Wise Coach DaLawn Parrish said. "You never thought you would hear me say, 'Throw it.' But he can throw the ball all over the field. We don't have any handicaps."
Williams played on the junior varsity and made a few appearances on the varsity at Good Counsel last season before transferring to Wise. So far this season, he has passed for nearly 1,000 yards with 19 touchdowns for the 7-0 Pumas.
"He can make all the throws," Parrish said. "He's been a great addition to the team and done everything we've asked."
Other players receiving Player of the Week consideration were:
ANNE ARUNDEL
Broadneck QB Shane Davis completed 19 of 24 passes for 301 yards and two touchdowns as the Bruins beat South River, 42-7.
Old Mill RB Ryheam Tull rushed 21 times for 325 yards and four touchdowns as the Patriots beat Chesapeake, 34-14.
DC
H.D. Woodson RB Mychale Salahuddin rushed 10 times for 155 yards and one touchdowns as the Warriors beat Eastern, 32-0.
FREDERICK
Tuscarora QB Christian Edwards completed 29 of 41 passes for 231 yards and one touchdowns as the Titans played Walkersville tough in a 27-20 loss.
HOWARD
Howard RB Devin Dawkins rushed 12 times for 130 yards and three touchdowns – all in the first half – as the Lions remained undefeated with a 41-0 win over Caravel Academy.
LOUDOUN
Heritage QB Brett Johnson completed 10 of 20 passes for 172 yards and two touchdowns and rushed nine times for 144 yards and two touchdowns as the Pride beat Riverside, 28-7.
Loudoun County QB Nick Barts completed 9 of 15 passes for 176 yards and seven touchdowns as the Raiders beat Park View, 63-12.
MONTGOMERY
Wootton QB Grant Saylor completed 22 of 29 passes for 368 yards and five touchdowns as the Patriots beat Bethesda-Chevy Chase, 44-0.
NORTHERN REGION
Falls Church RB Dakwandre Marshall rushed 23 times for 207 yards and four touchdowns as the Jaguars beat Edison, 49-19.
Westfield QB Noah Kim completed 11 of 17 passes for 238 yards and four touchdowns as the Bulldogs beat Oakton, 34-14.
PRINCE GEORGE'S
Suitland RB Antwan Squire rushed 22 times for 268 yards and three touchdowns as the Rams beat Largo, 55-7.
PRINCE WILLIAM
Freedom-Woodbridge QB A.J. Felton passed for 135 yards and one touchdown and rushed 10 times for 191 yards and four touchdowns as the Eagles remained unbeaten with a 41-14 win over Woodbridge.
PRIVATE
Backup QB Henry Rentz threw two touchdown passes, rushed for two touchdowns and intercepted a pass on defense as Severn remained unbeaten with a 27-21 win over Boys Latin.
Episcopal RB Perris Jones rushed 13 times for 240 yards and four touchdowns as the Maroon beat St. Albans, 51-13.
SOUTHERN MARYLAND
Northern RB Xavier Harris rushed 23 times for 135 yards and three touchdowns as the Patriots beat Leonardtown, 42-6.