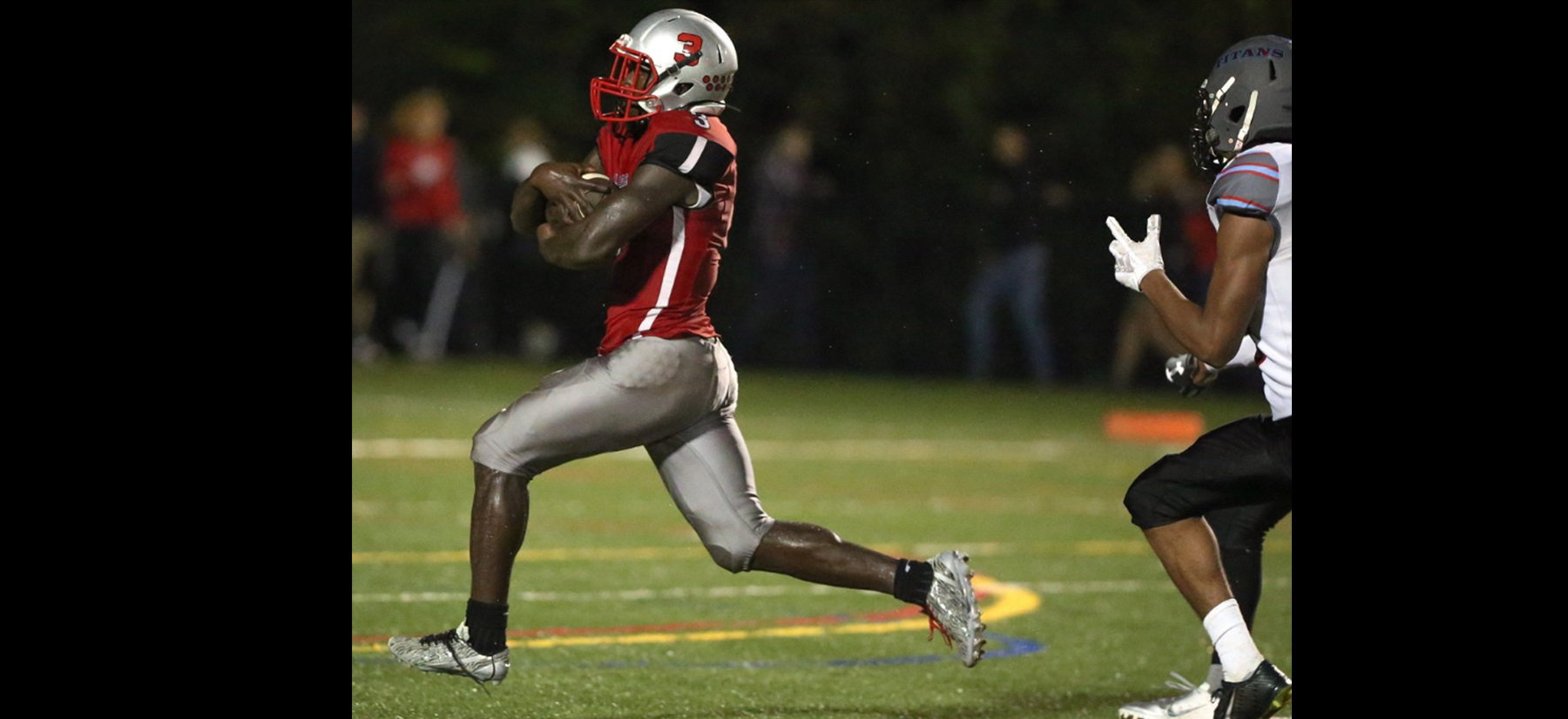 DC TOUCHDOWN CLUB WEEK 8 PLAYER OF THE WEEK: BRANDON NTANKEU
Brandon Ntankeu didn't really think of himself as a football player when he entered Blair High as a freshman. Heck, he had never even played the sport. Basketball was his sport of choice.
"A lot of kids come in at Blair, and everybody thinks they are the next Pele or the next LeBron James. He came in as a basketball guy," Blair football coach Andrew Fields said. "The basketball coaches saw him and mentioned him to me because he was so athletic and so physical. We got him to play football in 10th grade and he never looked back."
Ntankeu earned a starting role as a linebacker last season as a junior. This season, he has been the team's leading tackler and also moved into the starting lineup as a running back when a teammate was injured in the season opener.
The Blazers have endured an unusually high number of injuries, Fields said, dictating that they try to become a more physical running team. This past Friday, that paid dividends for Ntankeu as he rushed 31 times for 330 yards and three touchdowns and also caught a 70-yard touchdown pass as Blair beat Clarksburg, 41-17, to stay in the hunt for a Maryland 4A North Region playoff berth.
For his efforts, Ntankeu was named the Military Bowl DC Touchdown Club High School Football Player of the Week.
"We have morphed into a two-back power team the last few weeks due to injuries," Fields said. "He's really benefited. He's a downhill kid, for sure."
Others considered for Player of the Week included:
ANNE ARUNDEL
Arundel QB Austin Slye completed 19 of 26 passes for 270 yards and three touchdowns and rushed for 58 yards and one touchdown as the Wildcats beat Chesapeake, 49-21.
FREDERICK
Tuscarora RB Aris Hilliard rushed 24 times for 198 yards and four touchdowns as the Titans beat Urbana, 25-18.
HOWARD
Glenelg RB Wande Owens rushed for 280 yards and two touchdowns, becoming Howard County's all-time leading rusher with 5,282 career yards, as the Gladiators beat River Hill, 12-0.
NORTHERN REGION
Yorktown QB Grant Wilson completed 18 of 29 passes for 203 yards and one touchdown as the Patriots beat Herndon, 14-7.
PRINCE WILLIAM
Hylton WR Langston Long caught a 15-yard touchdown pass and had a key fumble recovery on special teams in the fourth quarter as the Bulldogs beat Battlefield, 16-13.
PRIVATE
Georgetown Prep RB Jalen Hampton rushed 26 times for 146 yards, including a 53-yard touchdown, as the Little Hoyas handed Landon its first loss, 28-0. Hampton has rushed for at least 100 yards in each of Georgetown Prep's six wins.
SOUTHERN MARYLAND
Lackey RB D'Anthony Washington rushed for three touchdowns as the Chargers beat Thomas Stone, 43-9.