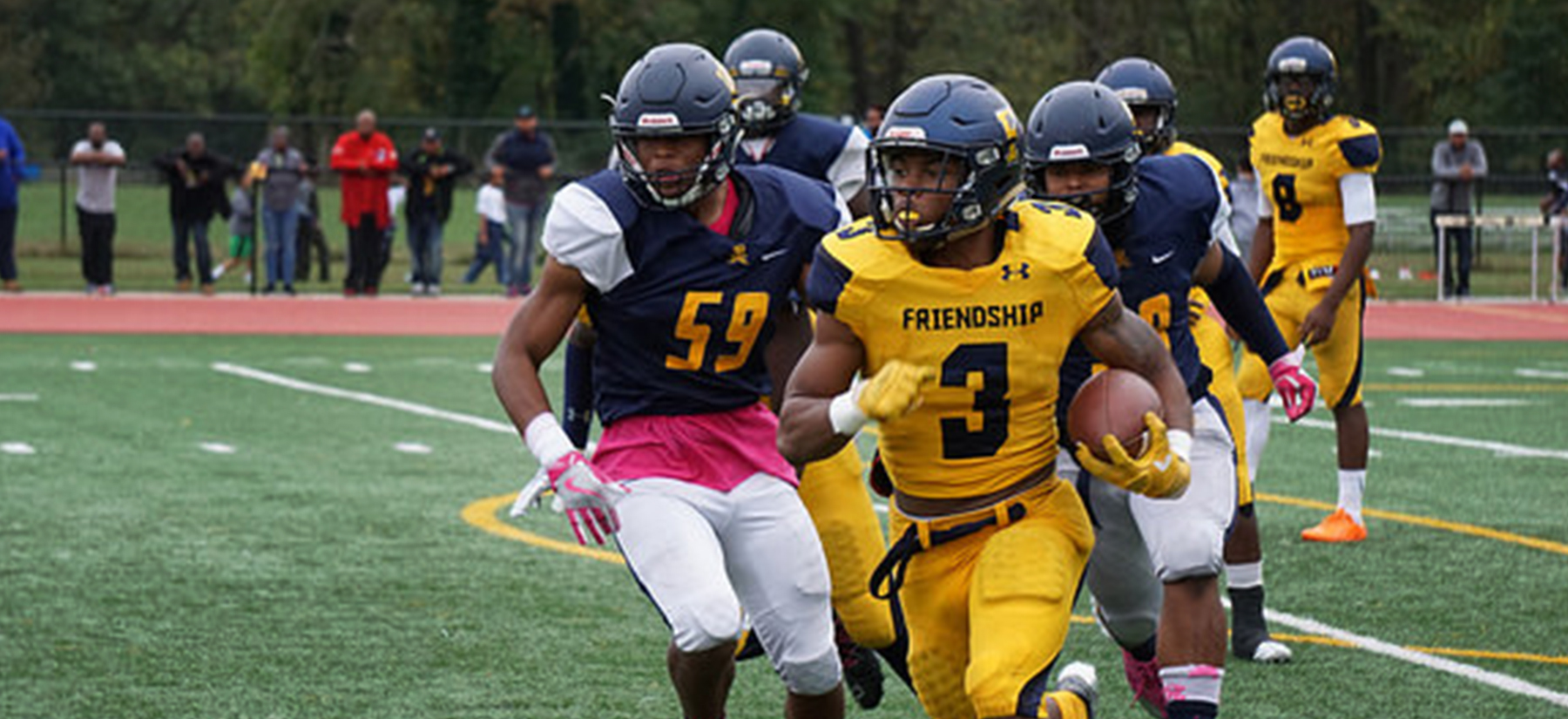 DC Touchdown Club Week 8 Player of the Week: Josiah Crute, Friendship Collegiate
The key to success for Josiah Crute on the football field could be found on last spring. Crute, a senior running back for Friendship Collegiate, is known for having a strong work ethic, but it was his decision to run outdoor track for the Knights that has led to Crute becoming a faster player.
"That helped with his overall speed," Friendship Collegiate Coach Mike Hunter said. "He's always been a hard worker in the weight room, but I think the track took him to another level. We talked about how it would make him a better player and make him more attractive to colleges."
Crute finished second in the 100-meter dash in the DC State Athletic Association championships and he's continued to fly past opponents this fall. This past Saturday, Crute rushed 16 times for 204 yards, including a 98-yard touchdown, as the Knights scored a resounding 24-7 victory over visiting Fort Hill of Cumberland, the Maryland 1A four-time defending champion that had entered with a 32-game winning streak.
For his efforts, Crute was named the DC Touchdown Club High School Football Player of the Week, powered by Under Armour.
"He's always been a heck of a player," Hunter said. "Now it's finally starting to show on film and on the field. He's a quality young man."
Crute, who is 5 feet 10 and 185 pounds, is receiving interest from Football Bowl Subdivision teams. He holds scholarship offers from Norfolk State and Seton Hill.
"He's become a complete back," Hunter said. "Not only running the ball but also pass protection and catching the ball out of the backfield."
Other players considered for Player of the Week honors were:
ANNE ARUNDEL
Broadneck RB Tyrice Watson rushed for two fourth-quarter touchdowns and made a key tackle on special teams as the Bruins improved to 8-0 by rallying to defeat Meade, 28-21.
FREDERICK
Linganore TE/LB Joe Kolick caught six passes for 145 yards and made five tackles and forced a fumble on defense as the Lancers defeated Middletown, 29-26.
Tuscacora QB Christian Edwards completed 21 of 29 passes for 344 yards and four touchdowns and rushed for two more scores as the Titans beat Urbana, 71-38.
HOWARD
All-County kicker Troy Hettinger connected on field goals of 28, 37 and 39 yards as Marriotts Ridge beat Wilde Lake, 16-3.
LOUDOUN
Loudoun Valley QB Derek Goings completed 22 of 37 passes for 255 yards and two touchdowns as the Vikings beat Riverside, 16-14.
MONTGOMERY
Paint Branch QB Norman Douglas Jr. completed 11 of 20 passes for 202 yards and one touchdown and rushed for two more scores as the Panthers beat Sherwood, 22-20.
Blake RB Carleton Thomas rushed 13 times for 170 yards and four touchdowns as the Bengals beat Rockville, 42-22, to improve to 7-1 and continue the best start in school history.
NORTHERN REGION
Westfield QB Noah Kim completed 14 of 20 passes for 277 yards and two touchdowns as the Bulldogs remained unbeaten with a 27-11 win over Centreville, ending the Wildcats' six-game winning streak.
Falls Church RB Dakwandre Marshall rushed 25 times for 305 yards and four touchdowns as the Jaguars improved to 6-3 by beating Wakefield, 42-14.
Marshall QB Andrew Margiotta rushed 18 times for 261 yards and six touchdowns as the Statesmen improved to 7-1 by beating Lee, 59-35.
PRINCE GEORGE'S
Oxon Hill WR Daniel George, a Penn State recruit, rushed 10 times for 121 yards, including a 99-yard touchdown run, and caught four passes for 33 yards and another score as the Clippers beat DuVal, 28-14.
PRINCE WILLIAM
Hylton QB Keyshawn Copeland completed 10 of 15 passes for 191 yards and three touchdowns as the Bulldogs beat Battlefield, 28-10.
PRIVATE
St. John's QB Kevin Doyle completed 22 of 33 passes for 266 yards and two touchdowns as the Cadets beat DeMatha, 38-22.
SOUTHERN MARYLAND
La Plata WR-DB Nico Stout caught an 84-yard touchdown pass, returned a kickoff 86 yards for a touchdown and returned a fumbled 60 yards for a third score as the Warriors beat Calvert, 46-29.