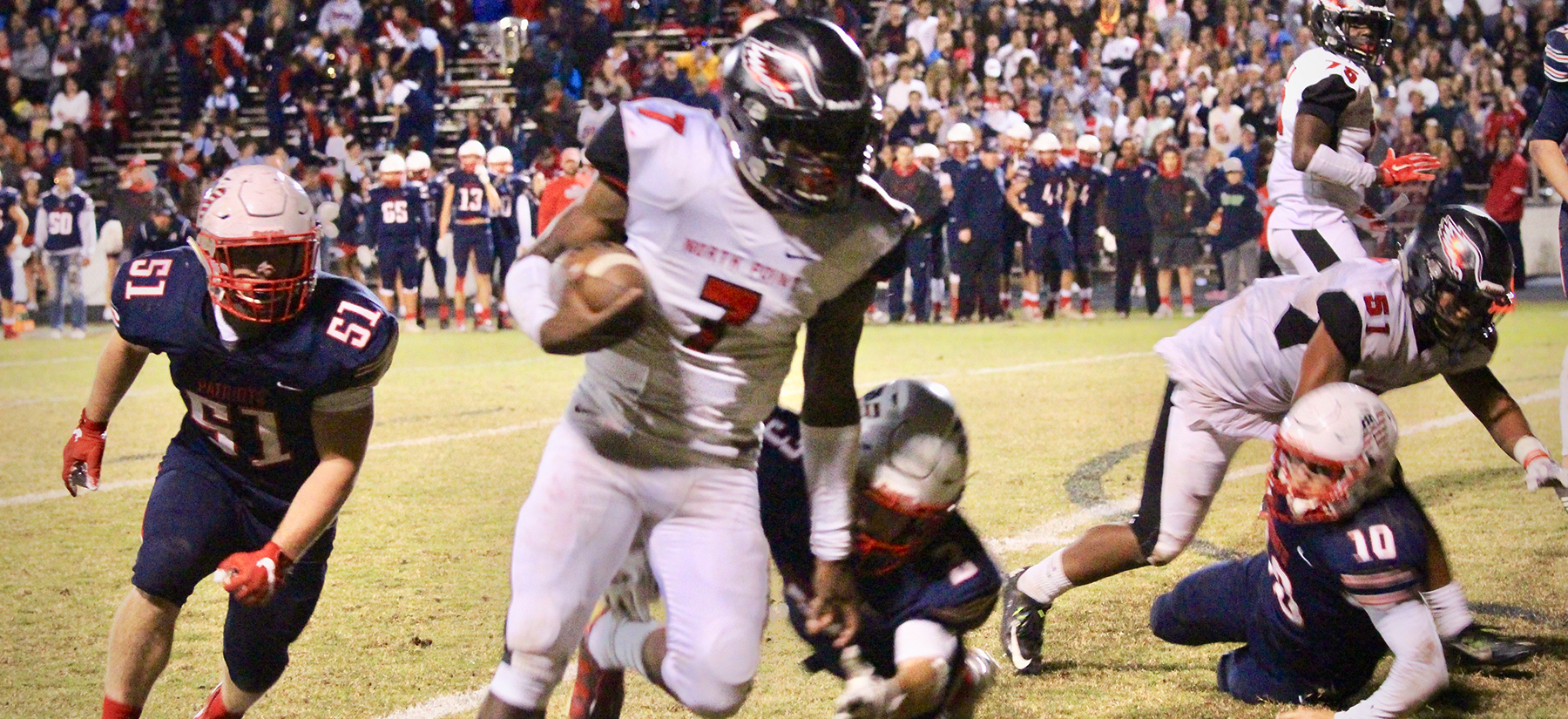 DC Touchdown Club Week 9 Player of the Week: Jemichael Jones, North Point
It took a little while for Jemichael Jones to get things going this past Friday in a meeting of unbeaten teams – and their star quarterbacks – in the Southern Maryland Athletic Conference.
But once Jones got on track, he and the North Point Eagles were on their way to victory. Jones rushed for 205 yards and one touchdown and completed 16 of 28 passes for 215 yards and three touchdowns as North Point pulled away for a 45-21 victory over Northern.
For his efforts, Jones was named the DC Touchdown Club presented by Capital Bank High School Football Player of the Week, powered by Under Armour.
"Friday night he took the game over," North Point Coach Tom Petre said.
Jones, who has committed to play for Howard University, said it was probably the best game he has played. Since throwing four touchdown passes in the season opener, he had only thrown three other touchdown passes, though that was partly a result of several lopsided wins in which the Eagles didn't pass much and played their backups because of the score. Friday, though, was different, as North Point found itself in a 21-21 tie at halftime as Northern quarterback Reese Crounse had a big first half.
"It was going to be an intense game," Jones said. "Everybody knew it. We kind of started off slow. But [at halftime] we came back and talked with the coaches. Then things started going, we moved the ball up and down the field and had our momentum."
Other players considered for the Player of the Week award were:
ANNE ARUNDEL
Arundel RB Darius Hunter rushed for a pair of touchdowns in a 12-7 win over Old Mill.
FREDERICK
Maryland School for the Deaf RB-LB John Werner Jr. rushed 11 times for 108 yards and two touchdowns and returned an interception 46 yards for a touchdown as the Orioles beat Capital Christian, 44-8.
Linganore TE-LB Joe Kolick caught a touchdown pass, returned an interception for a touchdown and returned a fumble for a touchdown as the Lancers beat Tuscarora, 34-7.
HOWARD
River Hill DB Beau Brade intercepted two passes to lead a strong defensive effort as the Hawks beat Glenelg, 20-0.
LOUDOUN
Loudoun County QB Nick Barts completed 15 of 26 passes for 290 yards and six touchdowns as the Raiders beat Woodgrove, 42-33.
MONTGOMERY
Sherwood QB Michael Mbony rushed 17 times for 101 yards and three touchdowns and completed 13 of 20 passes for 167 yards and one touchdown as the Warriors beat Springbrook, 33-3.
NORTHERN REGION
Hayfield QB Brian Cobbs rushed 17 times for 151 yards and two touchdowns and completed 21 of 27 passes for 309 yards and four touchdowns as the Hawks beat Annandale, 50-43, to claim the Gunston District title.
PRINCE GEORGE'S
Wise RB John Oliver rushed for 170 yards and three touchdowns as the Pumas remained undefeated with a 47-10 win over Potomac (Md.).
PRINCE WILLIAM
Woodbridge QB Antevious Jackson completed 15 of 20 passes for 154 yards and rushed for a touchdown as the Vikings rallied late to stun Hylton, 23-20.
PRIVATE
Good Counsel WR-DB Cam Hart had three catches for 116 yards, including an 82-yard touchdown, and made three tackles on defense as the Falcons beat Gonzaga, 27-7.
Landon RB Jelani Machen rushed nine times for 184 yards and three touchdowns as the Bears beat St. Stephen's/St. Agnes, 42-13.
Spalding QB Jayden Umbarger passed for 213 yards and four touchdowns and rushed for 189 yards and three touchdowns as the Cavaliers beat Gilman, 76-58.