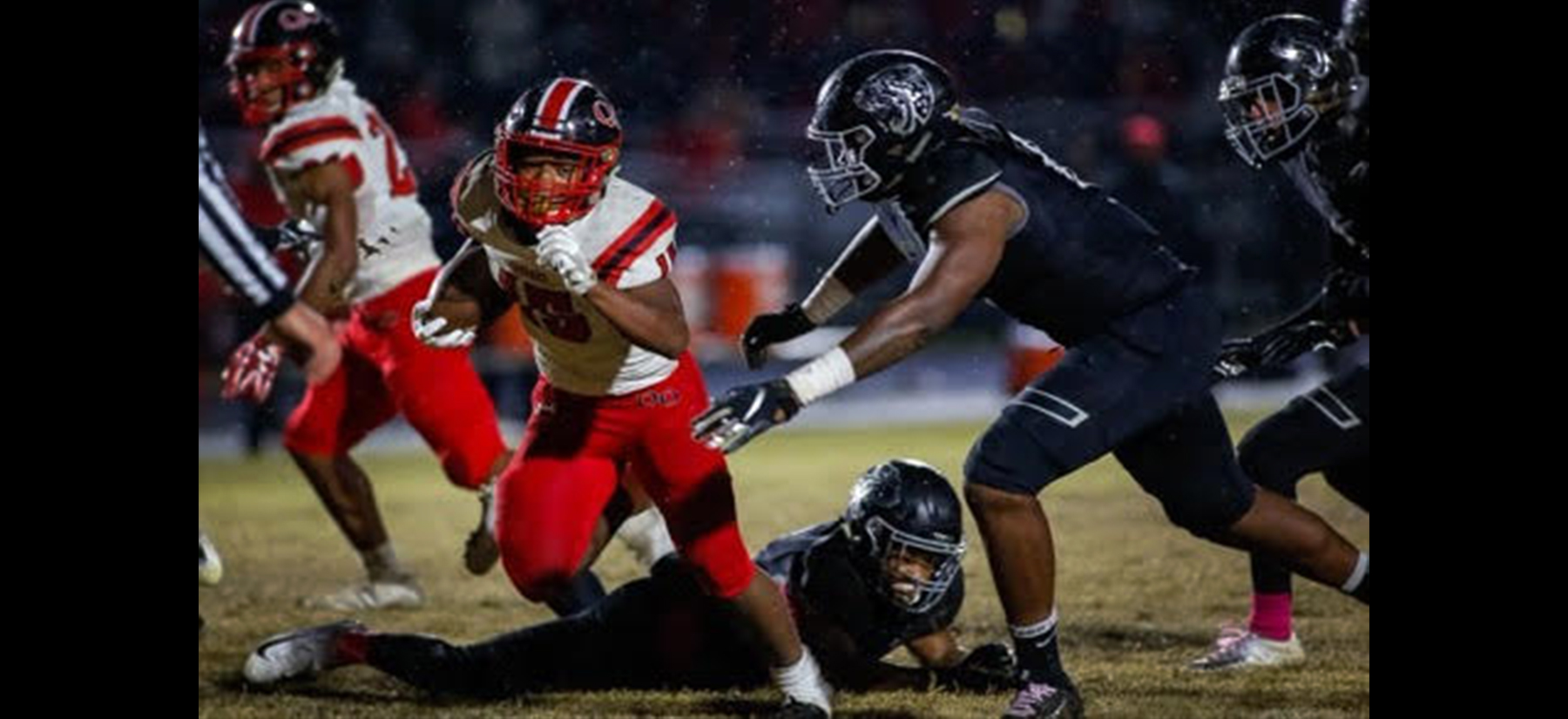 DC TOUCHDOWN CLUB WEEK 9 PLAYER OF THE WEEK: MARQUEZ COOPER
Marquez Cooper excels at changing direction and has a quick burst of speed. But what really sets the Quince Orchard running back apart is his work ethic, Coach John Kelley said.
"You want to be a college football player or a great high school player?" Kelley said. "Well, he works like you are supposed to work. He doesn't miss a weight room session or a conditioning session. He is very, very diligent about how hard he works. He wants to be good."
Cooper, a 5-foot-7, 175-pound junior, has been more than good this season. This past Friday he enjoyed another strong performance, rushing 26 times for 223 yards and a school-record six touchdowns as Quince Orchard beat Northwest, 41-6, as the two northern Montgomery County powers battled for the likely top seed in the upcoming Maryland 4A West Region playoffs.
For his efforts, Cooper was named the Military Bowl DC Touchdown Club High School Football Player of the Week.
Others receiving Player of the Week consideration were:
ANNE ARUNDEL
Arundel RB Jordan Andrews rushed 24 times for 178 yards and three touchdowns, including the decisive 20-yard score with four minutes left, as the Wildcats beat Old Mill, 26-21.
DC
Bell RB Rashaad Harris scored three touchdowns as the Griffins recorded their fourth consecutive shutout, 44-0 over Ron Brown and improved to 7-0.
FREDERICK
Linganore RB Davon Butler rushed 11 times for 135 yards and three touchdowns as the Lancers beat Tuscarora, 46-7.
HOWARD
Long Reach RB Nick Phillips rushed 14 times for 122 yards and two touchdowns as the Lightning beat Marriotts Ridge, 18-0, to clinch a Maryland 3A East Region playoff berth.
LOUDOUN
Woodgrove QB Graham Walker rushed for 172 yards and two touchdowns and threw a touchdown pass as the Wolverines beat previously undefeated Loudoun County, 27-6.
MONTGOMERY
Richard Montgomery RB T'Kai Ayoola rushed 20 times for 302 yards and five touchdowns as the Rockets beat Rockville, 35-14.
NORTHERN REGION
Marshall K Ethan Chang made field goals of 33 and 35 yards and made all three of his point-after attempts as the Statesman beat Edison, 44-20. Chang has made 12 field goals this season, is 29 of 29 on point-after kicks and averages 47 yards per punt.
PRINCE WILLIAM
Freedom-Woodbridge RB TyQuan Brown rushed 20 times for 243 yards and two touchdowns as the Eagles beat Gar-Field, 28-0.
PRIVATE
Spalding QB Jayden Umberger completed 11 of 14 passes for 172 yards and three touchdowns and rushed for 188 yards and two touchdowns as the Cavaliers beat Gilman, 47-0.
SOUTHERN MARYLAND
Lackey QB Robert Middleton threw one touchdown pass, rushed for two more touchdowns and ran in a two-point conversion as the Chargers beat Patuxent, 20-14.
WCAC
St. John's RB Ronald Cook rushed 17 times for 117 yards and his team's only two touchdowns as the Cadets beat DeMatha, 13-7.