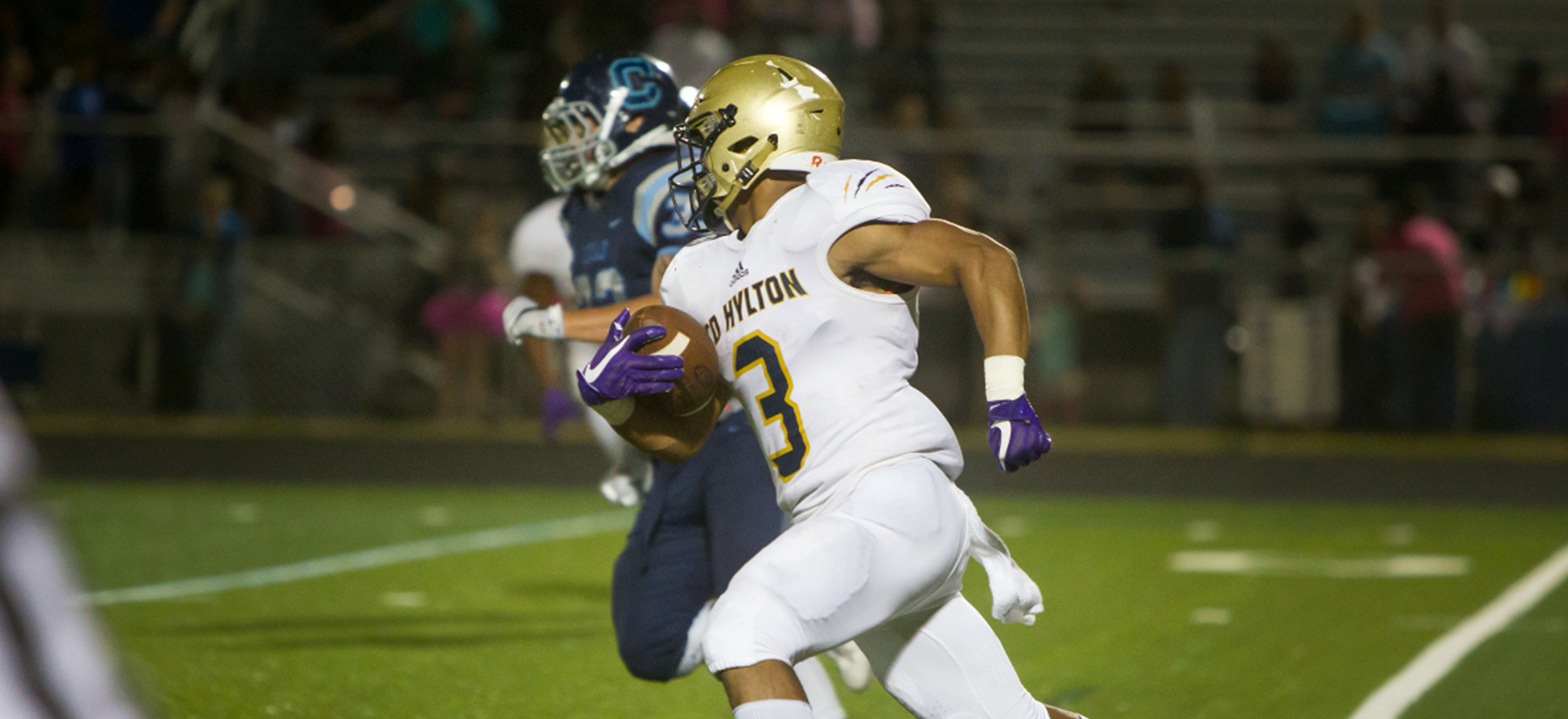 DC Touchdown Week 6 Player of the Week: Ricky Slade, Hylton
Ricky Slade's ability to run the football is well known. Each week, Hylton Coach Tony Lilly said, opponents stack the box and focus their sights on stopping – or at least slowing down – the Penn State running back recruit.
Slade, though, continues to put up big numbers and the Bulldogs' high-powered offense keeps chugging along. This past Friday, though, Slade put together one of the biggest nights ever by a Washington-area football player. He rushed 13 times for 353 yards and five touchdowns, caught four passes for 51 yards and one touchdown and returned two kickoffs for touchdowns as Hylton beat Colgan, 64-35. For his efforts, Slade was named the DC Touchdown Club High School Football Player of the Week powered by Under Armour.
"Everybody is always trying to take him out," Lilly said. "That's why when he touches the ball there are at least seven guys running to him every play. To see him create things on his own, he does things every Friday night that wow me."
Slade runs a 4.4-second 40-yard dash, but it is his rapid acceleration that Lilly notices, the quick burst difficult for opposing defenders to match.
Through six games, Slade has rushed for more than 1,300 yards, helping Hylton average nearly 50 points per game. After the season, he has accepted an invitation to play in the Under Armour All-America Game on Jan. 4 in Orlando.
Others receiving Player of the Week consideration were:
ANNE ARUNDEL
Broadneck QB Shane Davis passed for 277 yards and two touchdowns and rushed for three touchdowns as the Bruins beat Old Mill, 55-28.
DC
Friendship Collegiate QB Dyson Smith completed 23 of 41 passes for 322 yards and three touchdowns in a 24-20 loss to Spalding.
FREDERICK
Frederick RB Deondre Boyce rushed for 170 yards and three touchdowns as the Cadets broke a 12-game losing streak by beating James Buchanan, 42-27.
HOWARD
Howard RB Devin Dawkins rushed for 107 yards and a touchdown as the undefeated Lions beat Long Reach, 20-6.
LOUDOUN
Woodgrove RB Josh Johnson rushed 15 times for 194 yards and three touchdowns in a 50-20 win over Riverside.
MONTGOMERY
Quince Orchard QB Doc Bonner, who committed to Dartmouth last week, rushed for 75 yards and one touchdown and completed 5 of 7 passes for 110 yards and two touchdowns as the Cougars beat previously undefeated Paint Branch, 45-8.
NORTHERN REGION
Westfield WR-DB Taylor Morin caught the go-ahead 25-yard touchdown pass in the fourth quarter and then intercepted a pass in his own end zone in the final minute as the Bulldogs edged Madison, 10-6.
Hayfield QB Monty Byers completed 18 of 33 passes for 378 yards and seven touchdowns as the Hawks beat Mount Vernon, 63-41.
PRINCE GEORGE'S
Suitland RB Antwan Squire rushed 37 times for 258 yards and two touchdowns as the undefeated Rams beat Douglass, 21-8.
PRIVATE
Gonzaga freshman QB Caleb Williams completed 14 of 20 passes for 200 yards and two touchdowns as the Eagles knocked off WCAC four-time defending champion DeMatha, 20-14.
St. John's QB Kevin Doyle completed 10 of 15 passes for 233 yards and three long touchdowns as the Cadets beat Good Counsel, 31-9.
Georgetown Prep RB Jalen Hampton rushed 30 times for 239 yards and three touchdowns as the Little Hoyas beat Benedictine, 28-9.
SOUTHERN MARYLAND
Northern QB Reese Crounse passed for 267 yards and four touchdowns as the Patriots remained unbeaten with a 33-6 win over St. Charles.