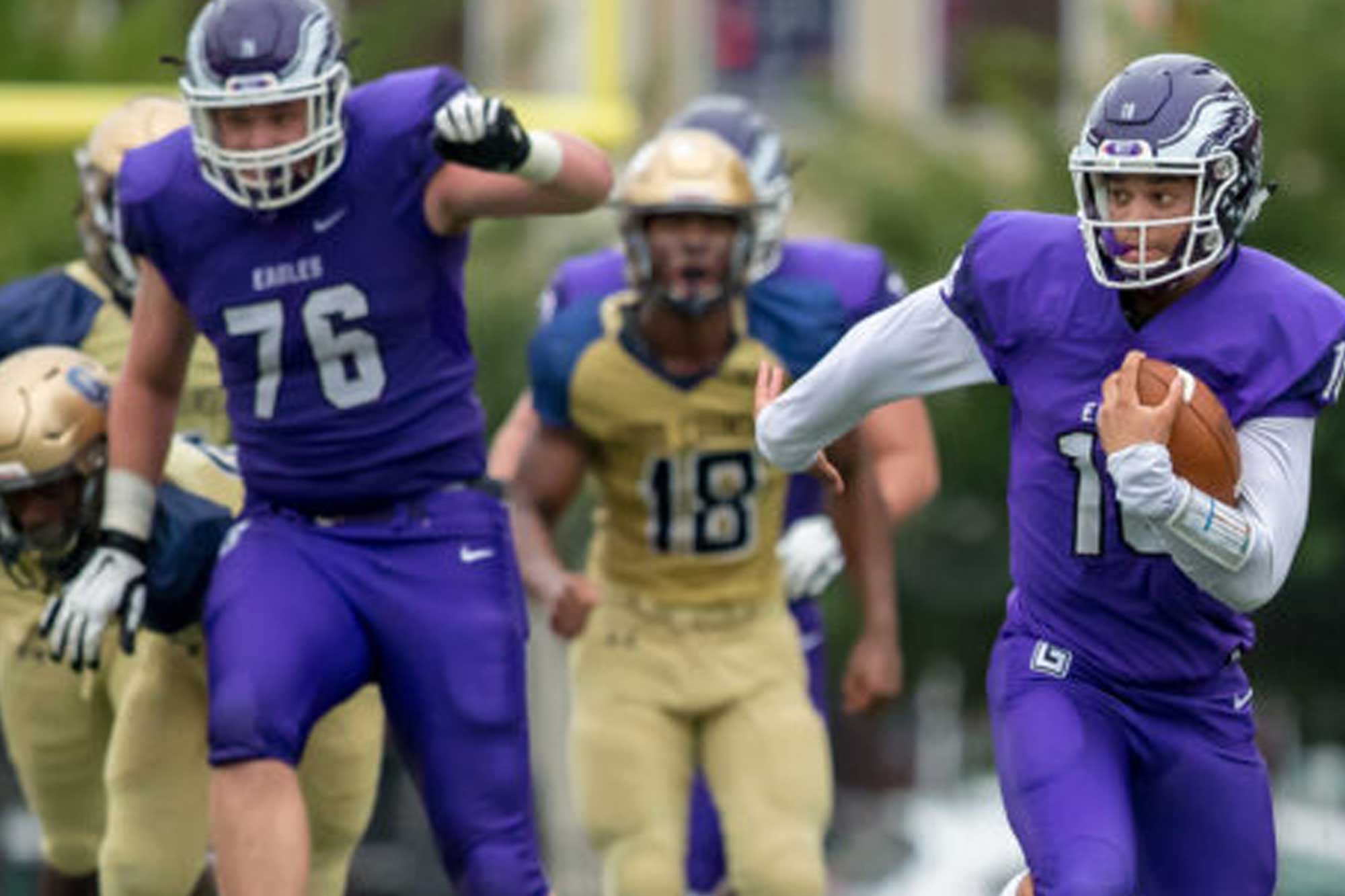 DC Touchdown Club PLAYER OF THE WEEK: CALEB WILLIAMS
It was a moment that will go down in Washington-area sports history.
Gonzaga had rallied from a 20-point deficit, taken the lead with just 29 seconds left, then fallen behind when DeMatha returned the ensuing kickoff for a touchdown to surge back in front.
It was then that Gonzaga quarterback Caleb Williams' leadership ability came to the forefront. Coach Randy Trivers says that Williams is special because of his ability to make good decisions and his physical ability. But in the biggest game of the season, Williams ability to remain focused was just as important.
"He's got a great demeanor when it comes to an even keel," Trivers said. "Not too high and never too high. That is a very strong quality when it comes to being a leader and being a quarterback."
So when Gonzaga got the ball back with time for just two plays, Williams was ready. And his 53-yard Hail Mary to wide receiver John Marshall lifted the Eagles to an amazing 46-43 victory in the Washington Catholic Athletic Conference championship game on Sunday night – a game that will be remembered for years to come.
"Definitely a special night," Trivers said. "A special, special moment."
Williams, a sophomore who already holds scholarship offers from many of the nation's top programs, passed for 358 yards and three touchdowns, rushed 20 times for 113 yards and two touchdowns and caught a nine-yard touchdown pass on a trick play. For his efforts, Williams – who also celebrated his 17th birthday on Sunday — was named the Military Bowl DC Touchdown Club High School Football Player of the Week.
"Caleb is a very good blend of what you have above the neck and what you have below the neck," Trivers said. "He's very smart and a good decision-maker. As a quarterback, that is what you need, an intelligent guy who makes good decisions. And below the neck he's a great physical talent. He can throw with touch, throw with velocity, throw with accuracy. And he is talented with his feet. He's a special guy for sure."
The win capped a sensation postseason run for Gonzaga, which beat previously undefeated St. John's in the WCAC semifinals.
"It was a crazy game. Epic, really," Trivers said. "And we thought last week [against St. John's] was a heck of a game. But this one topped that."
Others considered for Player of the Week honors were:
ANNE ARUNDEL
Chesapeake WR-K Colton Spangler caught a touchdown pass, made three field goals and all three of his point-after kicks as the Cougars beat J.M. Bennett, 36-21, in the Maryland 3A East Region final.
DC
Bell QB Ronnell St. John threw three touchdown passes as the Griffins won their first-ever DCIAA Gravy Bowl, 47-0 over McKinley.
FREDERICK
Linganore WR-LB Joey Felton caught five passes for 91 yards and one touchdown and forced three fumbles on defense as the Lancers beat Westminster, 52-20, in the Maryland 3A West Region final.
HOWARD
Glenelg RB Wande Owens rushed for 225 yards and three touchdowns, crossing the 6,000-yard mark for his career, as the Gladiators remained unbeaten with a 35-0 win over River Hill in the Maryland 2A North Region final.
LOUDOUN
Broad Run QB Mitch Griffis rushed for two touchdowns and passed for two more as the Spartans beat Tuscarora, 28-14, in a Virginia 5A Region C semifinal.
NORTHERN REGION
Westfield QB Noah Kim completed 14 of 16 passes for 157 yards and three touchdowns as the Bulldogs beat South Lakes, 35-7, in a Virginia 6A North Region D semifinal.
MONTGOMERY
Quince Orchard RB Marquez Cooper rushed 23 times for 104 yards and one touchdown as the Cougars beat Northwest, 35-0, in the Maryland 4A West Region final.
PRINCE WILLIAM
Freedom-Woodbridge RB TyQuan Brown rushed 44 times for 277 yards and one touchdown as the Eagles beat Hayfield, 29-19, in a Virginia 6A Region C semifinal.
PRIVATE
Flint Hill RB Jordan Houston, a Maryland recruit, rushed for 105 yards and one touchdown as the Huskies won their 22nd consecutive game, 36-14 over Benedictine to claim their second consecutive VISAA Division I title.
SOUTHERN MARYLAND
North Point WR-DB Malik Lawrence caught a touchdown pass, rushed for a touchdown and made his 14th interception of the season on defense as the Eagles beat South River, 46-7,  in the Maryland 4A East Region final.