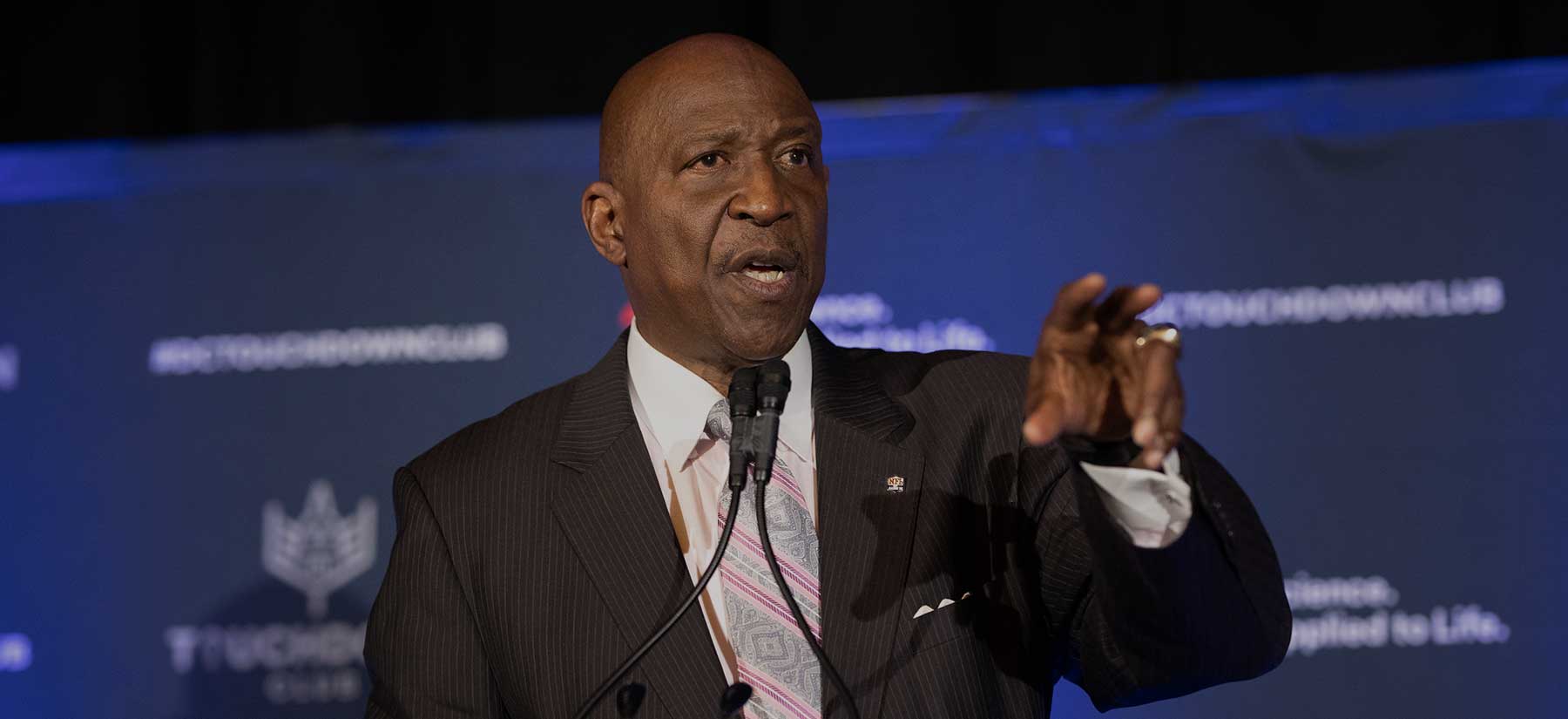 Doc Walker, DC Touchdown Club Executive Committee
Super Bowl champion Doc Walker has played a key role in the resurgence of the DC Touchdown Club, emceeing the DC Touchdown Club Awards Dinner since its revival in 2013 and serving on the Club's Executive Committee.
"I love it!" said Walker, who played tight end for the Washington Redskins from 1980 to 1985. "I love the origin of the Touchdown Club and its history and tradition. It fills a huge void in our community."
Since retiring as a player, Walker has remained involved in the game. He worked several years as a college football television analyst and was part of the Redskins' gameday radio broadcast, as well as hosting a sports talk radio show and Doc Walker's ProView television interview show, among other things. He is one of the most recognizable figures in the regional football and media communities, making him a perfect fit to host the Touchdown Club Awards Dinner, which is organized by the Military Bowl Foundation.
In the past, Walker also served as the in-game host for the Military Bowl and worked on its gameday broadcast.
"The question isn't who Doc works for," said one longtime media member, "but rather, who doesn't Doc work for."
Watching Walker in action, though, it is quickly evident how much he enjoys his work. He might be sneaking in a few extra minutes reviewing his notes for the Awards Dinner, but it can be tough to concentrate when seemingly everyone wants to chat or say hello.
"It is amazing how well connected Doc is," Military Bowl Foundation President & Executive Director Steve Beck said.
While he often is busy hosting different charity events and working in the media, Walker said it is an easy decision for him to carve out time for the Touchdown Club because of its philanthropic ties. The Awards Dinner and other Touchdown Club events benefit Patriot Point, the Military Bowl Foundation's 294-acre retreat for recovering service members, their families and caregivers.
"It's the best give-back I've ever seen," Walker said. "It has purpose. You're just trying to make life pleasant for the men and women who serve our great country. It's a little bit of gratitude for what these people do."