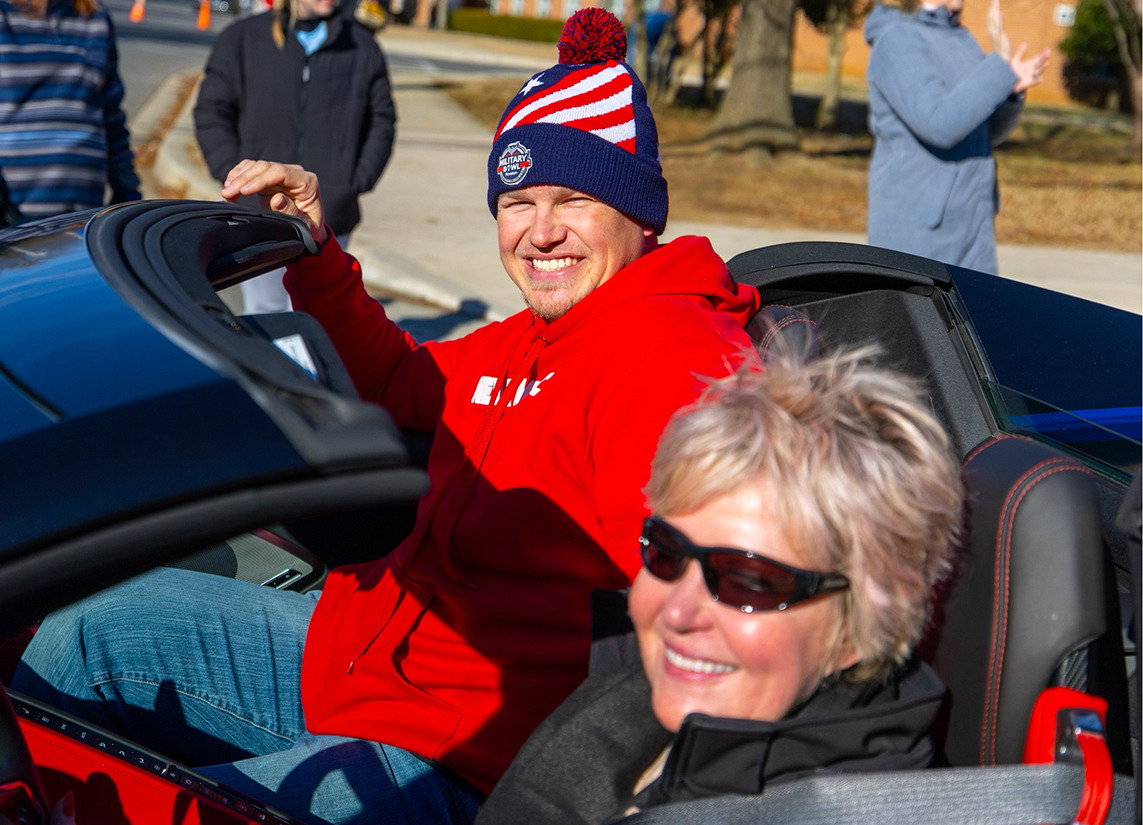 CHAD BEARDEN, COUNTRY MUSIC ARTIST
A new country music video shot on location at Patriot Point and assembled by an all-star cast tells the story of veteran service members battling mental health and substance abuse issues while promoting the healing powers of Patriot Point, the Military Bowl Foundation's 294-acre retreat for wounded, ill and injured service members.
Country music artist Chad Bearden was introduced to Patriot Point Vice President of Operations and Development Hugh Middleton at a fundraiser this past spring. Middleton invited Bearden to visit Patriot Point, where Bearden sang for a group of service members that were on a retreat. The performance included a song Bearden had co-written but that had not been recorded, Whiskey Anymore.
Bearden was so inspired by the response from the service members that he returned over the summer to shoot the video for Whiskey Anymore, joined by director Max Martini, cinematographer Corey Weintraub and editor Tim Silano.
"The experience with the service members at Patriot Point was incredible," said Bearden, who previously worked 11 years in law enforcement. "Just being in that room with those guys, them opening up and sharing their stories was super special. When I played Whiskey Anymore, they were in tears and asked me to play it again and told me how they connected to it. I told some buddies about it and they told me I had to go back and shoot the video there.
"Our goal is to give voice to this story and do it in a way that honors our nation's service members and encourages everyone to learn more about the amazing things that are taking place at Patriot Point so that we can bring awareness to the mental illnesses and challenges that service members face each day."
Middleton is hopeful that Whiskey Anymore will provide more exposure for Patriot Point. Founded in 2016, Patriot Point works with military and veteran service organizations to provide much-needed outdoor recreational activities for veteran and active-duty service members. Retreats can be overnight or for several days and include a myriad of activities, including fishing, hunting, water sports and more.
"It is nearly universal that when guests visit Patriot Point, they leave saying the same thing: 'Thank you so much and when can we come back,' " said Middleton, who is a retired Navy SEAL. "It was amazing to see how Chad bonded with the group during his initial visit and how his music resonated. Chad certainly grasped the significance of this and the ability to positively impact the service members. We appreciate his support of Patriot Point and wanting to join our team of supporters making a difference for our nation's recovering service members."
Bearden attended the 2022 Military Bowl, where he performed Whiskey Anymore at the Salute to Heroes Dinner honoring Medal of Honor Recipients.
To learn more or to donate to Patriot Point, visit patriotpoint.org.