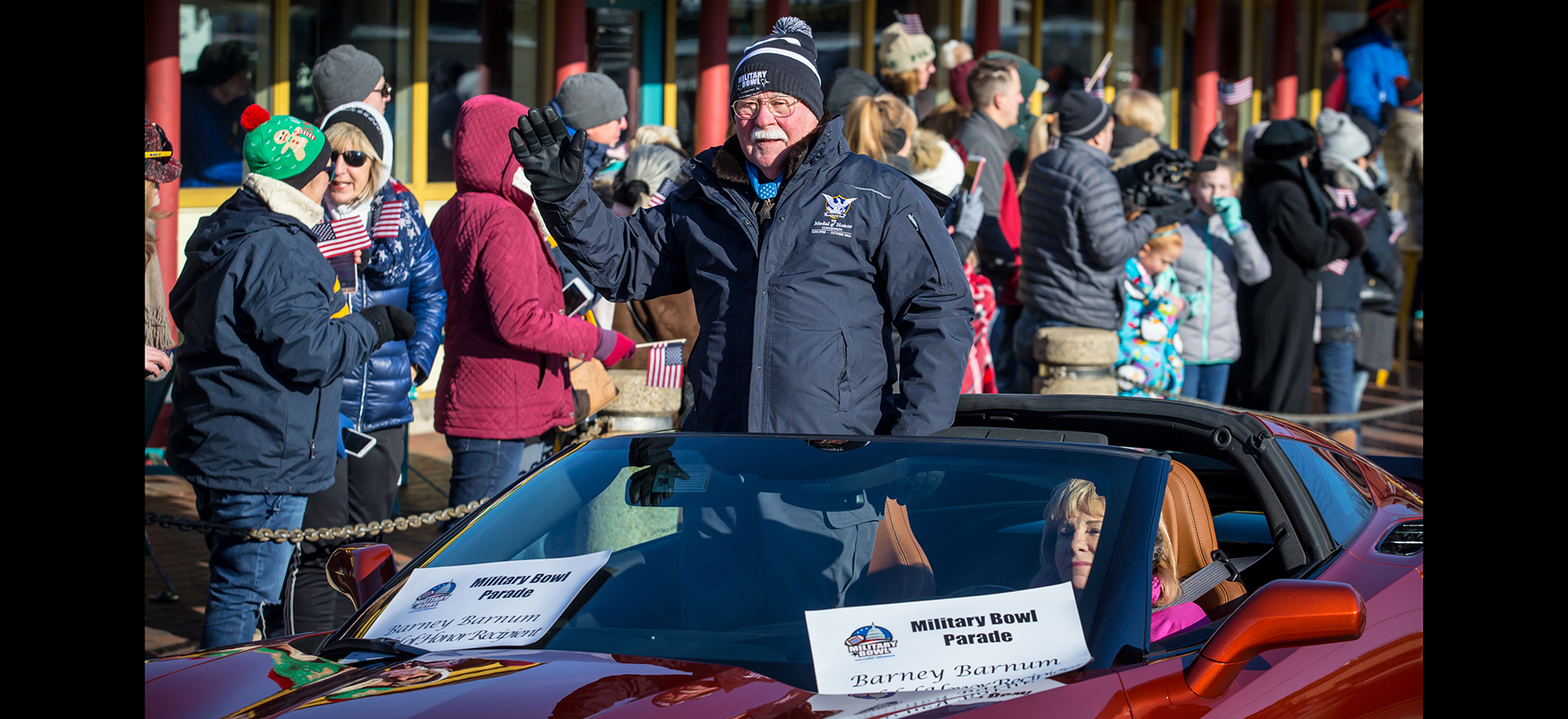 Barney Barnum, Medal of Honor Recipient
The Military Bowl presented by Peraton is an annual event for U.S. Marine Corps (Ret.) Col. H.C. "Barney" Barnum and his family.
Barney was presented the Medal of Honor for his actions while serving during the Vietnam War, Barney annually joins several Medal of Honor Recipients who attend the Bowl. Each year, he brings several family members with him, including his four grandchildren, to enjoy a festive day on the gridiron.
"They revel in it," Barney said. "They look around, see all of the military elements and service members in uniform, many of whom I introduce them to, and have a good time. They are always impressed by their spirit and love of this great country. And they really enjoy the parade and the spirit of patriotism and enthusiasm displayed by the spectators."
Since first being invited to the Military Bowl more than a decade ago, Barney has made a commitment to supporting the National Capital Region's college football bowl game. He also frequently attends other Bowl events, including the annual Home of the Free … Because of the Brave dinner.
"The main thing is that the Bowl supports the USO and Patriot Point," Barney said. "Anytime you can gather to help raise money for the USO and highlight their activities and what they do, then I'm all for it.
"The Military Bowl highlights college football and sportsmanship. It is a very patriotic event, the display of the love of country you feel as the parachute team jumps in, carrying the American flag. It is very heartwarming. And it's great to see the recruiting commands, with future marines and soldiers being sworn in on the field. If doing that gets the attention of one more teenager in attendance, that's huge."
The venue adds to the experience, Barney said. "What better place to exhibit love of country and patriotism than Navy-Marine Corps Memorial Stadium. There are so many traditions associated with that stadium. It's great to be able to be present and be a part of carrying them on."
Upon graduation from St. Anselm College in Manchester, New Hampshire, in 1962, Barney was commissioned a second lieutenant in the United States Marine Corps. Barney was serving as a forward artillery observer in Vietnam in December 1965. The infantry company he was operating with was ambushed and the company commander killed. Barney took command of the company and led it against 10 to 1 odds as they defeated the enemy and saved many lives.
Barney retired as a colonel after more than 27 years in the Marines and later served as Acting Assistant Secretary of the Navy and spent more than seven years as Deputy Assistant Secretary of the Navy for Reserve Affairs. He lives with his wife, Martha, in Reston, Virginia.