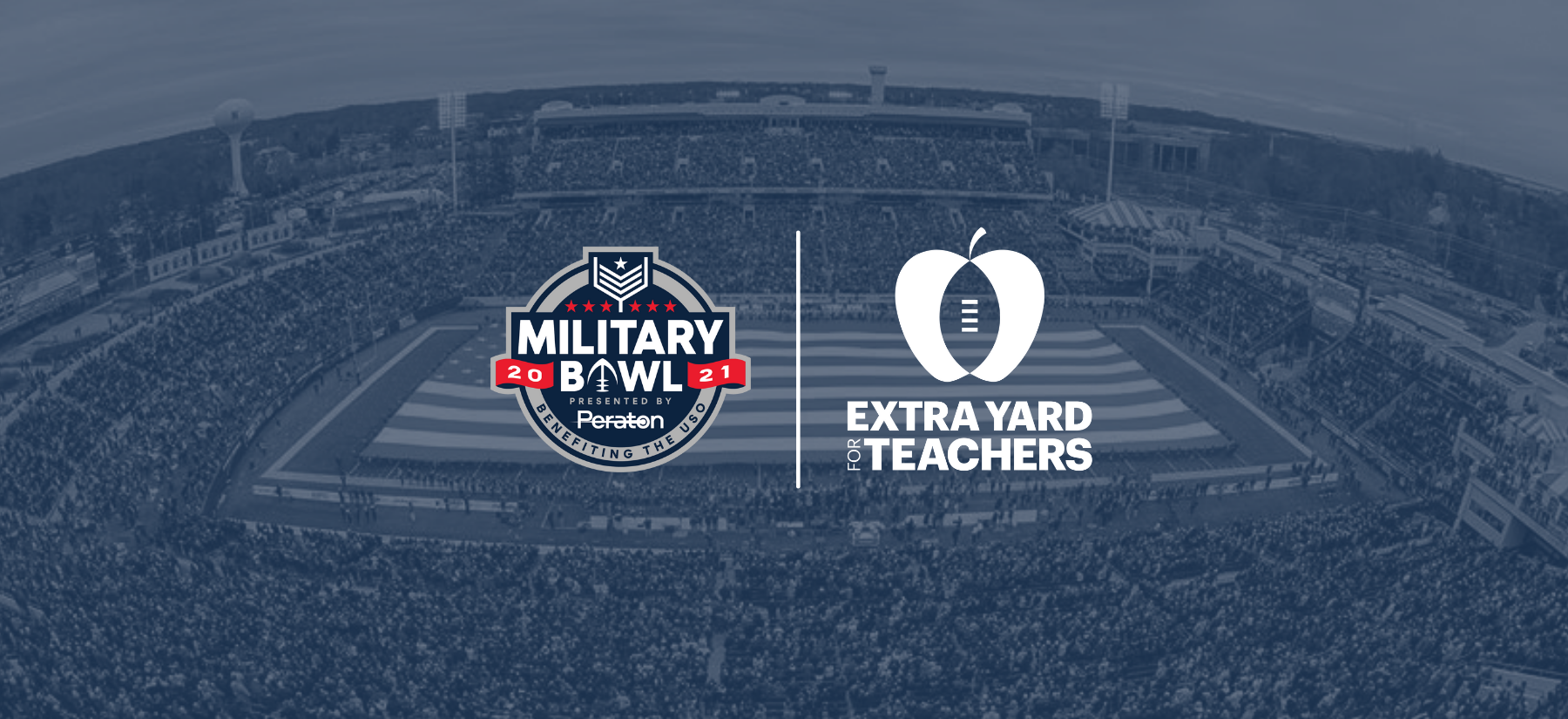 MILITARY BOWL AND COLLEGE FOOTBALL PLAYOFF FOUNDATION HONORING TEACHERS IN THE NATIONAL CAPITAL REGION
Extra Yard for Teachers program provides grants for teachers to use for their students and classrooms
The Military Bowl Foundation, in partnership with the College Football Playoff Foundation, will honor teachers who go above and beyond for their students in the National Capital Region.
Through the College Football Playoff Foundation's Extra Yard for Teachers program, the Military Bowl is providing grants to deserving teachers to use in their classrooms and for their students. Preference will be given to teachers who are veterans or from military families as well as to teachers who serve communities with significant military populations and also to teachers in Washington, D.C., and Anne Arundel County.
Nominations and submissions for the grants can be made at militarybowl.org/teachers through November 19. Selected teachers will be honored at the Military Bowl game on Monday, December 27 at Navy-Marine Corps Memorial Stadium.
"Teachers play such an important role in the lives of our future leaders," Military Bowl Foundation President & Executive Director Steve Beck said. "We are excited to partner with the College Football Playoff Foundation and its Extra Yard for Teachers program to recognize some of the incredible men and women who shape the minds of the next generation."
Earlier this fall, the Military Bowl Foundation and the College Football Playoff Foundation provided a grant to Arundel High School teacher Johanna Ricker in recognition of her role as one of the co-founders of the Global Community Citizenship course that is now a requirement for all Anne Arundel County Public Schools students.
The College Football Playoff Foundation is the community engagement arm of the College Football Playoff and works in partnership with institutions of higher education, sports organizations, corporations and nonprofits to support educators and improve U.S. student outcomes. Extra Yard for Teachers, the College Football Playoff Foundation's primary initiative, seeks to elevate the teaching profession by inspiring and empowering teachers.