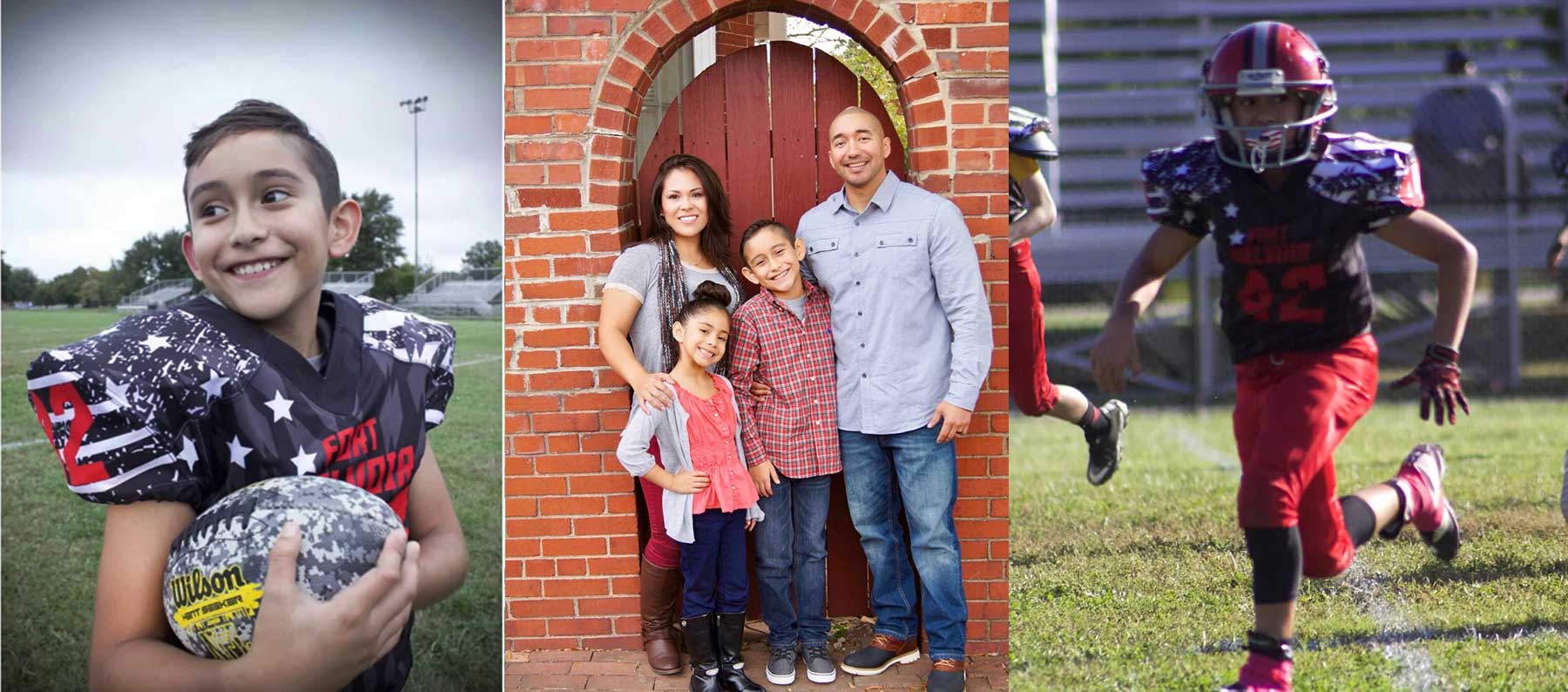 GEORGE GARCIA III SELECTED AS 3M PLAY TO WIN AWARD WINNER
George Garcia III, a fifth-grader at Fort Belvoir Elementary School in Fairfax County and the son of two active-duty U.S. Air Force service members, has been selected as the winner of the 3M Play to Win Award presented by the Military Bowl and 3M.
"The ability to tackle adversity and innovate new outcomes are key to succeeding in business and life," said Skip Driessen, 3M's Government Markets Marketing Operations Manager. "George Garcia III has demonstrated the ability to overcome challenges and take initiative while managing additional responsibilities when both his parents were deployed. We are proud to recognize George as the winner of the 3M Play to Win Award."
George will receive four complimentary tickets to attend this year's 10th anniversary Military Bowl presented by Northrop Grumman, benefiting the USO, matching Navy and Virginia on Thursday, Dec. 28 at Navy-Marine Corps Memorial Stadium in Annapolis. Along with receiving a prize package, George also will be on the sidelines for the start of the game and will retrieve the kicking tee from the field after the opening kickoff, which is scheduled for 1:30 p.m. ET. The game will be televised on ESPN.
George is 11 years old and plays football with the Fort Belvoir Bulldogs, as a running back and defensive end. He watches his favorite football team, the Green Bay Packers, every Sunday.
George is the son of Raquel and George Garcia Jr., who have served for 14 and 13 years, respectively, and are technical sergeants in the Air Force. They met while serving together at Elmendorf Air Force Base in Anchorage, Alaska, and also have been stationed at Davis-Monthan Air Force Base in Tucson, Ariz.; Fort Collins, Colo.; and Colorado Springs.
Raquel now works in supply at Joint Base Andrews in Maryland and George Jr. is a health care recruiter in Crystal City, Va. The family, which also includes 8-year-old Noemi and 2-week-old Meliani, lives on base at Fort Belvoir.