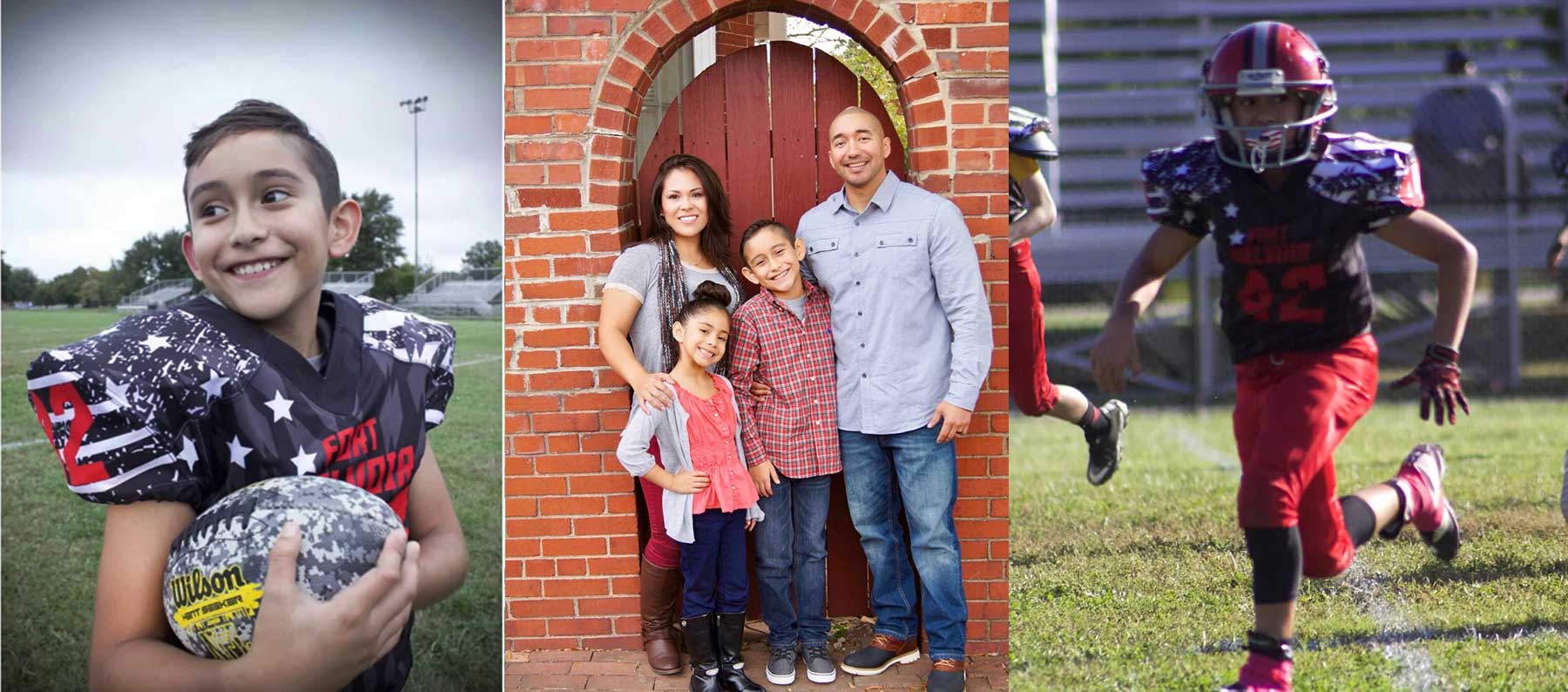 GEORGE GARCIA III SELECTED AS 3M PLAY TO WIN FINALIST
George Garcia III, a fifth-grader at Fort Belvoir Elementary School in Fairfax County and the son of two active-duty U.S. Air Force service members, has been selected as a finalist for the 3M Play to Win Award presented by the Military Bowl and 3M.
As a finalist, George will receive two complimentary tickets to attend this year's 10th anniversary Military Bowl presented by Northrop Grumman, benefiting the USO, matching Virginia and Navy on Thursday, Dec. 28 at Navy-Marine Corps Memorial Stadium. The 3M Play to Win Award winner, which will be announced next week, will receive a prize package and the opportunity to be on the sidelines for the Military Bowl's opening kickoff.
George, who is 10 years old, plays football with the Fort Belvoir Bulldogs, where he is a running back and defensive end. His favorite football team is the Green Bay Packers, which he watches play every Sunday.
George is the son of Raquel and George Jr. Garcia, who have served for 14 and 13 years, respectively, and are technical sergeants in the Air Force. They met while serving together at Elmendorf Air Force Base in Anchorage, Alaska, and also have been stationed at Davis-Monthan Air Force Base in Tucson, Ariz.; Fort Collins, Colo.; and Colorado Springs.
Raquel now works in supply at Joint Base Andrews in Maryland and George Jr. is a health care recruiter in Crystal City, Va. The family, which also includes 8-year-old Noemi and 2-week-old Meliani, lives on base at Fort Belvoir.
"He's had to be the man of the house couple times," George Garcia Jr. said. "We've both been deployed to Afghanistan and Iraq. He's had to take care of things when my parents would come and take care of them when we were deployed."
Tickets for the Military Bowl presented by Northrop Grumman, benefiting the USO, are on sale. Starting at $25, tickets can be purchased online at militarybowl.org or by calling Ticket Alternative at 877-725-8849. This year's Military Bowl once again will match representatives from the Atlantic Coast Conference and the American Athletic Conference.
Proceeds from the Bowl also benefit Patriot Point, the Military Bowl's 290-acre retreat for recovering service members, their families and caregivers on Maryland's Eastern Shore.
For the latest updates please visit militarybowl.org, follow on Twitter @MilitaryBowl or like the Military Bowl presented by Northrop Grumman on Facebook.