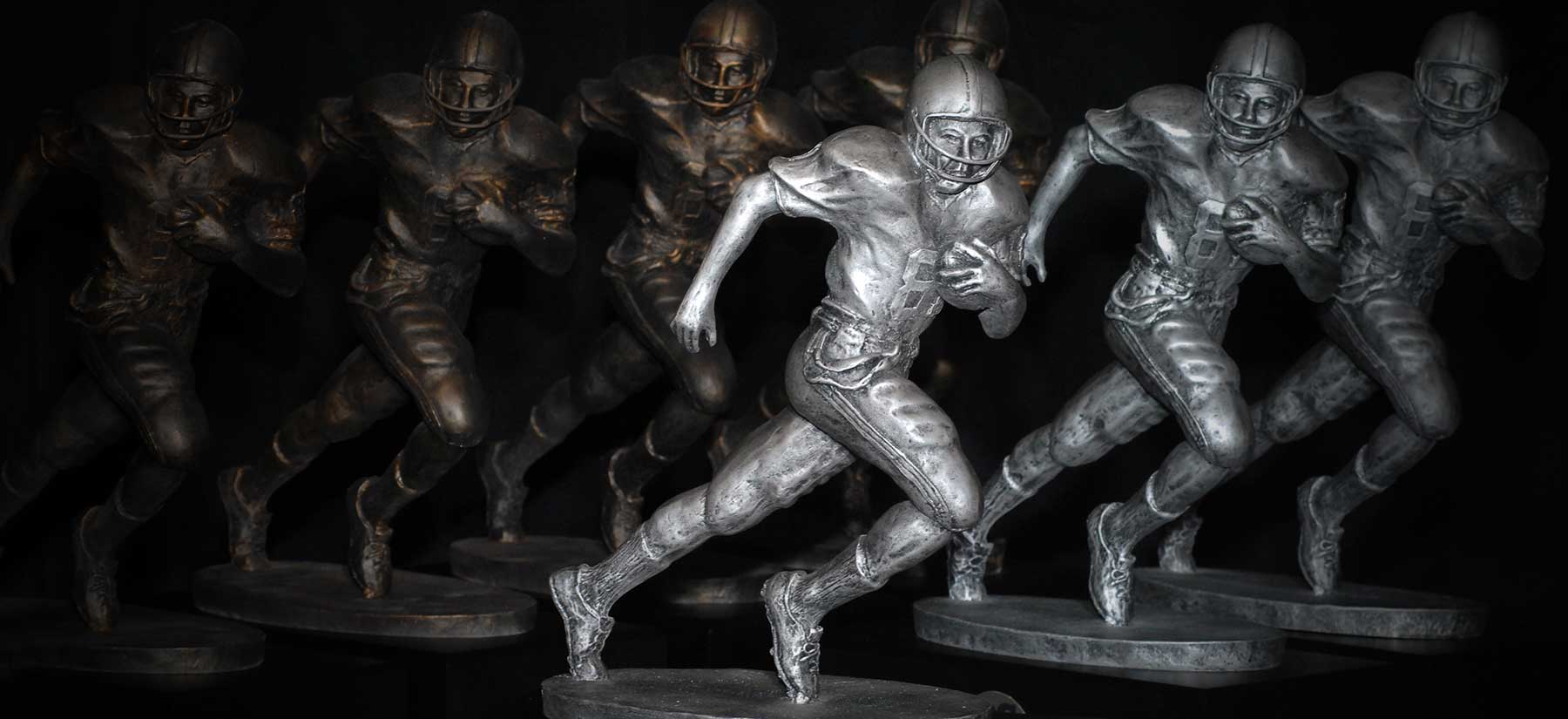 HALL OF FAMERS DARRELL GREEN AND MORGAN WOOTTEN, LEGENDARY BROADCASTER VERNE LUNDQUIST AND HEISMAN TROPHY FINALIST DWAYNE HASKINS JR. TO BE HONORED AT DC TOUCHDOWN CLUB 3M AWARDS DINNER
Seventh annual dinner will also honor the local high school players and coach of the year
Darrell Green, who played 20 seasons for the Washington Redskins in a record-setting Pro Football Hall of Fame career, will receive the Founder's Award for his contributions to the game of football at the DC Touchdown Club 3M Awards Dinner on Thursday, April 18 in Bethesda, Md.
A first-round pick out of Texas A&I (now Texas A&M-Kingsville), Green was nicknamed the "Ageless Wonder" for ability to play at a high level throughout his career. Known for his incredible speed, Green set NFL records for most games played by a defensive player (295) and most consecutive seasons with an interception (19). He also set Redskins records for most career interceptions (54), most games started (258) and most consecutive seasons played (20), among others. Green helped the Redskins to two Super Bowl championships (XXII and XXVI), was a seven-time Pro Bowler and four-time first-team All-Pro and was the 1996 Walter Payton NFL Man of the Year.
Green is currently an associate athletics director at George Mason University.
"Darrell Green is one of the finest football players and greatest representatives of the Washington, D.C. region," DC Touchdown Club Executive Director Steve Beck said. "He has done and continues to do so much for our area and we are thrilled to honor him."
Perhaps the greatest high school coach of all-time, Morgan Wootten will be inducted into the DC Touchdown Club's Circle of Legends.
Wootten guided the DeMatha Catholic High School boys basketball team to 1,274 victories and 33 league championships in a career that led to his enshrinement in the Naismith Memorial Basketball Hall of Fame. He also revolutionized the summer camp business, working with previous Circle of Legends inductee Joe Gallagher to start the Metropolitan Area Basketball School, the first-ever all-basketball summer camp. Wootten's career also included 12 seasons as the DeMatha football coach, guiding his teams to a record of 79-40-2.
Longtime broadcaster Verne Lundquist, perhaps best known as one of the leading play-by-play voices in college football, will be presented a Lifetime Achievement Award. Lundquist began his broadcasting career in Texas and was also the voice of the Dallas Cowboys' radio network from 1967 to 1984. His assignments have also included NFL football on CBS, Olympic figure skating, national NBA broadcasts and more. From 2000 to 2016, Lundquist was the lead play-by-play announcer for SEC football on CBS and he continues to be among the network's leading golf voices, continuing to call The Masters and the PGA Championship. He recently authored a book, Play by Play: Calling the Wildest Games in Sports – From SEC Football to College Basketball, the Masters and More.
Dwayne Haskins Jr. will receive the Washington Metro College Player of the Year Award after a spectacular season that saw him set 28 Ohio State and seven Big Ten Conference records, including single-season marks for yards passing (4,831) and passing touchdowns (50). He had nine 300-yard games and four 400-yard games, highlighted by the Big Ten championship game when he passed for 499 yards and five touchdowns in a win over Northwestern. Haskins, who played for Bullis School in Potomac, Md., before attending Ohio State, won Big Ten awards for offensive player and quarterback of the year and was one of three finalists for the Heisman Trophy. A two-time Academic All-Big Ten Conference honoree, Haskins is expected to be one of the top picks in the 2019 NFL Draft.
Coach Tom Verbanic, who guided Flint Hill to a second consecutive Virginia Independent Schools Athletic Association capped by the team's 22nd consecutive victory, is the Washington Metro High School Coach of the Year. Verbanic previously coached football at Fairfax and Westfield, leading the Bulldogs to Virginia public school state championships in 2003 and 2007. His teams have won 234 games over 29 seasons.
Verbanic will be joined by three of the Washington area's top high school prospects:
DeMatha wide receiver and defensive back DeMarcco Hellams, an Alabama recruit, is the Maryland High School Player of the Year.
John's defensive end Tre'Mon Morris-Brash, a Central Florida recruit, is the D.C. High School Player of the Year.
Westfield wide receiver and defensive back Taylor Morin, a Wake Forest recruit, is the Virginia High School Player of the Year.
"The DMV is known as a football hotbed and this year is no different with so many talented players," Beck said. "Our high school players of the year are sensational. And at each step of his career, Coach Tom Verbanic has proven his ability to lead his players and mold them into fine young men. We are proud to honor all of them."
The Maryland High School Player of the Year, Hellams repeatedly made big plays on both sides of the ball as he was helped the Stags advanced to the Washington Catholic Athletic Conference championship game. He had 78 catches for 1,469 yards and 21 touchdowns on offense and on defense tallied 12 interceptions (returning three for touchdowns) and 91 tackles.
The D.C. High School Player of the Year, Morris-Brash had 48 tackles, 15 sacks, 18 tackles for loss and forced five fumbles as the Cadets enjoyed an undefeated regular season. He was also named the Washington Catholic Athletic Conference Defensive Player of the Year.
The Virginia High School Player of the Year, Morin was a difference-maker on both sides of the ball. On offense, he had 48 catches for 979 yards and 18 touchdowns; on defense, he had 43 tackles and five interceptions, leading the Bulldogs to the Virginia 6A semifinals, where their 39-game winning streak came to an end.
Tables and a limited number of individual tickets can be purchased at dctouchdownclub.com/awards-dinner. Sponsorship opportunities are also available by contacting Steve Beck at 301-370-5454 or sbeck@militarybowl.org. Proceeds benefit Patriot Point, the Military Bowl Foundation's retreat for recovering service members.