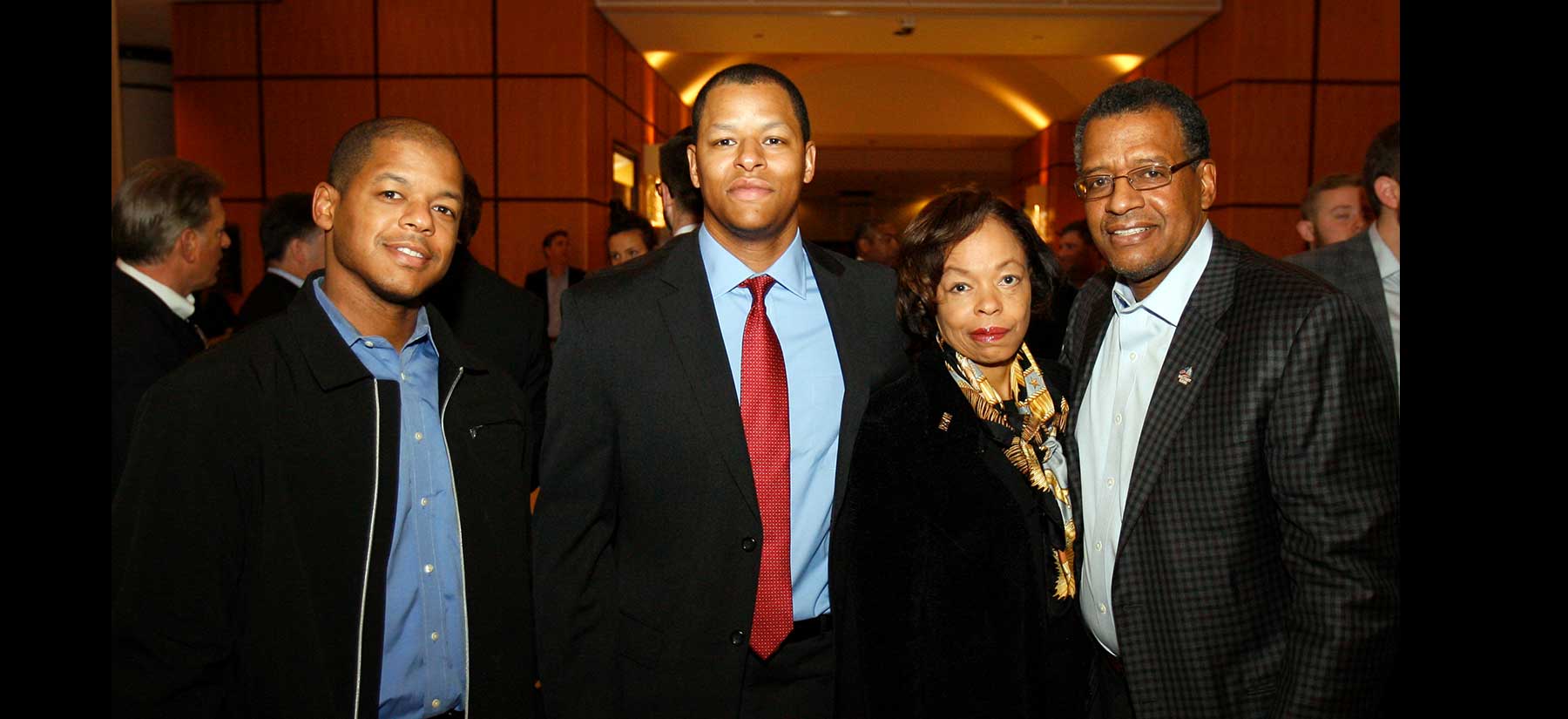 HERMAN BULLS, MILITARY BOWL FOUNDATION BOARD MEMBER
Herman Bulls enjoyed a "storybook high school career" – member of the National Honor Society, Boys State representative, student council president and a three-sport letterman. Living up to the lofty expectations that others had for him, though, felt daunting.
In the spring of 1973, when Bulls was a junior at Coffee High School in Florence, Alabama, five students from rival Bradshaw High received appointments to the U.S. Military Academy at West Point. At the same time, the Army football team began recruiting Bulls, who stood out for his play. A black quarterback in Alabama in the 1970s "was a little bit of a unicorn," he said.
"I got a [football recruiting] form letter from the University of Alabama – people usually go crazy for that—but I was mature enough to know I was good but I wasn't great," Bulls said. "I needed to focus on a career other than athletics.
"There was something about West Point that appealed to me. The fact that it was challenging and people who graduated were successful. As a 16- or 17-year-old, I'm getting all these accolades and being told how successful I would be – although I was not doubting myself, but how could they be so sure?"
Bulls took the challenge and accepted an appointment to West Point over opportunities from the other service academies and Vanderbilt.
Bulls played football for two years at West Point, moving from quarterback to defensive back after his plebe year. As a sophomore, he was a scout team third-stringer, but with a plebe as the starter. Bulls was realistic about the future when Coach Homer Smith called him in for a meeting at the end of spring football in 1976.
"I was probably one of the best scout team players you ever saw in your life," Bulls said. "He brought me in and said, 'Herman, you're never going to start in an Army-Navy game.' It was probably one of the most significant disappointing emotional events in my life.
"I had participated in organized sports since the seventh grade and playing was an integral part of my life. I loved being on a team. Perhaps I did not have as much talent as other players, but I tried very hard. I think that perseverance trait has been invaluable and has translated into success with my family and career."
Freed from football obligations, Bulls was one of 50 cadets selected to attend Ranger School that summer. His leadership skills were evident as he was selected company commander for the mountain phase of the training.
After successfully completing what he described as "the hardest mental and physical challenge of my life," Bulls retuned to West Point for his final two years of study.
Needing an outlet for his time and wanting to stay close to sports, in addition to focusing more on academics, Bulls took on the challenge of broadcasting the Cadets' football and basketball games on the Cadet radio station, WKDT. He traveled with the basketball team and developed a friendship that has stayed strong to this day with Army's young basketball coach at the time, Mike Krzyzewski. Bulls is currently a member of the board of the Coach K Center of Leadership and Ethics (COLE) at the Fuqua School of Business at Duke.
Following graduation in 1978, Bulls served in the Army for 30 years, including more than 11 years on active duty and the remainder in the reserves. He retired as a Colonel in 2008.
Bulls met his wife, Iris, during their first duty station Fort Dix, N.J. Following assignments in the West Point admissions department and in South Korea, Bulls attended Harvard Business School while Iris studied at Tufts University. Upon completion of their graduate degrees, they were assigned to the staff and faculty at West Point, Herman teaching finance and economics and Iris working in admissions.
Following an assignment in the Pentagon in 1989, Bulls left active duty and entered the business world with LaSalle Partners, which has morphed into Jones Lang LaSalle (JLL) and grown from 400 employees when he joined to a Fortune 200 firm with more than 95,000 employees in 75 countries.  He founded the firm's highly-touted Public Institutions business unit and is currently Vice Chairman, Americas.
Bulls retains a strong connection to Army football and is a member of the West Point Association of Graduates Board of Directors. He usually travels with the team to one road game each season and his three sons followed in his footsteps, both athletically and academically.
Herman Jr., a 2005 West Point graduate where he played lacrosse, is an infantry combat veteran who has been deployed three times and remains on active duty. He received his MBA from the Fuqua School of Business at Duke University.
Nathaniel played football and ran track at Earlham College and currently works as a manager for Sodexo.
Jonathan, a 2011 West Point graduate, played football at Army and was a significant contributor to the 2010 team that defeated SMU in the Armed Forces Bowl. Jonathan also received an MBA from Duke and currently works for Microsoft as an account executive in Dallas.
Bulls' wife, Iris, recently retired from the Department of Defense after 42 years of federal service, including a stint in the presidentially-appointed position of Principal Deputy Secretary of Army for Manpower and Reserve Affairs.
It was a West Point connection that initially drew Bulls to the Military Bowl. Another West Point graduate with whom he was acquainted and who was on the Bowl's board of directors asked Bulls if he would like to be involved.
"Joe Reeder has been a mentor of mine for some time," Bulls said. "But I must be honest: When I first thought about it, I was skeptical: A bowl game in Washington, D.C.? I don't how that would work out. But they started recruiting me and I looked at it and said this is an opportunity to continue to be involved in athletes, let's go.
"When we live here, we take Washington, D.C., for granted. I remember when Rick Neuheisel brought UCLA here in 2009 – most of those kids had never been to Washington in their lives! They were able to get exposure that they otherwise may have never experienced. The Military Bowl is about more than football, it is about learning and life.
"Football did a lot to get me where I am in my life right now. I love the competition and the teamwork, as well as giving yourself up for the team."