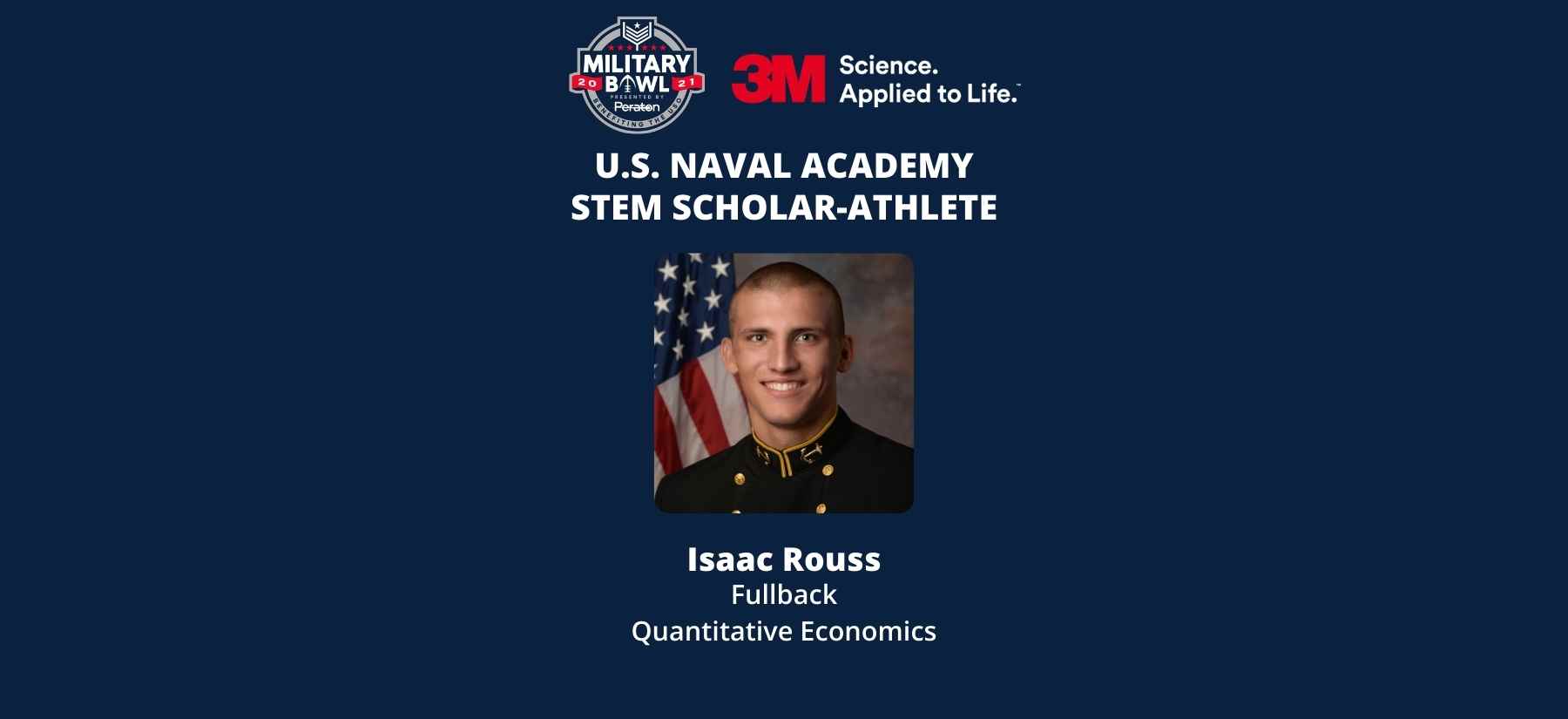 Isaac Rouss, U.S. Naval Academy
U.S. Naval Academy fullback Isaac Ruoss, a senior majoring in quantitative economics, has been named a Military Bowl 3M STEM Scholar-Athlete.
Ruoss, who is from Mohnton, Pennsylvania, has a 3.87 grade-point average and has taken a wide range of STEM classes, including physics, electrical engineering and thermodynamics, and is currently taking aeronautics. On the field, he is the Midshipmen's leading rusher this season.
"STEM will also play a large role in my desired service assignment," Ruoss said. "I want to become a Marine pilot, so every system around a plane and the physics behind why a plane maneuvers the way it does will all be STEM-based. I am able to fall back on the STEM elements I have learned at Navy to get me through flight school and then help me throughout my career."
The Military Bowl 3M STEM Scholar-Athlete Program honors one football player at each university that is a member of the ACC and the American Athletic Conference – the two conferences that are represented in the Military Bowl college football game. These players are studying STEM (science, technology, engineering, math) subjects and/or aspire to STEM careers.
"What an incredible collection of student-athletes, who demonstrate their leadership on the field and in the classroom while tackling challenging subjects that prepare them for the future," Military Bowl President & Executive Director Steve Beck said. "We are thrilled to honor these student-athletes for their dedication and success."
For the two teams that participate in the 2021 Military Bowl, 3M will make a donation in the name of each school's Military Bowl 3M STEM Scholar-Athlete Program representative to their school's general scholarship fund, designated to be used by a STEM major from an under-represented population.
"3M is excited to recognize these outstanding students pursuing degrees in STEM-related fields," said Skip Driessen, Director of 3M Government Markets. "We know how hard these scholar-athletes have worked on the field and in the classroom and look forward to their continued success."