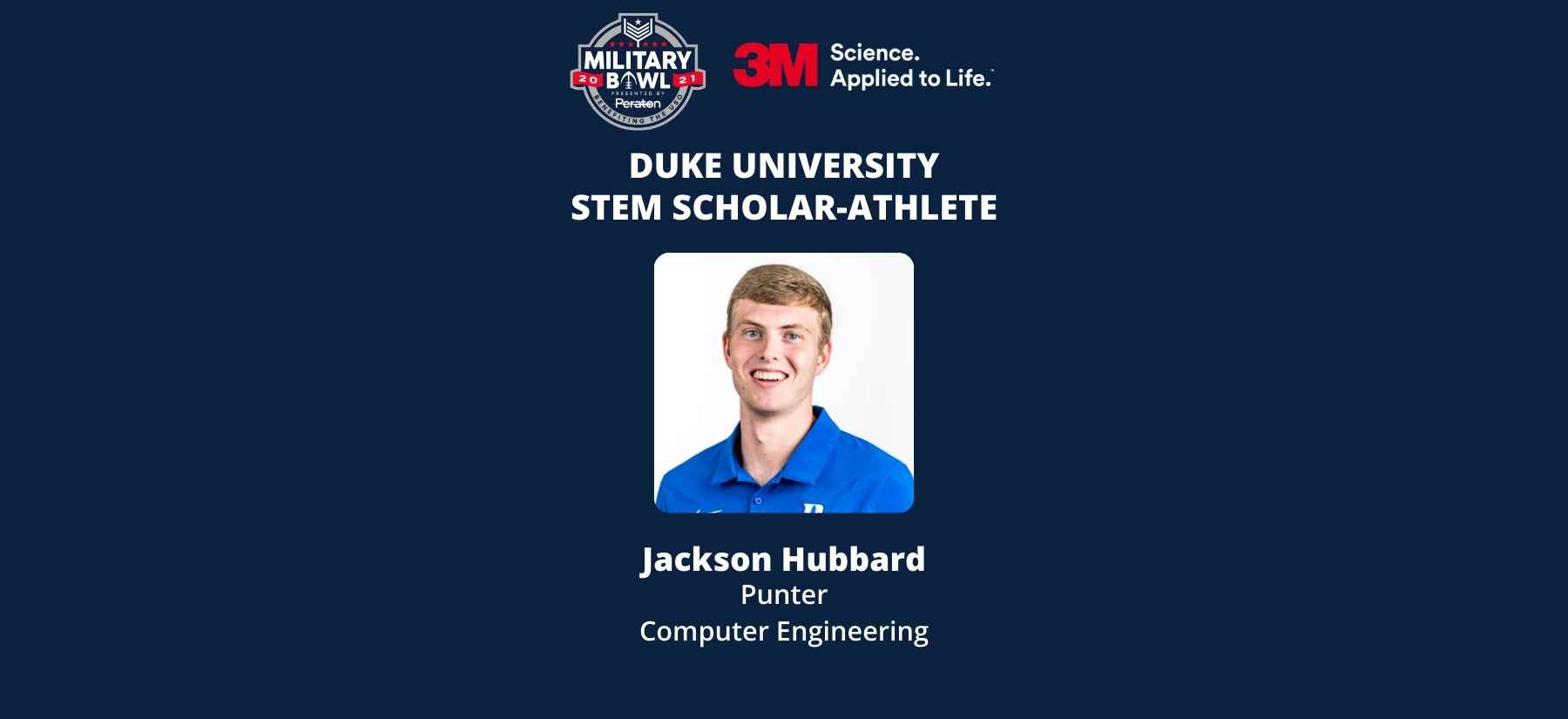 Jackson Hubbard, Duke University
Duke University punter Jackson Hubbard, a graduate student with a computer science degree and a double minor in statistics science and economics, has been named a Military Bowl 3M STEM Scholar-Athlete. Hubbard is currently pursuing a master's degree in electrical and computer engineering.
Hubbard, who is from Dallas, has a 3.73 grade-point average. He has participated in several internships, including as a software engineer intern at Oracle and Protect3B and a data scientist intern at Xylem and Basketball Analytics.
"To say that Jackson has excelled during his time at Duke is an understatement," Duke Assistant Director of Academic Support Services Jacqueline Davis said. "Jackson has balanced the demands of playing football with completing a rigorous undergraduate degree. A highlight of working with Jackson was seeing him facilitate a workshop in Duke's Innovation Co-Lab for our freshmen during their summer bridge program in the summer of 2019 in which they got to work with 3D printers, laser cutters, and virtual reality technology."
The Military Bowl 3M STEM Scholar-Athlete Program honors one football player at each university that is a member of the ACC and the American Athletic Conference – the two conferences that are represented in the Military Bowl college football game. These players are studying STEM (science, technology, engineering, math) subjects and/or aspire to STEM careers.
"What an incredible collection of student-athletes, who demonstrate their leadership on the field and in the classroom while tackling challenging subjects that prepare them for the future," Military Bowl President & Executive Director Steve Beck said. "We are thrilled to honor these student-athletes for their dedication and success."
For the two teams that participate in the 2021 Military Bowl, 3M will make a donation in the name of each school's Military Bowl 3M STEM Scholar-Athlete Program representative to their school's general scholarship fund, designated to be used by a STEM major from an under-represented population.
"3M is excited to recognize these outstanding students pursuing degrees in STEM-related fields," said Skip Driessen, Director of 3M Government Markets. "We know how hard these scholar-athletes have worked on the field and in the classroom and look forward to their continued success."