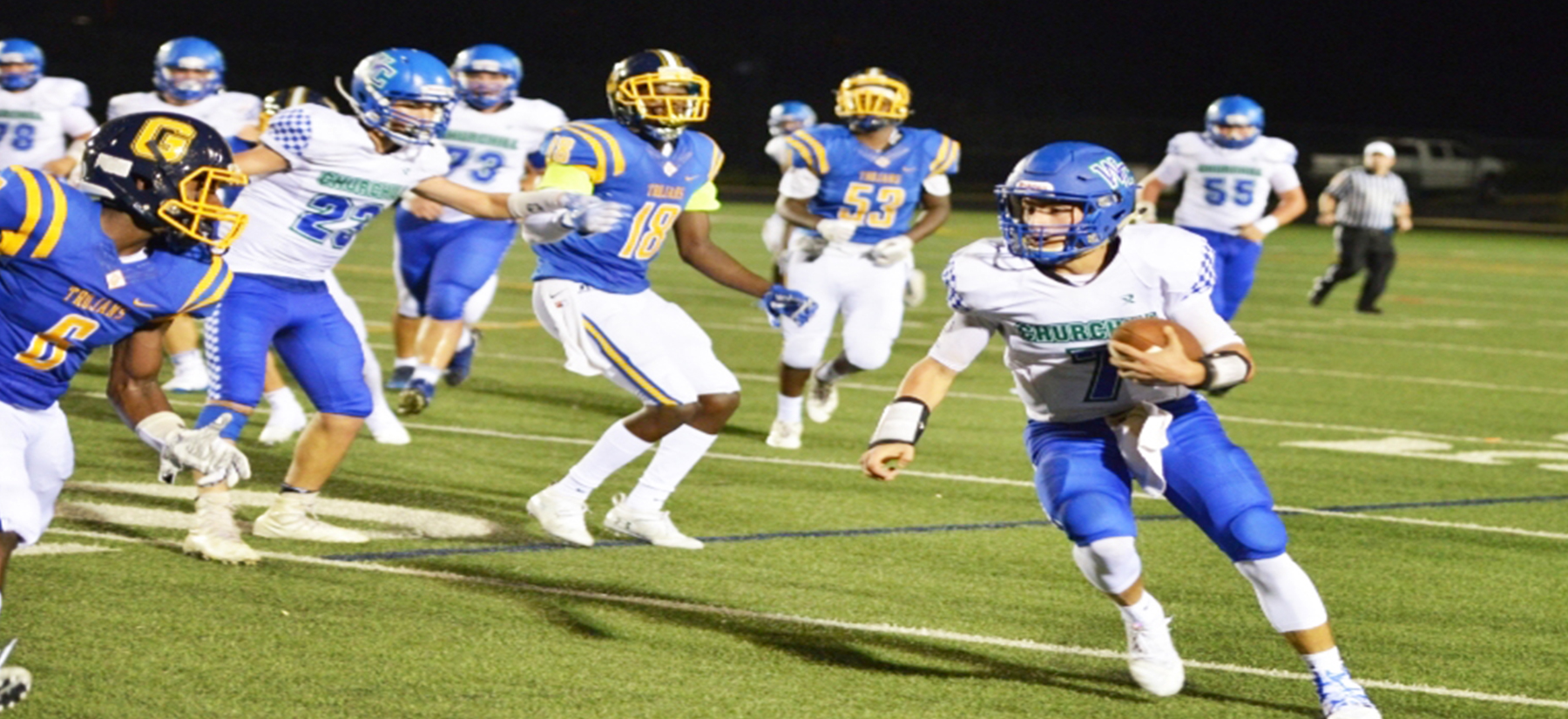 DC TOUCHDOWN CLUB WEEK 3 PLAYER OF THE WEEK: MICHAEL JANIS, CHURCHILL
Michael Janis is in his third season as Churchill's starting quarterback. Now a senior, he has been the starting center fielder on the Potomac school's baseball team since his freshman year and moved into the starting lineup last winter as the basketball team's point guard.
But it was during offseason workouts where Janis made the biggest impression on Churchill football coach Willie Williams.
"I knew this kid was going to be special when he was a freshman," said Williams, who played 13 seasons in the NFL for the Pittsburgh Steelers and Seattle Seahawks. "He's a natural-born leader. When he stepped on the field, all the kids rallied around him."
Janis said he doesn't have a favorite sport – "whatever is in season," he said – which has led to him continuing to play all three sports despite many of his peers specializing in just one. For now, of course, it is football season – and it is easy to see why Janis enjoys that sport.
This past Friday night, Janis completed 18 of 22 passes for 236 yards and six touchdowns and also rushed for 70 yards as Churchill beat Gaithersburg, 49-27. For his efforts, Janis was named the Military Bowl DC Touchdown Club High School Football Player of the Week.
Others receiving Player of the Week consideration were:
ANNE ARUNDEL
Annapolis RB Ahmon Middleton rushed 19 times for 222 yards and two touchdowns as the Panthers beat Glen Burnie, 36-12.
DC
Ballou RB Lavonte Gater rushed for three touchdowns and caught two touchdown passes as the Knights beat Anacostia, 48-0.
FREDERICK
Tuscarora RB Aris Hilliard rushed for 210 yards and three touchdowns as the Titans beat Middletown, 33-23.
HOWARD
Marriotts Ridge RB Kameron Young rushed 20 times for 162 yards and four touchdowns as the xxx beat Hammond, 40-6.
LOUDOUN
Stone Bridge CB Payton Hunter intercepted two passes and returned a punt 65 yards for touchdown as the Bulldogs beat Madison, 49-21,  in a meeting of previously undefeated teams.
NORTHERN REGION
Centreville RB Jordan Wright rushed 19 times for 119 yards and two touchdowns and caught a 42-yard touchdown pass as the Wildcats beat Forest Park, 45-14.
PRINCE GEORGE'S
C.H. Flowers LB Tizlam Muhammad had 10 tackles, forced three fumbles and had one sack as the Jaguars beat Eleanor Roosevelt, 40-0.
PRINCE WILLIAM
Gar-Field QB Bishop Fitzgerald passed for 190 yards and one touchdown and rushed for 80 yards and another score as the Indians beat Osbourn, 27-6, to end an 18-game losing streak.
PRIVATE
Severn WR-DB Henry Rentz caught three touchdown passes and returned an interception for a touchdown as the Admirals beat St. Albans, 26-22.
SOUTHERN MARYLAND
Thomas Stone RB Trent Gaskins scored his third touchdown of the game in overtime to lift the Cougars to a 33-27 win over Chopticon.
WCAC
Gonzaga QB Caleb Williams completed 11 of 18 passes for 185 yards and three touchdowns as the Eagles beat Georgetown Prep, 30-0, in the Jesuit Gridiron Classic.